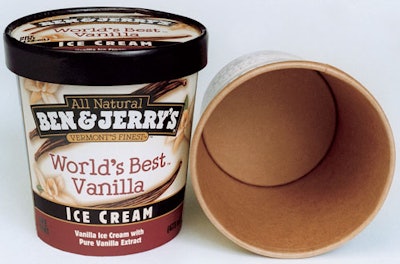 A completely sustainable package needs to be sourced responsibly and designed to be effective and safe throughout its life cycle. Each package should meet market criteria for performance and cost, be made entirely with renewable energy, and, once used, be recycled efficiently to provide a valuable resource for future generations. Each package or pack would be part of a true cradle-to-cradle packaging system.
This is the ideal the members of the Sustainable Packaging Coalition are working toward. The Coalition's members are the first to say, however, that no company in the world has yet achieved even one truly sustainable cradle-to-cradle package. They believe sustainable packaging is a destination—a long term goal—and that sustainability is the only viable strategy out there. Members of the coalition will also tell you that the packaging community is just beginning this journey.
John Delfausse, vice president of Packaging Development Aveda, The Estee Lauder Companies, says, "The impact I feel I'm making toward sustainability is like a dot on the head of a pin. It is a start, however, and that is significant because every small improvement is movement in the right direction. My advice to those responsible for packaging is to start making their own progress toward sustainability as soon as possible."
Corporate support eases the journey
Compliance issues, pressure from consumers for socially responsible corporate behavior, and rising costs for energy, materials, and pollution controls are being felt in boardrooms across the world. In response to these trends, increasing numbers of corporations have developed sustainability goals and are communicating sustainability's importance to employees, suppliers, customers, and shareholders. These top-down mandates create opportunities for packaging decision makers.
This is not to say that sustainability is unobtainable without top-level buy-in. It simply means that when an organization's leadership is moving in that direction, it creates an environment for packaging managers to try new things and to engage internal and external partners. It remains up to packaging decision makers, however, to make the difference, with or without an expressly stated mandate.
"Arriving at an approach to sustainability is easier when your company operates with a focus on environmental and social responsibility," says Doug Marcero, corporate director, Health Management & Products Stewardship, MeadWestvaco.
Delfausse says, "There is top down direction within Aveda and Estee Lauder to make environmental matters a priority. Regardless, it is up to packaging management to make it actionable. We have an opportunity to be leaders and to rally other areas of the company to our banner."
Scott Ballantine, Packaging Project Manager, Microsoft, agrees. "Packaging decision makers are the ones at the very front end of listening to marketing, purchasing, transportation, suppliers, and retailers," he says. "We can, and I believe should, step up and take a leadership role to help bring sustainability and design-for-environment practices into our packages. Packaging Engineering serves as the glue binding these different organizations in a unified mission. We can make the difference."
Begin in small increments
No one is suggesting that beginning a sustainable packaging program has to be an epic undertaking with a cast of thousands and a budget equivalent to the Apollo Moon Mission. Rather, keep it small and start with incremental steps.
"For people who are new to sustainability, the cradle-to-cradle concept is daunting," says Anne Johnson, director, Sustainable Packaging Coalition, a project of the not-for-profit organization GreenBlue. "It is important for everyone in the packaging supply chain to realize that a small step in the right direction is better than no step at all. Sustainability is the framework upon which to hang each small success."
Says Dr. George Kellie, director of the technology consulting firm Microflex Technologies, Ltd., "Clearly no company is going to drop all of its existing products or packs and try to instantly switch to fully sustainable materials. The challenge is too great." But Kellie says it's important to keep in mind the words of the philosopher Lao Tzu: "A journey of a thousand miles begins with a single step."
The sustainability journey can begin by benchmarking a package or family of packages in terms of non-renewable materials content, energy and water usage, waste generation, and air emissions, including greenhouse gases. Packaging managers can then gradually move the pack toward responsible sourcing of renewable or recycled material content. At the same time, they can develop plans for reducing total energy consumption, water pollution, and air emissions and factor in a strategy for end-of-life recovery, alternative use, or environmentally friendly disposal. Benchmarking and measurement are essential, but packaging managers should not over complicate the process.
MeadWestvaco's Marcero says, "Measurement has to focus on meaningful issues to improve."
"At least in the early days of the process, keep the parameters you want to measure as simple as possible," advises Graham Houlder, Global Packaging coordinator - Foods, Unilever. "For example, is the material for the target package renewable or non-renewable? If it is non-renewable, is it recyclable or recoverable? Begin to move materials content toward the sustainability end of the scale—renewable, recyclable, recoverable, compostable, or environmentally safe for incineration. All are acceptable end-of-life scenarios. Ask the same sort of basic sustainability questions about energy, water, and air emissions. Your goal is to begin to reduce the environmental footprint of the package."
O-I's Kevin Stevens, vice president of global marketing, sees cost savings from lowering the environmental footprint. "Sustainability encourages packaged good manufacturers, suppliers, and retailers to incorporate clean-production best practices and to support responsible manufacturing," he says. "Doing so can contribute to improvements in quality and profitability as well as reducing costs."
Unilever's Houlder believes that steady progress builds momentum. "In six months or a year, managers who have measured key metrics will be able to show the improvements they've made, even if these are small ones" he says. "Positive stories motivate and create a bandwagon effect internally as well as with suppliers, retailers, customers, and share holders."
Look for the growth opportunities
Extended Producer Responsibility (EPR) is a relatively new compliance device designed to reduce the consumer goods waste stream. EPR mandates can hold manufacturers financially responsible for the post-consumer stage of the pack's life cycle. EPR programs have been implemented in Europe, the United States, Canada, Taiwan, Japan, and Korea. Suppliers who help their customers cope with EPR programs are going to have new sales opportunities.
"While Albertson's has its own brands, most of the products we sell are made by someone else," says John Bernardo, resource conservation manager, Albertson's, Inc. "Suppliers should realize the major business benefits of coming to the aid of their retailer customers with packaging that is environmentally safe and that has minimal impact on the waste stream. My advice is to be proactive by helping your customers to jump ahead of the competition, and gain new opportunities."
Aveda's Delfausse says, "I'm not sure that collecting packaging in municipal recycling centers is the whole answer. I do know there is a huge opportunity for the industry in coming up with innovative ways of connecting the back end of the process with recovery and reuse."
Moshe Begim, president of AVC Corporation, a contract packager, believes that developing new packaging concepts based on the idea of reducing waste is good for business. He says, "A design we developed for a package that serves as a permanent storage device for consumers after they take the product home offered a number of diverse advantages. The design increased product sales, improved retailer and consumer satisfaction, and reduced solid waste."
Benefit from the experience of others
For those just starting out, it is important to understand that the entire industry is in the same boat—everyone is new to cradle-to-cradle thinking and sustainability. Most are happy to share their experiences, discuss ideas, and talk about solutions to commonly expressed problems.
"If someone is just starting out they needn't worry as they are not miles behind," says Houlder. "The industry is beginning the journey. One of the reasons Unilever became a member of the Sustainable Packaging Coalition was to reduce the organization's learning curve. Don't try to do this all by yourself. Join a network or an organization that can help you move ahead. Make it a point to attend sustainability conferences."
Marcero agrees. "MeadWestvaco saw an opportunity with the coalition to sit with others in the supply chain, start the journey, and be proactive," he says. "It is important to share expertise through partnering opportunities that this coalition has created."
Says Microsoft's Ballantine, "We find it very useful to share ideas with those in different industries and places in the supply chain. In the long term, I see many unique things coming out of industry-wide discussions."
Bring others into the fold
If other functions inside the organizations, such as marketing, purchasing, and transportation, are not involved in sustainability discussions, these programs cannot succeed. It is essential to bring functions outside of packaging into the fold and elicit their cooperation.
Delfausse at Aveda described one strategy to win broader acceptance. "As well as having a top-down commitment from senior management, managers need to work sustainability in the trenches," he says. "I went to marketing and brand leaders at sister divisions at Estee Lauder, for example, and told them what we wanted to accomplish and why. They said that if the sustainability programs did not negatively impact quality or change the cost of the package then we had their permission to proceed.
"This created a challenge for us—no change in cost or quality. On the other hand, we had their permission to forge ahead. We bypassed the hassle of converting them to our point of view. In fact, designing for sustainability can actually lower the cost without impacting quality, which eased this challenge considerably."
Delfausse went on to say that sustainability is an idea that people like to rally around. He tells the story of issuing a company-wide challenge to have a minimum of 80 percent post-consumer content in the linerboard of the company's holiday box set. One of Aveda's suppliers who manufactures in China came back with a 90 percent solution. "Success stories like the holiday gift boxes example excite people," he says. "Sustainability becomes contagious."
At Microsoft, Ballantine and the rest of the packaging teams do everything they can to meet the needs of various functional organizations while moving toward sustainability. "Transportation wants as many packages on the truck as possible," he says. "The channel organization wants a maximum number of boxes on the shelf, while marketing would really like to see big, bold packages that catch the eye of the consumer. Packaging management needs to come up with solutions that blend these needs with the goals of sustainability. When you begin to accumulate successes, sustainability really starts to snowball."
Involve the channel
Because sustainability is bigger than any one company, it is essential that the supply chain contribute to the solution. "One of the things our research has shown is that very few sustainable strategies can be developed in isolation," says Kellie of Microflex Technologies. "In projects involving multiple partners, it is very evident that no one organization has a solution to all parts of the problem. The greater the number of partners and stakeholders who come together with a clear commitment, the more interesting the results, the wider their applicability, and the better the results."
Unilever's Holder believes that involving suppliers brings a host of advantages. "When packagers start to ask their supply chain for new materials, more efficient processes, and ideas on how to get from here to there, I think they will be pleasantly surprised," says Holder. "Many of our suppliers come back to us saying that we were the first to ask for these things and, yes, they can do that for us."
Bernardo at Albertson's had this observation: "Any changes we ask of our suppliers must make business sense for them. This has to be mutually beneficial. Educate your suppliers on what you are trying to achieve and why. Work with them to develop the opportunities that help their overall growth. That is the way to bring more people into the fold and make real progress."
MeadWestvaco's Marcero agrees. "Advances in technology, new products, fresh designs, and more energy-efficient processes take time," he says. "To achieve these much-needed changes, we have to work together for the good of the whole supply chain."
Ballantine believes that packaging can serve as the supply chain intermediary. "We have found it helpful in getting our suppliers to talk with our customers and manufacturing partners and vice versa," he says. "For example, we've had printers, paper suppliers, and retailers discussing with us the possibility of making changes to materials, packaging, displays, and shelving. The end result can be more packages per shelf, less overall waste, easier manufacturing, reduced total costs, and better product display, resulting in better experiences for customers and everyone involved in the supply pipeline. Viewing members of the supply chain as partners offers real advantages. Sustainability is new and everyone in the supply chain will have to make changes to embrace it."
Begin the journey toward sustainability by looking inward at a few key parameters of the package. Measure progress toward sustainability, and create enthusiasm through successes. Keep initial efforts as simple and easy to measure as possible. At the same time, focus outward toward the needs of retailers for recovery, alternative use, or environmentally safe incineration. Involve supply chain partners in key decisions and create solutions that make sound business sense for all involved. Do these things and you'll begin experiencing the benefits of sustainable packaging.
Editor's Note: This is Part Two in a three-part series of articles that explores strategies for sustainability. Part One, which appeared in the February issue and is available online, describes the environmental, social, and economic issues pushing the supply chain to sustainability. Part Two examines internal and external strategies for implementing sustainable programs. The final installment in April presents the experiences of packagers currently implementing sustainable programs. The author wishes to thank the Sustainable Packaging Coalition and its members for their generous assistance during the research and writing of these articles.
Companies in this article