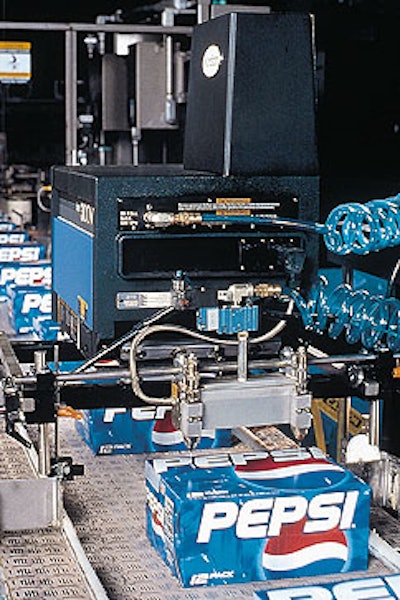 The system secures filled and sealed cartons of Pepsi with small beads of hot melt deposited strategically near carton corners to provide stability on pallet loads without using excessive amounts of glue. The system eliminates the need to apply stretch wrap to the load.
"In the past, we used large strips of hot melt adhesive, then manually stretch wrapped those pallets because the glue wasn't sufficient," says Bob Bourque. Bourque, the production manager at the Marion, IL, bottling facility, says it's too early to determine overall labor and material savings since making the switch, but estimates that "we're using maybe 20 percent of the amount of hot melt we used previously."
The Nordson system is used on a line that produces 12- and 24-pack cartons on a 24/7 schedule. It includes a Series 3100 Vista™ applicator unit, two H-200 zero-cavity dispensing applicators designed to cut off dispensing without dripping, and the company's Tempus™ pattern control system.
"We service about 22ꯠ customers in a five-state area," Bourque notes. "And our drivers say [the system] is great. They've not had any damaged loads. This new equipment ensures that our pallets are secure during transport and storage. And the adhesive has a light tack, so it doesn't pull off any paper" during depalletization. The special adhesive, he says, is supplied by H.B. Fuller (St. Paul, MN). Bourque adds, "By eliminating stretch wrap, we've reduced environmental waste, which is important to us as a community citizen." He also states that the investment payback period was just a couple of months. "We've more than made up for our investment due to the material and labor cost savings we're experiencing." (JB)
Companies in this article
Videos from Nordson Corporation