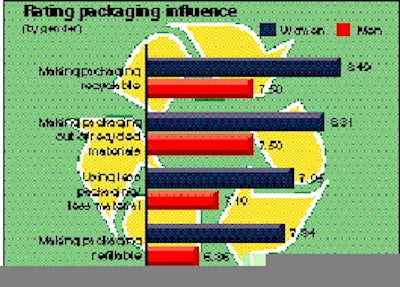 ERA, an international research and consulting operation, has conducted twice-a-year environmental surveys for COPE since '92. ERA is a division of Integrated Marketing Services (Princeton, NJ).
According to the report, consumers believe companies should prioritize package recyclability and use increased amounts of recycled-content materials. Improvements in degradability, reductions in packaging and increased use of refills and concentrates are also important, though lower on the priority list.
"Consumers generally feel that positive strides have been made on environmentally sensitive packaging options," the study says. "This suggests that consumers' expectations continue to increase. In order to retain fairly positive ratings on packaging performance, companies need to continue to make environmentally positive changes to packaging."
Women show concern
Environmental concern remains particularly significant among women, young adults and minorities. "Women, overall, are more likely to be primary household shoppers," says the report. Thus, "women are more likely to look for environmentally related information on consumer product labels and packaging," the study notes. Not surprisingly, then, "environmentally related packaging changes are more likely to influence women's purchasing habits."
As the accompanying chart shows, both women and men rate making packaging recyclable as having the greatest influence on purchases. Among the major findings concerning packaging issues, the study says consumers:
* Regard environmentally related packaging changes as a strong influence in purchasing a product,
* Have noticed packaging changes made for environmental reasons in recent years,
* Consider companies are doing a fair job with environmentally related packaging, with room for improvement,
* Rank environmental attributes of products/packages more highly than brand names, and
* Look most often for nutritional and price information on labels, with environmental information looked at about one-half the time.
Study to continue
"One of the most interesting findings [of the Retrospective] was that when asked about the most serious issues facing the country today, concern about the environment has been constant. Conversely, questions related to crime, drugs and the economy varied depending on what was in the news."
So says Matt Hayden, manager of environmental affairs for ITW Hi-Cone, the Itasca, IL, division of Glenview, IL-based Illinois Tool Works. "Concern about the environment has been adopted as a societal or core value," he says.
Hayden, who was chairman of COPE's research committee and a member of its board of directors, tells Packaging World that he maintains the research chair duties today, for some former COPE members that have regrouped in partnership with ERA and Rutgers University.
"Rutgers is an extraordinary academic institution that's been involved in environmental research for many years," he explains. "We believe they will serve as an excellent host for this research now that there's no longer a trade association [COPE] affiliated with it."
Companies in this article