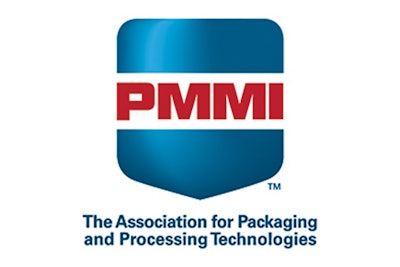 In a significant stride toward ensuring the utmost safety in the packaging and processing machinery industry, PMMI, The Association for Packaging and Processing Technologies, released the newly approved American National Standard on the Safety of Packaging and Processing Machinery, ANSI/PMMI B155.1-2023. This new edition marks a comprehensive overhaul of the standard, introducing critical changes that prioritize user safety and industry advancements.
The ANSI/PMMI B155.1-2023 standard has undergone a meticulous revision, guided by a panel of industry experts convened by standard developer PMMI, to address evolving safety concerns, technological advancements, and changing operational landscapes. The development committee includes new contributors providing deep insights from machine builders, consumer packaged goods companies, and technology suppliers.
"By introducing these comprehensive updates, the ANSI/PMMI B155.1-2023 standard sets a new benchmark for safety in the packaging and processing machinery industry," said Tom Egan, vice president, industry services, PMMI. "This revised standard reaffirms the commitment of PMMI to the safety and well-being of industry professionals, ensuring that technological advancements go hand-in-hand with the highest levels of safety."'
"Safety is critical to all operators. With an evolving work landscape, having industry standards that are rigorously evaluated on a consistent basis allows us to stay vigilant in mitigating risk," says John Uber, head of product compliance for PMMI member company Mettler Toledo.
The standard guides packaging and processing machinery suppliers and users through a formal, documented risk assessment process designed to ensure that reasonably foreseeable hazards are identified, and corresponding risks are reduced to an acceptable level.
A few key highlights of the standard's updates include:
1) Refined Responsibilities: The revised text explicitly outlines the responsibilities of machinery suppliers, users, modifiers, purchasers of used machinery, and other stakeholders, fostering a safer working environment through increased accountability. The update addresses machinery-as-a-service, or MaaS, including equipment loaned or provided by a third party and located in a user facility, as well as mobile platforms, robots used for logistics, cleaning, and more.
2) Introduction of Co-Packer/Co-Manufacturer Concepts: The new edition introduces the concept of co-packers and co-manufacturers, delineating their associated responsibilities within the framework of safety regulations.
3) Updated Legacy Machinery Requirements: The responsibilities for existing (legacy) machinery have been updated and clarified to ensure that older equipment is brought in line with the latest safety standards in a practical, cost-effective, and appropriate way.
4) Clarified Scope: The scope of the standard has been clarified to provide a more precise understanding of its applicability, reducing ambiguity, and allowing for improved implementation.
5) Remote/Tele-Operation Enhancements: With the advancement of remote operations, the standard now offers improved information and guidelines for safely operating machinery through remote means.
6) Reorganized Clauses 4 and 5: The standard now features a restructured layout for enhanced clarity and ease of reference, streamlining the reading experience for professionals in the field.
7) Whole Body Access Requirements: The standard now includes comprehensive requirements for situations where whole body access is applicable, safeguarding operators from potential hazards.
The first version of this standard was approved by the PMMI membership on Sept. 27, 1972. It was approved by ANSI on Aug. 6, 1973. The standard has been reviewed and revised with subsequent approvals by the ANSI Board of Standards Review in 1979, 1986, 1994, 2000, 2006, 2011, and 2016.
The ANSI/PMMI B155.1-2023 standard will be available for purchase through the ANSI webstore.

Companies in this article