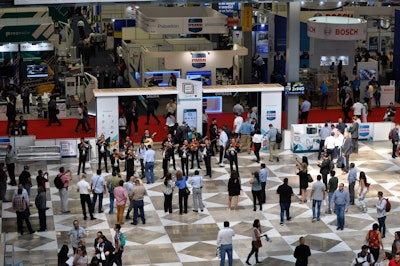 The sheer number of exhibitors with high-tech solutions illustrates Mexico and Latin America's importance to packaging and processing equipment manufacturers. In the past two years, Mexico has seen such machinery's imports growing at their highest historical levels, with annual figures close to $750 million.
Despite caution around a new government in Mexico, recognized international and Mexican companies from industrial sectors, traditionally principal buyers of processing and packaging machinery, have announced important investments.
A study launched at EXPO PACK 2019, titled Mexico´s Packaging Machinery Market Trends and Forecast 2019-2020 by PMMI's Business Intelligence, points out that during new president Andrés Manuel López Obrador's first months in office, such heavyweight companies as Nestlé, Novartis, Pfizer, and Reckitt Benckiser confirmed their intention to invest in Mexico, as well as leading national companies in the beverage and foods sectors such as Pascual-Boing, Kekén, Sigma Alimentos, Grupo Bimbo, and the Arca Continental Group.
PepsiCo Mexico also announced a $4 billion investment in several projects in the country, including the construction of a new factory in Guanajuato. Boehringer Ingelheim reported expanded production capacity of its plant, located near Mexico City, with projects worth $52 million.
High-tech support to market trends
For packaging personalization, an essential element in e-commerce, Owens Illinois presented, for the first time in Mexico, its platform for digital printing in glass. O-I Expressions, with resolutions of up to 720 dpi, allow integrating enhancements, textures, variable information, and properties that highlight products and speed up their time to market. With the use of organic inks and the possibility of controlling inventories, this technology ensures bottle recyclability and waste reduction.
The incorporation of sustainable properties was a common element offered by most exhibitors at EXPO PACK 2019. UPM Raflatac showed the transparent, ultra-thin Vanish™ PCR film, made with 90% recycled material, to produce invisible labels for food, beverages, or personal care items.
Automation was also a trend at the show. "Many countries in Latin America are considering automation today and use it in the production stage of primary packaging. Over the next few years, we will see it in secondary packaging, and later in palletizing and wrapping," said Julio Rubio, Sales Director for Latin America at Columbia/Okura and Columbia Machine. Similarly, Roberto Cotes, sales manager for Latin America for Yamato, said: "we are working on the connectivity of our equipment, so that they can be used through applications in mobile phones."
Solutions to support this trend towards automation and the concept of Industry 4.0 were evident in the Space for Innovators, where Zebra Technologies provided companies with data solutions on the location and condition of their assets, and the use of labels and readers to identify and quickly isolate problems and inefficiencies in the lines.
Likewise, to meet the needs for increased productivity, numerous solutions were exhibited during the event, such as Flex E Pack, created from the alliance between Wexxar Bel and Matrix, and designed for bagging, case erecting, and packing and sealing operations. Flex E Pack increases the flexible production of packaging by automating the processes of forming and sealing cases, in an operation that requires a single person, where the work of three or four workers was previously necessary.
An accurate summary of what EXPO PACK Guadalajara represents was given by Gonzalo Varela, sales manager for Latin America of the manufacturer of inspection systems Fortress Technology by stating that: "EXPO PACK is a showcase where we can meet our clients face to face and allows us to more easily understand their needs and identify solutions for them. The fair opens a space to show our products quickly and easily, and then make a closer analysis of the projects."
Companies in this article