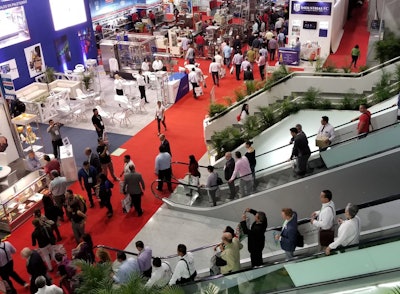 Now in its 32nd year, EXPO PACK México 2018 opened the doors today on its biggest exhibition ever, stretching the limits of Expo Santa Fe with 1000 exhibitors across more than 19,300 net square meters (208,000 net square feet) of exhibition space.
As the most substantial packaging and processing event of its kind in Latin America the four-day trade show, June 5-8, expects upwards of 23,000 attendees representing food and beverage, pharmaceutical, personal care and home, graphic arts, chemical, electronics, textiles and the automotive industries.
EXPO PACK México Director Gerardo Barajas kicked off the opening ceremony and ceremonial ribbon cutting with a report on the continued growth of the Mexican packaging market. Citing research from the AMEE (Mexican Association of Packaging), he noted that total production of the packaging industry has increased by 5.1 percent since 2016 and is expected to continue to grow at that pace.
To help meet the demand for this increase in packaging and processing, EXPO PACK Mexico's Santa Fe location allows easy access to prospective buyers from the Mexican States of Puebla, Guanajuato, Estado de México, Queretaro and Morelos. Strategically located between two international airports, international attendees are once again expected from throughout Latin America, including targeted buying groups from Guatemala, Costa Rica and Colombia.
These attendees will find international pavilions from Argentina, Brazil, Canada, China, Colombia, France, Spain and the U.S., and convene with companies representing 20 countries. International exhibitors include 145 members of EXPO PACK Mexico show producer PMMI, the Association for Packaging and Processing Technologies. The PMMI pavilion houses 100 of these companies across 2,950 net square meters, 18 percent larger than the last show.
In addition to technology and innovation, EXPO PACK México provides free educational offerings. The Innovation Stage (Booth 364) offers attendees 30-minute seminars each day on significant real-world industry trends while the Mexican Association of Packaging and Packaging (AMEE) Conference addresses printing and coding on Wednesday, flexible packaging on Thursday and packaging innovation and the supply chain on Friday. The AMEE sessions take place each day from 8:30 a.m. to 1:30 p.m. and the full program is available on expopack.com.