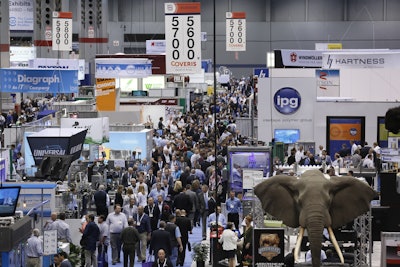 On the 60th Anniversary of its debut, PACK EXPO International and the co-located Pharma EXPO served as the world's largest and most comprehensive processing and packaging show in 2016.
Show owner and producer PMMI, The Association for Packaging and Processing Technologies, reported that PACK EXPO International and Pharma EXPO 2016 was the largest show in the history of PACK EXPO. A record breaking 2,512 exhibitors spread over an unprecedented 1.25 million net square feet of exhibit space welcomed 46,000 targeted buyers.
"Exhibitors reported that not only were leads up, but the quality of the attendees continues to grow," says Jim Pittas, sr. vice president of PMMI. "A full audit of the event will be forthcoming, but all initial reports from exhibitors and attendees clearly show PACK EXPO International and Pharma EXPO 2016 was an overwhelming success."

Long-time exhibitor and Fortune 500 mainstay Sealed Air, Charlotte, North Carolina, supported the anecdotal evidence, calling 2016 one of its finest PACK EXPO events.
"Our senior management has been talking this year's show up for months and, with lots of self-driven planning and promotions, it was one of the best we've ever had," says Jenn Grabenstetter, executive director of Global Communications/Product Care for Sealed Air. "We secured an average of 200 organic leads per day in addition to hosting 350 customers and channel partners for pre-scheduled meetings."
The buzz on the McCormick Place show floor also confirmed that exhibitors and attendees from companies of all sizes found a rewarding, and some claim unparalleled, experience at the four-day event.
"This PACK EXPO International was our best show yet," says Virginia Price, CEO and founder of exhibitor Planet CanIt, Highland Park, Illinois. "We are always excited when we have the opportunity to meet manufacturers seeking a high-end packaging solution. At this show, we [saw] top-level executives, marketers and package designers for brands across the food, toy, personal care and other industries we serve."
Exhibitors and exhibit space were not the only records broken. In no previous year has PACK EXPO received as many endorsements as this year with the largest ever Partner Program including 31 associations. International pavilion organizers came from all corners of the globe, including Argentina, Bavaria, Brazil, China, France, Germany, Italy, Switzerland and Taiwan.
Long-time attendee Preston Jackson, shipping supervisor for LECO Corporation, St. Joseph, Michigan appreciates that a show as large as PACK EXPO offers opportunities for everyone.
"We are a small manufacturing company looking for big ideas and came to the show specifically for sealers for a low-volume project," Jackson says. "Even being a small company we have been able to find solutions at PACK EXPO."
The education offerings for PACK EXPO were also the largest in the history of the PACK EXPO portfolio of trade shows. The three Innovation Stages at PACK EXPO and one at Pharma EXPO offered free on-floor education, while The Pharma EXPO Conference Program, produced by International Society of Pharmaceutical Engineering, (ISPE) provided three topic tracks covering manufacturing operations, compliance trends and pharmaceutical packaging.
One particularly well-received new addition to PACK EXPO International's long list of convenience-enhancing features was the NextGEN Networking Fair, the event that connected both supplier companies and consumer goods manufacturers with student talent in the Education and Workforce Development Pavilion. Fourteen teams of students from 10 partner schools also participated in the Amazing Packaging Race, sponsored by ASCO. A team made up of undergrads from Indiana State University, Cal Poly, Virginia Tech and Rutgers University took home iPads for finishing first in the seventh annual competition. ASCO also awarded $5,000 academic scholarships to Nathaniel Weger, a junior at the University of Iowa, and Quinnlan Sweeney, a junior at Clemson University.
As if the show, the educational opportunities and networking weren't enough, PMMI hosted the 6th annual PACK gives BACK™ featuring the magic and comedy act of Penn and Teller. The sold-out event, sponsored by co-title sponsors Rockwell Automation and DuPont and Bronze sponsor Massman Automation Designs, LLC, had over 1,400 attendees. A portion of the proceeds will benefit No Greater Sacrifice (NGS), a nonprofit organization providing educational scholarships to the children of wounded and fallen military.
"We took the band Chicago to Las Vegas last year so we thought we should bring a little Las Vegas to Chicago this year and raised money for a great cause," says Jim Pittas. "Thank you to the sponsors and all those who attended and donated to NGS."
Companies in this article
Videos from Massman Automation, a Massman Company