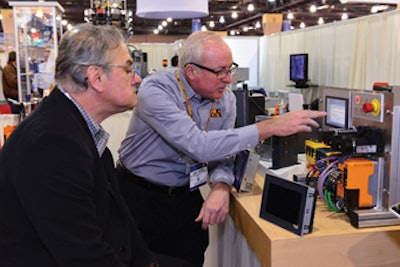 The three-day event features over 400 exhibiting companies and spans more than 100,000 net square feet of Philadelphia's Pennsylvania Convention Center exhibit space. PMMI anticipates in excess of 7,000 attendees.
"The industry identifies the PACK EXPO brand with quality events and the response to our first PACK EXPO East proved that," said Jim Pittas, senior vice president, PMMI. "The intimacy of a regional event allowed attendees and exhibitors to spend quality time understanding each other's operations and the challenges both sides of the table face."
As 2015 proved, attending PACK EXPO East is the most efficient way to engage suppliers of packaging technologies in the industry-vibrant East Coast. Its location in Philadelphia places PACK EXPO East within 200 miles of one-third of U.S. consumer packaged goods companies (CPGs), including arguably the country's largest concentration of life science and pharmaceutical industries. For those in the healthcare sector, the Healthcare Packaging and Processing Conference will be of particular interest with keynotes, sessions, and technology workshops touching every facet of the industry.
The Innovation Stage at PACK EXPO East offers free 30-minute education sessions directly on the show floor. These include fresh looks at new technologies provided by exhibitors and industry experts serving the food and beverage industry.
Registration for PACK EXPO East is $30 for a limited time when it increases to the onsite fee of $100. Register online at www.packexpoeast.com.
Companies in this article