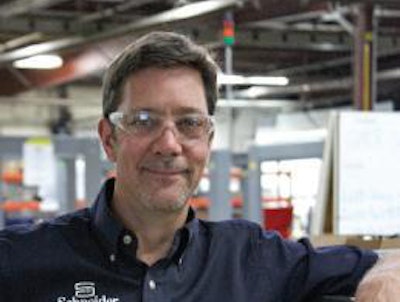 Schneider Packaging Equipment Co., Inc. sadly announces the passing of Leonard Greenia, 57, Chief Operating Officer and Board member, after a courageous battle with cancer.
"Len has left an indelible mark on Schneider Packaging and on the lives of those of us who were so fortunate to work with him. His leadership, integrity, and compassion have been invaluable for our entire organization," said Richard S. Schneider, President of Schneider Packaging.
Len joined Schneider Packaging in August of 1982, after serving 4 years in the Navy as a Machinist Mate Second Class.
Throughout his 33 years at Schneider, Len demonstrated an enthusiasm for learning, and a work ethic beyond measure. He began his career as a machine builder, and mastered numerous roles within the organization, but even as COO Len never hesitated to assist, support or guide wherever he could, to help the company, and each employee, to succeed. His gift to Schneider Packaging was his remarkable combination of positive leadership, extensive business knowledge, and an unwavering "let's get the job done together" attitude. Len was a respected leader, an inspiring mentor, and a trusted friend.
Schneider Packaging extends its deepest condolences to Len's wife Katherine and his children Seth and Sophia, and our thanks for sharing such a great man with us.
Companies in this article
Videos from Schneider Packaging Equip. Co.