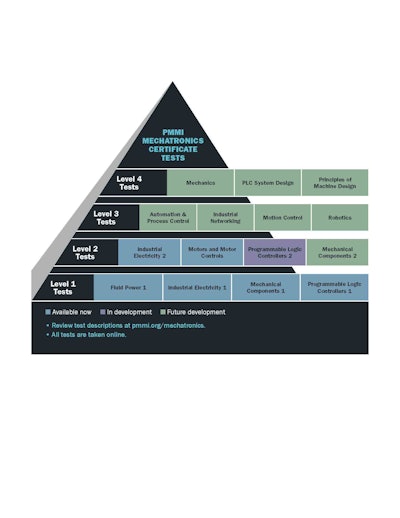 PMMI, the Association for Packaging and Processing Technologies, announces the release of Motors and Motor Controls, the newest test in its mechatronics certificate program.
"We're pleased to offer this new Motors and Motor Controls mechatronics test," says Maria Ferrante, vice president, education & workforce development, PMMI. "This test will help technical schools and colleges, the industry and allied associations and organizations move us one step closer to our goal of building a qualified, stronger workforce."
PMMI's Mechatronics Certificate Tests are part of the National Association of Manufacturing-endorsed Manufacturing Skills Certification System. This series of stackable credentials helps manufacturers identify the qualified, skilled talent they need for today's in-demand technical jobs. Each person who successfully passes a PMMI mechatronics test receives a nationally recognized certificate.
In 2010 PMMI began offering mechatronics tests in four key areas: mechanical, electrical, controls and computer science. Currently PMMI offers 6 tests and plans to add a Programmable Logic Controllers 2 test later this year. (Click here for more information.)
Motors and Motor Controls is a level 2 test designed for intermediate-level tradespeople, technicians and technologists. It assesses their mastery of principles, application, troubleshooting and maintenance of rotating electrical motors and electronic motor drives used in packaging and processing. There are no prerequisites; however, test takers are expected to have passed Industrial Electricity 1 and Industrial Electricity 2 mechatronics tests or have equivalent knowledge and experience.
"PMMI's Mechatronics Certificate Tests are powerful tools to assess the technical skills of your employees and to pinpoint any areas for improvement," says Stephan Girard, director, workforce development, PMMI. Girard facilitated the development of the Motors and Motor Controls test with subject matter experts from PMMI member companies and technical schools and colleges who offer packaging curricula.
Earlier this year, PMMI partnered with the Industrial Maintenance Training Center of North America, in cooperation with the Employment and Training Administration of the US Department of Labor (DOL), to create National Apprenticeship guidelines for the occupation of "mechatronics technician."This apprenticeship program is based on the PMMI's Mechatronics Certificate Tests, and employers can use the new apprenticeship guidelines as part of a formal, DOL-registered apprenticeship program or as a structure for their internal programs.
For complete descriptions of PMMI's Mechatronics Certificate Tests and to access the test center, go to pmmi.org/mechatronics.
PMMI works with a growing number of PMMI Mechatronics Education and Industry Partners to further advance this program. If your school or company would like to join us, contact Stephan Girard at 571.612.3196 or sgirard@pmmi.org.