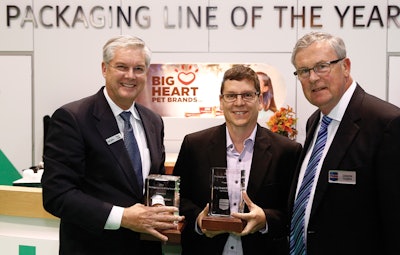 The largest packaging and processing show in North America, the four-day event covered more than 1.2 million net sq ft of exhibit space with 2,352 exhibiting companies—an increase of more than 19% over PACK EXPO 2012. "The success of the inaugural Pharma EXPO proves the strength of the PACK EXPO brand across all vertical markets and reinforces the view of PACK EXPO as the preeminent North American packaging and processing show," says Jim Pittas, PMMI Senior Vice President. He notes the successes of PACK EXPO and Pharma EXPO, which PMMI produced in partnership with the International Society for Pharmaceutical Engineering (ISPE), strengthened the groundwork for excellent results for exhibitors at upcoming PACK EXPO East in February and Pharma EXPO and PACK EXPO Las Vegas in 2015.
Among the many highlights at the just completed Chicago show was an appearance by celebrated comedian Jay Leno as part of PMMI's PACK gives BACK™ initiative. PACK gives BACK™ at PACK EXPO raised more than $34,000 for K9s for Warriors, a charitable organization dedicated to providing service dogs to military veterans suffering from posttraumatic stress as a result of their service since 9/11. Leno entertained a sold-out crowd of 1,900, and funds raised included a portion of ticket sales and supplemental donations collected online and on site at PACK EXPO. The program includes three weeks' training for the canine/warrior teams at the K9s for Warriors facility in Ponte Vedra, FL. Over 90% of the partnered dogs are obtained through rescue groups.
"We're always happy to support those who have fought for our country," says Charles D. Yuska, president and CEO, PMMI. "Our service men and women have given so much for us. It's a pleasure to be able to give something back to them."
PMMI, adds Yuska, is grateful to Title Sponsors DuPont Packaging & Industrial Polymer and Pro Mach, Inc., and Gold Sponsors Bemis North America and International Paper for supporting PACK gives BACK™. "PACK gives BACK™ is a way to bring the entire PACK EXPO community together for a greater purpose," adds Yuska.
A link for donations will be active through November at Packexpointernational.com, and donations are always accepted at K9sforWarriors.org.
Following the November 3 appearance by Leno, Packaging World Publisher Joe Angel presented the comedian with his very own copy of Packaging World's October issue, the cover of which was graced by none other than Leno himself.
Another highlight at the show was Yuska's presentation of the PMMI Packaging Line of the Year Award to Big Heart Pet Brands at the booth of Kliklok-Woodman, the machinery builder that nominated the San Francisco-based firm for the award.
"Two years ago we had one goal in mind at PACK EXPO, and that was to find vendors who would work with us on this project," said Big Heart Pet Brands' Senior Manager of Packaging R&D Paul Baker. "Finally we got to the Kliklok-Woodman booth, and they agreed to take it on."
Kliklok-Woodman's primary contribution was to supply the machines that erect and close the folding carton that serves as secondary packaging for the Milk Bone Brushing Chews that Big Heart Pet Brands was introducing. Bosch Packaging, which supplied vertical form/fill/seal equipment, also played a key role, as did Velcro, Aplix, Printpack, Rock Tenn, Kleenline, Valco Melton, Henkel, and others.
Joining the awards presentation was Kliklok-Woodman's Ross Long, Vice President of Sales and Marketing.
Be sure to see the full report and video on the award-winning line on page 42.
Finally, what would PACK EXPO be without the Amazing Packaging Race? Now in its fifth edition, this year's race was the largest ever, as 28 teams participated. Team Five won the day as well as the new iPads that were generously provided by contest sponsor ASCO Numatics, a business of Emerson.
Team Five—Amed Kanan from Hennepin Tech, Hannah Newman of the University of Wisconsin-Stout, Aaron Ertel from Rochester Institute of Technology (RIT), and Jenna Hines and George Klingbail each from Michigan State—won with a mixture of strategy and skill, perfecting a balance of completing tasks and reaching the most exhibitors.
In second place was Team Four: Colin Mitchell from Clemson University, Benjamin Kuester of Alexandria Tech, James Spencer from Hennepin Tech, Kyler Shearer of Michigan State University, and Vignesh Iyer, RIT.
"This was by far our biggest turnout ever, with 140 students participating," says Maria Ferrante, vice president, Education & Workforce Development, PMMI. "Working as a team and under time constraints gives them just a taste of what they can look forward to once they graduate and enter the packaging industry."
The 22 participating companies were spread out among the more than 1.2 million net square feet of exhibit space: 3M; Arrowhead Systems, Inc.; Bosch Packaging Technology, Inc.; Daubert Cromwell; Dorner Mfg. Corp; Filamatic; Fox IV Technologies; Garvey Corporation; KHS USA; Langguth America; MASSMAN Automation Designs, LLC; Matrox Imaging; Millwood, Inc.; Morrison Container Handling Solutions; Murrelektronik Inc.; Packsize, LLC; Pearson Packaging Systems; Plexpack Corp.; Sealed Air Corporation; Shurtape Technologies LLC; Source One; Starview Packaging Machinery.
"We often say PACK EXPO is the world's largest classroom for packaging and processing technologies, and thanks to the participating exhibitors—especially ASCO Numatics, which sponsored the contest—we were able to provide the students hands-on experience like none they'll get anywhere else," Ferrante says.
Ten PMMI Partner Schools were on board for the contest: Alexandria Tech, CalPoly, Clemson University, Hennepin Tech, Michigan State University, Rochester Institute of Technology, Rutgers, San Jose State, UW- Stout, Virginia Tech.
Companies in this article