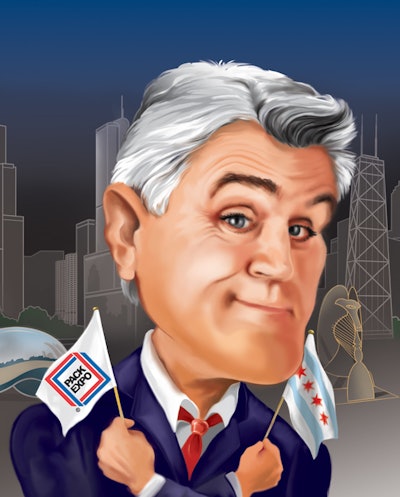 No offense to Jay Leno, but he's gonna wind up being pretty small potatoes at Pack Expo International 2014 compared to all the other things that packaging and processing professionals will be anxious to see when the show runs November 2-5 at Chicago's McCormick Place.
Let's start with Pharma Expo. The global medical device industry has grown significantly over the last five years, and some are projecting it might reach $302 billion by 2017 with a compound annual growth rate of 6.1 percent. To serve this growing industry, Pharma Expo 2014 will provide solutions that medical device manufacturers can use to enhance efficiency, speed, and time to market, and to ensure regulatory compliance.
"There are more than 6,500 medical device companies in the U.S., and Pharma Expo will provide these companies access to leading market suppliers," says Jim Pittas, Vice President, Trade Shows, PMMI.
Pharma Expo is produced by PMMI, The Association for Packaging and Processing Technologies, in collaboration with the International Society for Pharmaceutical Engineering (ISPE). Pack Expo and Pharma Expo together will draw more than 2,000 exhibitors and over 50,000 attendees. Side-by-side, the events will be the largest resource for processing and packaging innovation in North America this year.
Then there's the Contract Packaging Association Sourcing Center, a new feature at Pack Expo. Located on the Grand Concourse adjacent to the Association Pavilion, it will be a showcase for the capabilities of contract packagers and a tremendous resource to Pharma Expo as well as Pack Expo Attendees.
"In addition to the CPA members who will exhibit there, the Contract Packaging Association Sourcing Center will feature a display of innovative packages alongside experts who can speak to the benefits of using contract packagers," says Charles D. Yuska, president and CEO of PMMI. "It will be for all show attendees."
Also for the first time, the Active & Intelligent Packaging Industry Association (AIPIA) will hold its AIPIA World Congress alongside Pack Expo.
"Pack Expo International is an outstanding showcase for the latest developments in packaging and processing technologies, so it's a perfectly logical step to incorporate AIPIA's event," says Yuska. "The AIPIA World Congress will address some exciting technologies in the packaging world. Active and intelligent packaging is taking packaging into new areas that our exhibitors and visitors need to fully understand." AIPIA Director Eef de Ferrante echoes Yuska's enthusiasm. "Being part of Pack Expo underscores the status the AIPIA World Congress has already achieved and reflects the rise of active and intelligent packaging."
The AIPIA World Congress will run from Sunday November 2 through Tuesday November 4 and will include a display area in addition to its conference sessions. Delegates will receive complimentary registration to Pack Expo and Pharma Expo.
Returning to Pack Expo International is the Processing Zone, a popular on-floor destination that will arm manufacturers for growth. According to a recent study released by PMMI, 75 percent of manufacturers use robots at some point along their manufacturing line, including processing operations involving direct food contact. The report indicates that use of robotics has more than tripled in a number of industries in the past five years.
The Processing Zone is aimed at meeting processors' increasing demand for automation and robotics. The pavilion, located in Lakeside Upper Hall, will feature a wide range of processing technologies for manufacturing industries, including baking and snack, beverage, dairy, meat, and confectionery—as well as non-food sectors such as cosmetics and home and lawn care.
"Since its first appearance at Pack Expo International 2010, The Processing Zone has continued to offer solutions for automation, plant safety, effiency, and technologies for all steps in the manufacturing process," says Pittas.
The Processing Zone is just one of several features at Pack Expo that showcase packaging and processing innovations. Processors will also have access to a number of other resources at the show:
• The Food Safety Summit Resource Center will help manufacturers learn about recent breakthroughs in food safety technologies and source solutions critical to food safety.
• The Confectionery Pavilion, sponsored by the National Confectioners Association, will connect attendees with equipment and materials to help maximize line flexibility and protect product freshness.
• Several industry-specific lounges will provide dedicated areas for attendees to network, exchange ideas with peers, and seek technical advice from subject matter experts. These include The Baking-Snack Break lounge, endorsed by the Biscuit and Cracker Manufacturers' Association; The Candy Bar lounge, endorsed by the National Confectioners Association; and The Beverage Cooler lounge, endorsed by the International Society of Beverage Technologists.
• Four Innovation Stage locations will offer convenient access to critical industry insights with free educational sessions.
Making its second appearance after a successful debut at Pack Expo Las Vegas 2013 is the Pack Expo Partner Program (PEPP), which brings together more than 30 leading packaging and processing professional associations from all over the world. "PEPP is a clear example of how the packaging and processing communities come together at Pack Expo shows," says Pittas. "PMMI knows how important our association partnerships are to furthering our industries and our missions. The partnership program opens the door to building and strengthening those partnerships." Associations from nine countries representing all facets of processing and packaging will be on hand for Pack Expo International 2014.
And then of course there's Jay Leno, this year's headliner at PACK gives BACK™. The Monday, November 3, event featuring the former star of The Tonight Show begins with a reception at 4:30, and Leno takes the stage at 5:30. Tickets are on sale and will be available only to Pack Expo International and Pharma Expo 2014 registrants. A portion of ticket proceeds will support K9s For Warriors, a charitable organization dedicated to providing service dogs to military veterans suffering from posttraumatic stress as a result of conflicts and war following 9/11. The 2013 debut edition of PACK gives BACK™, which also benefited K9s For Warriors, raised $62,000.
For additional information, including on-line registration, visit packexpointernational.com.
Companies in this article