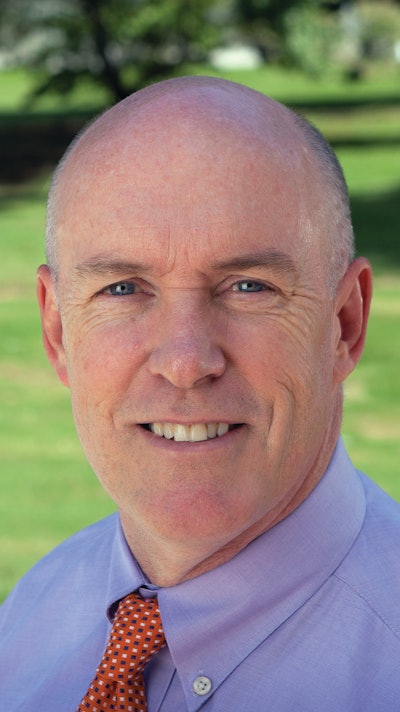 Jeff Rhodehamel, PhD earns his spot in the Hall of Fame as a true food safety renaissance man. Between his work protecting public health in the U.S. Food and Drug Administration, innovating package design at Sealed Air Corporation, and passing the torch to the next generation of food scientists at Clemson University, Rhodehamel has been a leader in just about any field he has entered.
Rhodehamel grew up in Levittown, Pa. His father's work eventually brought him to the suburbs of Washington, D.C., which he says led to a life "mostly south of the Mason-Dixon Line since then" and subsequently an education at Virginia Tech.
He found a special interest in pathogenic microbiology through a food microbiology class he took during his junior year. He earned his degree in microbiology and later earned both a Master's and a PhD in food science and technology at Virginia Tech.
Working alongside his Major Professor, Dr. Merle Pierson, Rhodehamel focused his studies on anaerobic pathogens or germs that can survive without oxygen. "In a strange twist, that's sort of how it got me eventually to packaging," he says, as that type of pathogen is of particular concern with modified atmosphere packaging (MAP).
Rhodehamel's first foray into the "real world" was as a supervisor of microbiological and chemical laboratories at meat processing company Bil Mar Foods.
"There's nothing like going from working in a microbiology lab to going to work in a meat slaughter facility," he says. "It's where I think I learned that there is book knowledge, and then there is real-world knowledge and [the] application of it."
While Rhodehamel enjoyed his time at Bil Mar Foods, after about two years, he jumped at the opportunity to focus more on food safety as a microbiologist for the FDA. It brought Rhodehamel an overriding sense "that you did have an admirable mission to your work, and you felt you were making a difference." He says he knew this job was different from the start, as "not many jobs do you take an oath when you get sworn in."
During his seven years at the FDA, he led the organization's Hazard Analysis and Critical Control Point (HACCP) division, which sets regulations based on principles that ensure food safety from harvest to consumption. One of the focal points of his time leading this division was writing regulations to apply HACCP principles to the seafood industry.
Rhodehamel shifted gears back to the corporate world in 1995 with CRYOVAC®, which later merged with Sealed Air Corporation. He spent the next 18 years at the company and ultimately became executive director of global technology and innovation. He and his team designed several innovative packaging products over the years, including a post-pasteurization bag, ovenable rollstock, oxygen scavenging bag materials, and improved abuse-resistant red meat bags, many of which solved challenges raised by customers.
While Rhodehamel did spearhead these innovations in his leadership role, he emphasized the importance of the team around him. "There's very little innovation that happened as a result of a single individual that can bring it from start to finish; you really need a team effort," he says.
As a mentor for the new talent entering Sealed Air, he simultaneously dipped his toes into the academic world as an adjunct professor at Clemson University.
The chance to teach full-time came toward the twilight of Rhodehamel's career. "I thought it might be a wonderful opportunity to give back to the industry and start mentoring these students while still in academics," he says.
Rhodehamel served as chair of the Department of Food, Nutrition, and Packaging Sciences at Clemson's College of Agriculture, Forestry, and Life Sciences (CAFLS) up to 2019. He has continued as a professor to this day, teaching classes at CAFLS, as well as professional development and leadership course for juniors and seniors.
Not one to limit his contributions to the packaging and food safety world, Rhodehamel has also thrown his hat in the ring at the International Association for Food Protection, the Institute of Food Technologists, and the National Turkey Federation.
Backed by his combined experience climbing several organizational ranks and teaching the next generation to do the same, Rhodehamel advises, "you don't need to be the absolute technical expert in every single aspect, but you rely on your teams to provide that."
And with an admirable sense of modesty, Rhodehamel drives the message home that "it's really all the multitudes of great teams that I've worked with that really deserve the credit."
Read profiles of the other three inductees into the Packaging and Processing Hall of Fame, Class of 2022 by clicking on their names below: