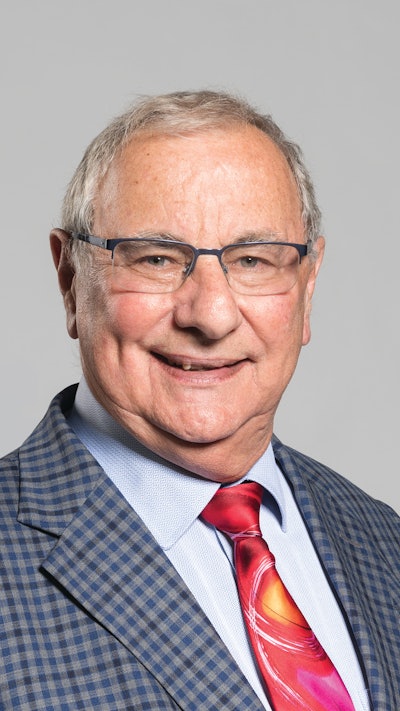 An inventor through and through, Jean-Jacques (JJ) Graffin, founder of Serac, dedicated his life to improving manufacturing and packaging for the food industry. His passion for inventing, and interest in food and beverage, was seeded in his upbringing.
"While observing his parents running their small general mechanical farm equipment company, the idea of being an entrepreneur took shape," says Rose Graffin, JJ's loving wife and partner at Serac. He studied at the Arts et Métiers, an engineering school in Angers, France, and in 1955 and received a Master of Engineering MEng ENSAM (École Nationale Supérieure d'Arts et Métiers) degree.
The idea for Graffin's first breakthrough invention coincided with the arrival of the plastic bottle in the French dairy market. As managing director of Nova-Socimec, a French manufacturer of dosing pumps for filling milk bottles since 1966, he started developing a semi-automatic dairy filler. It occurred to him that instead of dosing liquids by measuring their volume, he could measure the weight of the liquid, so he invented the Net Weight Filler machine.
The invention of the first weight filler in the food industry led Graffin to leave Nova-Socimec and start his own company, Serac, in June 1969. Rose explained that though her husband's passion was invention, he also became a true entrepreneur. "The sales of these machines were increasing, and JJ surrounded himself with competent teams driven by the same passion for packaging development," she says. "He sold six machines in six months."
Other notable inventions include:
The first rotary machine for filling milk into bottles in 1972.
The first aseptic filling line for filling milk in plastic bottles was in partnership with another manufacturer in 1977.
The creation and development of electronic weight filling machines in 1978.
The launch of the blowing activity for PET bottles in 2012 with the Serac Blow Molder (SBL) plastic bottles, produced in-house for production runs not exceeding 18,000 containers per hour.
The patented design electromagnetic nozzle with a closing ball–the filler has no rubber seal, only a tank with nozzles on the periphery with a stainless-steel valve. A magnetic field actuates the seat and ball.
As an innovator, Graffin made it his job to take problems brought to him, find solutions, and bring them to fruition, receiving more than 100 patents. Rose explained that her husband took the time to dive deep into bold ideas generated by customer demand, spending long hours on problems, though, she says, "he never saw a problem; he undertook challenges to create solutions."
He would improve upon machines already in use to improve customer experience. He wanted his company to be open, to conform to customer inquiries. He continually tested each innovation personally until it achieved the desired outcome.
When asked which of JJ's packaging-related accomplishments he was proudest of, Rose cited his very first, the Net Weight Filler, as it expanded into other markets, including detergents, home-care products, agrochemical products, lubricants, and others.
With three factories in France, the option to create production units abroad began to take hold and Graffin was advised to go to the United States. The U.S. Serac subsidiary was built in 1981, a Brazilian subsidiary in 1985, and Serac Asia in Malaysia in 1994. With a Mexico subsidiary opening later in the year, Serac has 14 subsidiaries and more than 650 employees worldwide, including Nova-Socimec, purchased in 2004.
Throughout his life and career, Graffin was recognized with multiple awards:
Nobel Prize for Entrepreneurs by French Academy, 1979
Received the title of "Chevalier in the National Order of Merit" for distinguished civil achievements to honor French citizen's complementarity with the Legion of Honor, May 1980
Winner of the La Prix "Nessim Habif" Prize, one of the annual awards given by the Society of Arts et Métiers, May 2009
Serac has also been a leader in the exclusive club of manufacturers of aseptic filling machines since 1978.
Before he passed, Graffin was working on a very important project that focused on sustainability. In 2020, he supervised the operation of Serac's BluStream® Module, a chemical-free decontamination module for caps that is being debut at Drinktec in Munich this month. Rose says Graffin continuously pushed innovation toward sustainability, specifically the circular economy.
| | |
| --- | --- |
| | View JJ Graffin's obituary and learn more about his contributions to automation, packaging, sustainability, and more. |
"He believed that in the future, many resources that we now take for granted will be acquired at a premium, so Serac must prepare for that eventuality and lead the way," Rose says. She further explained that he wanted his legacy to be the continuation of his work. "My husband was a very proud man; he was kind, considerate, and valued everybody as an equal partner in all his endeavors. He always believed in himself and his ideas, no matter how outlandish they may have seemed at the time. For that, and everything he built, JJ Graffin leaves a legacy that will live and grow forever."
JJ and Rose Graffin were married for 25 years and raised three children. Rose served for 22 years on the company board, many as JJ's vice president. They were partners in life and in the business. "I cannot talk about JJ without smiling," says Rose.
Read profiles of the other three inductees into the Packaging and Processing Hall of Fame, Class of 2022 by clicking on their names below: