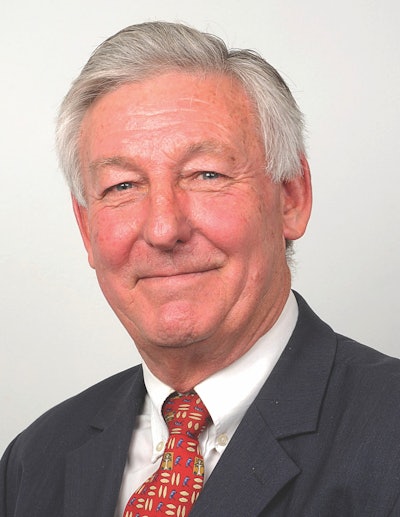 Born on the East Coast of South Africa, this inductee into the Packaging & Processing Hall of Fame has dedicated his life and nearly 50-year career to packaging on that continent—and around the globe. His passion is educating professionals and students about the packaging function's significance in society, particularly when it comes to reducing or eliminating food and packaging waste in a circular economy and addressing starvation.
"For the circular economy to be effective or have any chance of becoming a reality, there needs to be meaningful collaboration for all the stakeholders, government, raw material suppliers, converters, consumers, and recycling industries," he says. "Stakeholders must move away from the linear model of make and dispose, to manufacture products that are recycled back into the manufacturing stream. This form of sustainability embraces the 'Triple Bottom Line' by adding value to people, planet, and profit. Consumers will need to support this by [embracing] the reduce, reuse, and recycle way of living, with industries redesigning waste out of manufacturing processes."
Pearson's passion has evolved during a distinguished professional career that started as an engineer at Kohler Corrugated Packaging in 1970. Three years later he was transferred to Walvis Bay Containers in Namibia as the production manager at a corrugated converter serving the fishing industry. He continued to advance within the Kohler Group, becoming Managing Director. He subsequently became active in the Institute of Packaging South Africa, where he served two terms as Chairman. IPSA awarded him with an honorary membership, while he also earned a Packaging Achiever Award from the Packaging Council of South Africa.
The IPSA experience provided important international exposure for Pearson, who also began to attend WPO board meetings. "Rubbing shoulders with packaging executives from around 50 countries was an amazing experience. It provided me with an in-depth understanding regarding the global role of packaging when visiting WPO member countries," he says. Pearson played an integral role in the inauguration of packaging institutes in Ghana, Nigeria, Tanzania, and Iran, and in the formation of the African Packaging Organisation.
That worldly experience lent Pearson a unique perspective. "With the advent of democracy in South Africa, the rest of Africa started opening up for trade," he recalls. "It was then that South African packaging organizations were able to supply packaging as well as establish manufacturing facilities through partnerships and joint ventures."
His specific expertise lies in food and beverage packaging, particularly in the export of products such as fruit to Europe, whose currency helped the African farming community expand. "South African packaging has always maintained a high standard, and it is not uncommon today to find South African-owned companies operating in Europe," he says. Pearson also notes that many global firms operate manufacturing facilities in South Africa, mentioning Kellogg's, AB InBev (SA Breweries), Nestlé, Unilever, Mondelez, Coca-Cola, PepsiCo, Colgate, Procter & Gamble, Heineken, Diageo, GSK, Danone, Beiersdorf, and Reckitt Benckiser.
His 18 years serving on the WPO board remains a highlight of his career. "WPO gave me the privilege of being part of a global family where developed and developing countries could network," Pearson says. He takes pride in "supporting WPO's vision of providing 'Better quality of life through better packaging for more people.'"
Since retiring from Kohler Packaging, Pearson has continued to work as a packaging consultant in countries throughout Africa.
"The most positive aspect of my experience has been the fact that I have been given opportunities for personal growth, both in the company I worked for, and in the organizations that I became involved in," says Pearson. Clearly, he has paid that opportunity forward to the numerous professionals and students with whom he has shared his wisdom over the past 48 years.
The Packaging & Processing Hall of Fame will welcome all five new members as its 45th class at PACK EXPO International 2018 (Oct. 14–17 ; McCormick Place, Chicago), according to Hall of Fame coordinator and show producer PMMI, The Association for Packaging and Processing Technologies. This year's other inductees are Michael Okoroafor, Timothy Bohrer, Susan Selke and Chuck Yuska. Read short snippets about the other inductees by clicking here, or read their full profiles, to be posted individually in coming days, by clicking here.