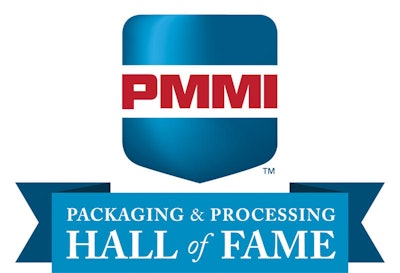 The Packaging & Processing Hall of Fame will welcome five new members as its 45th class at PACK EXPO International 2018 (Oct. 14–17 ; McCormick Place, Chicago), according to Hall of Fame coordinator and show producer PMMI, The Association for Packaging and Processing Technologies. This year's inductees are Tim Bohrer, Keith Pearson, Michael Okoroafor, Susan Selke and Chuck Yuska.
The Packaging & Processing Hall of Fame recognizes career packaging and processing professionals for their significant contributions to the industry and education. An annual event since 1971, the Hall of Fame Commission took a sabbatical after the 2014 class to look internally at its process and ensure it included an accurate representation of all deserving nominees. With its return this year at PACK EXPO International processing professionals were officially eligible for the first time.

"These professionals have contributed to our industry as advisors, pioneers, visionaries, educators, innovators and inventors of packaging and processing technology. Their contributions have led the industry to where it is today," says Jim Pittas, president and CEO, PMMI.
A 45-year veteran of the packaging industry, Timothy Bohrer is the primary inventor on 15 issued patents. These cover the full spectrum of technology from the handling and extrusion of polymers to the harnessing of microwave power to incorporating moisture management into the walls of a flexible package. The founder of Pac Advantage Consulting LLC, Bohrer's development and commercialization of the first metalized film susceptor packages in the early '80s led to the creation and mass appeal of microwave popcorn.
Over his 48 years in the packaging industry, Keith Pearson has dedicated his life to packaging in Africa. The South African native's experience covers manufacturing and converting in the fields of corrugated, carton and print, cores and tubes and multiwall sacks. During his career he worked in the leadership of the World Packaging Organisation (WPO) for over 15 years, serving as the first African President of WPO from 2006–2011 and as General Secretary from 2012–2017.
The innovations highlighting Michael Okoroafor's resume rank among the most substantial and well-known consumer packages of the past two decades. His 40 patents include everyday items like Coca-Cola's PlantBottle™, Heinz's Dip N' Squeeze condiment pack and McCormick & Company, Inc.'s "First Choice" freshness pack. He also helped develop the flexible film packaging material essential to Coca-Cola's Freestyle™ carbonated soft drink dispensing system.
The current Director of the Michigan State University School of Packaging, Susan Selke's 35 years as a packaging educator includes research on packaging sustainability long before sustainability was a buzzword. Selke was the lead author in creating a textbook for plastics packaging and was later involved in creating a similar textbook on paper-based packaging.
For nearly three decades, Chuck Yuska served as president and CEO of PMMI, growing the association's membership from less than 300 U.S. members to nearly 850 global members. During his tenure, the PACK EXPO portfolio of trade shows grew from one show to six, with the trade show success allowing PMMI to raise money for scholarships, education, workforce development and industry relations.
The 2018 Packaging & Processing Hall of Fame inductees will receive their awards during a brief ceremony at the PMMI Booth N-4550, North Hall at 3:30 p.m. Monday, Oct. 15, followed by a video presentation at PACK gives BACK™, the annual networking event to benefit the PACK EXPO Scholarship program. The PACK gives BACK fundraiser kicks off in the Grand Ballroom with a networking reception at 4:30 p.m. followed by a comedy performance from Sebastian Maniscalco at 5:30 p.m. Tickets are $75 and available at packexpointernational.com.
PMMI convened members of the Packaging & Processing Hall of Fame Commission to select this year's inductees. The commission includes a cross-section of industry professionals, including suppliers, journalists and end users.
Patricia Anderson, Vice President of Human Resources & Training, Delkor Systems, Inc.
Joe Angel, President and Publisher, PMMI Media Group,Packaging World
Laura Bix, Ph.D., Professor, Associate Director, Michigan State School of Packaging
Kim Carswell, Director, Packaging, Target
James D. Downham, President & CEO, Packaging Consortium (PAC), Canada
Suzanne Fisher, Senior Program Manager, Special Handling Packaging, Amazon
Mary Gregg, President, Springboard Packaging Solutions, Inc.
Glen Long, Senior Vice President, PMMI
Bill Rice, Associate Manager, Packaging Technology, RD&E - Global Home Cleaners, SC Johnson
Michael Richmond, Ph.D., PTIS, LLC, Global Management & Packaging Consultants
Tom Schneider, CPP, President, World Packaging Organization
David S. Smith, Ph.D., Vice President, Global Package Development, Johnson & Johnson
PACK EXPO International and the co-located Healthcare Packaging EXPO will bring together 2,500 exhibitors showcasing their packaging innovations to 50,000 attendees in over 1.2 million net square feet of exhibit space. To register or for more information, visit packexpointernational.com or hcpechicago.com.
Companies in this article