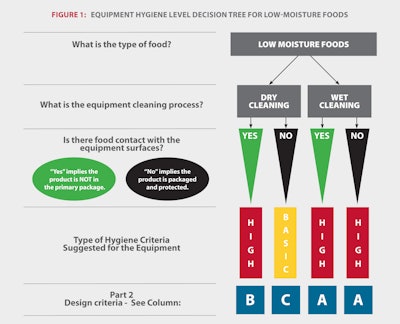 Among the communities of practice that make up PMMI's Alliance for Innovation and Operational Excellence (AIOE) is the Engineering Solutions Group. From this group there emerged recently a guidance document called "ONE VOICE for Sanitary Equipment Design in Low-Moisture Food Manufacturing." It's all about synthesizing and leveraging existing standards already out there to improve lines of communication between the OEMs who build machinery and the Consumer Packaged Goods companies who buy equipment used for low-moisture foods.
"CPGs and OEMs are committed to machinery that is easy to clean, sanitize, and return to operation with minimal downtime," says Stephen Perry, Co-Managing Director of AIOE. "ONE VOICE fosters discussion and data gathering that leads to informed purchase decisions."
Low-moisture foods are defined as edible food products that have a water activity generally less than 0.85. "One thing about this category of foods that makes it very different from something like, say, dairy is length of run," observes David Drum, Principal Engineer, Food Safety of Kellogg Co. Drum was an active contributor in the development of ONE VOICE. "A dairy plant might run 16-20 hours and then shut down for cleaning. In that high-moisture environment, running any longer could bring a risk of microbial problems. A low-moisture foods plant might run 7-14 days without pause. So processing and packaging machinery have to be designed, installed, operated, cleaned, and maintained to prevent micro growth over the length of the run. The equipment has to be built with this in mind."
Like any document aimed at opening up lines of communication, ONE VOICE, also referred to as PMMI B155TR3, seeks to develop the growth of a language that OEMs and CPGs can share. Drum puts it this way.
"How do CPG machine buyers communicate with the Lathe Operator in the OEM's shop so that, at the end of the day, what is shipped has been designed with the appropriate level of cleanability built in? How do we bring about a clearer understanding of what we mean when we talk about surface texture or the level of fit, finish, and polish on a machine? Should such things be dealt with the way they've always been or is there a better way?"
Enter ONE VOICE
ONE VOICE is the better way. And as Drum points out, it's a better way for all involved. "Everybody has to win on this," he points out. "CPGs need the OEMs that are healthy businesses, because we're not in the business of designing or building our own machinery."
It starts with open communication within the CPG, including Quality, Operations, Sanitation, Engineering, and Machine Operators, so that these stakeholders are internally synchronized where machine performance is concerned. Internal decisions must be made based on questions arranged in a decision tree (Figure 1). But ultimately the communication must extend outward, to the electricians, shop foreman, mechanics, and sales staff at the OEM. Otherwise you wind up with people on the OEM's shop floor saying "We can't build that" when someone else has already sold it.
ONE VOICE consists of two parts. Part 1 describes the Joint Collaboration Process (JCP), which is based on an iterative process of risk assessment to discern possible sources of biological, physical, and chemical contamination, investigating hygienic zone information, and examining existing standards and checklists. "The risk assessment process is proven to help arrive at decisions on multiple processes, and by integrating it with the rest of the data, we can arrive at 'must-have' criteria that we apply to several existing hygienic design guidelines," says Fred Hayes, Technical Services Director at PMMI. A globally recognized expert in risk assessment, he was part of the project team who worked on ONE VOICE.
The goal of the JCP is rigorous discussion leading to a consensus approach on how to meet both the purchasing goals of the CPGs and the business growth objectives of the OEMs. The JCP streamlines machine design by bringing about an agreement on general design criteria and establishing a pathway describing what a majority of the industry—both OEMs and CPGs—sees as the most important hygiene criteria. It also establishes a way of using this information to reach a negotiated contract resulting in a Factory Acceptance Test (FAT) and Site Acceptance Test (SAT).
Figure 2 is a graphic representation of the steps involved in the JCP. "It's a matter of going in orderly fashion from first to second to third base and agreeing on a number of things before you can go to home plate," says Drum.
Just how hygienic a machine's design must be depends to a great extent on what ONE VOICE describes as its "hygienic zone." In other words, where in the food plant will the machine be operating? The highest hygienic design criteria apply to equipment in use where product is exposed to the atmosphere prior to being enclosed in its primary packaging. But in parts of the plant where product is already in its primary packaging and there is no open product handling, a more basic level of hygienic design can adequately minimize contamination risk to the product.
Mode of cleaning
Also essential in determining the degree of hygienic design required is the anticipated mode of cleaning. "Dry cleaning" applies to areas where no aqueous cleaning liquids are used, while "wet cleaning" includes some moisture in product removal and sanitizing.
The beauty of ONE VOICE's Part 1 JCP is that it provides guidance for OEMs and CPGs to discuss and collaborate on a wide variety of issues pertaining to these two crucial areas: hygienic zone and wet clean/dry clean.
Armed with mutually agreed upon decisions made in Part 1, the two parties move to ONE VOICE Part 2, where OEM and CPG decide if the hygienic design criteria of Column A, B, or C are required. Column A requires the highest level of hygiene, Column C requires only a basic level of hygiene, and Column B is somewhere in between.
"The four-step process helps OEM and CPG agree on whatever changes are needed, then those corrective actions become options or scope changes that are added to the RFP," says Drum. "After the options or scope changes are made to the proposal, the CPG gets the RFP in its revised form," says Drum. "And before the machine leaves the OEM, there is an inspection called a Factory Acceptance Test (FAT). Sometimes changes are made before shipment. Later, when the machine arrives at the CPG plant, there is a Site Acceptance Test (SAT)." At the end of the day it's a process that helps CPGs know what to specify while at the same time helping OEMs turn that specification into a bill of materials on the shop floor, says Drum.
Figure 3 illustrates the kind of detailed analysis that goes into the ONE VOICE conversation. If a machine is to meet the hygienic design criteria of Column A, where it's assumed that wet clean conditions prevail, then neither an intermittently welded lap joint nor a continuously welded lap joint is deemed acceptable because it could present a hygiene risk. "Even though the joint is welded, the place between the two pieces of metal could allow water to get in by capillary action and allow bacteria to grow," says Drum. A continuously welded butt joint that's ground and polished is what's considered acceptable. The cross-sectional diagrams assist in driving home the difference between what's acceptable and what isn't.
Now that the ONE VOICE document has been published, those who developed it have pretty clear ideas about how they'd like to see it used. One of those developers on the CPG side was Dave Heutmaker, Principal Engineer—Strategic Engineering at Minneapolis-based cereal maker MOM Brands. In a ONE VOICE presentation at the PACK EXPO International Innovation Stage in Chicago last fall, Heutmaker emphasized that the document was meant to be actionable. "The idea is to use these ideas in our RFPs and FATs," said Heutmaker. "We should also look at the ONE VOICE document as a way to better inform upper management that these hygienic machine design concepts matter."
Kellogg's Drum couldn't agree more. "If you're a CPG company, review the ONE VOICE concepts internally," says Drum. "And use the ONE VOICE terminology in dealing with OEMs by specifying A, B, or C machinery in your RFP."
OEMs, on the other hand, need to understand that there's a better approach to how equipment is made, delivered, cleaned, and maintained. "They need to be a part of the process all the way from RFP to install and start up," says Drum. "They should even consider including ONE VOICE ideas in their marketing messaging."
Ambitious, comprehensive, and remarkably detailed, ONE VOICE was about two and a half years in the making. "We're trying to move an entire industry here, so it wouldn't be realistic to think it should have gone any faster," says Drum. "It's about putting milestones in place and then figuring out the best way to talk about them."
For those who are not aware, ONE VOICE is just one of many AIOE projects underway. More information—including webinars by participating CPG professionals—is available at www.pmmi.org/aioe.
Companies in this article