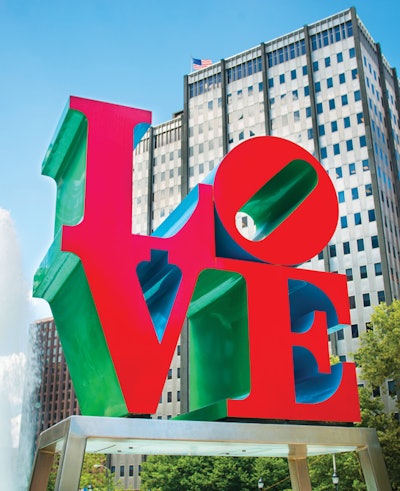 Why PACK EXPO East? With apologies to bank robber Willie Sutton, because that's where the attendees are.
"We learned through customer research that we have a great opportunity for both PACK EXPO exhibitors and end user attendees in the North East," says PMMI's Jim Pittas, Senior Vice President of Tradeshows. He adds that PACK EXPO East promises to bring world class innovation and insights in packaging and processing for many markets, including the pharmaceutical, medical device, baking and snack, beverage, food, and personal care sectors.
"Whether your market is confectionery, baking/snack, pharmaceutical and medical devices, food, beverage, electronics, or something else, PACK EXPO East will bring an exclusive focus on processing and packaging technologies, top-tier exhibitors, and a customer-centric approach to operational needs," says Pittas. "It's everything you expect in a PACK EXPO show, located within 200 miles of a third of the nation's major consumer goods companies."
To underscore how fundamentally regional in nature most exhibitions are, Pittas points out that at this past PACK EXPO International in Chicago, only 8% of the end user attendees came from the states of New York, New Jersey, and Pennsylvania. "That's why we think this show in Philadelphia will open up a wealth of possibilities to packaging and processing professionals on the East Coast," says Pittas.
Featuring a broad mix of technologies as it does, PACK EXPO East combines convenient and much-needed access with advanced, whole-line solutions. The show will also offer regional attendees an exclusive opportunity to cross-pollinate ideas among industries. Attendees will find the educational opportunities they have come to expect from PACK EXPO shows, including Innovation Stage sessions, on-floor education at exhibitor booths, and activities in conjunction with packaging and processing educators.
"Philadelphia is an accessible and affordable destination for manufacturing professionals on the East Coast," Pittas continues. "By hosting a PACK EXPO event here, we're creating an opportunity for manufacturers to bring more team members to the show. It means they can explore innovations on the line and new solutions that they've never considered before."
PACK EXPO East's high-caliber programming will address challenges in sustainability, food safety and automation, and networking opportunities to connect with suppliers and peers on important issues and trends.
Educational opportunities
As with all PACK EXPO events—whether in Chicago, Las Vegas, Mexico City, Guadalajara, or Philadelphia—learning opportunities will be part and parcel of the PACK EXPO East experience. These free educational opportunities are designed to enrich the attendee's knowledge of the latest industry advances and to encourage full exploration of the show floor.
Building on the success of their world-class conference program at Pharma EXPO in Chicago's McCormick Place, the International Society for Pharmaceutical Engineering (ISPE) will bring educational programming to PACK EXPO East. You can expect quality sessions that cover best practices in manufacturing operations, new technologies, and tools for achieving regulatory compliance and advances in packaging. ISPE leads scientific, technical, and regulatory advancement throughout the entire pharmaceutical lifestyle.
One obvious learning opportunity is in-booth education, where you can get the straight scoop right from the engineers. Many exhibitors offer in-depth demonstrations about their products, allowing you to make better buying decisions and better leverage the benefits of the technologies you own.
Also proving hugely popular since it was initiated a few years ago is the Innovation Stage. This is where thought leaders from leading companies in packaging and processing deliver 30-minute presentations on technologies, trends, and techniques. If you attended any of these sessions at the recent PACK EXPO International in Chicago's McCormick Place, you know how valuable these can be—and crowded, in many cases. So if you see a topic you'd like to get in on, don't be late.
Education Pavilion
If learning is your goal, the Education Pavilion is another can't miss stop on the PACK EXPO East trail. This convenient source of information on industry-related training and certificate and degree programs is staffed by representatives from colleges and universities as well as PMMI. Here's what PMMI offers:
• eLearning—Convenient on-line courses cover the basics of plant operations and are available for employees to complete any time, day or night.
• Certified Trainer Program—This empowering "train-the-trainer" program is a valuable investment to make in someone on your staff.
• Mechatronics Certificate Test—Recognized by the U.S. Department of Labor, this series of assessments helps you advance your skills or those of your team.
• Risk Assessment—This two-day workshop covers all the basics and addresses important issues that PMMI members ask about most.
• PACK Pro Jobs—PMMI's resource for packaging and processing careers is a great place to find or post job openings.
• Opening reception—What better way to learn than through networking, and what better place to network than at the PACK EXPO East Opening Reception? Mark your calendar for Monday, February 16 at 4:00 in the Grand Hall of the Pennsylvania Convention Center. It's an open bar and some tasty hors d'oeuvres—and it's free for any attendee or exhibitor with a badge.
Full details about PACK EXPO East, including exhibitors and registration information, is available at www.packexpo.com.
Companies in this article