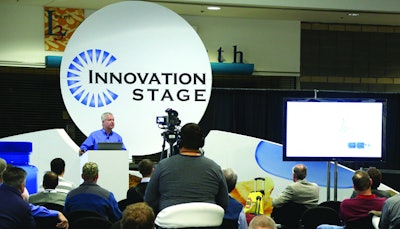 It's now the 10th time around for Pack Expo Las Vegas, where more than 1,600 exhibiting companies will showcase their materials, machines, and methods for processing and packaging. Visitors can count on seeing all of the following:
• Integrated systems for increasing line productivity, versatility, and efficiency.
• Revolutionary product launches promising new heights in safety, security, automation, and cost savings.
• Breakthrough technologies that allow for next-generation product development.
• Onsite demonstrations that make it possible to assess machinery's compatibility, adaptability, and ease of operation.
The 2013 edition of this show has so many exciting new components it seems like a brand new event. Among the more substantial changes to Pack Expo this year is a new approach to the education program. PMMI Vice President Jim Pittas explains.
"We build Pack Expo shows around the attendees—they're our customers, and they're our exhibitors' customers. The whole customer-centric approach to Pack Expo is based on meeting their needs. And among those needs are learning opportunities that fit their agendas."
"Voice of the Attendee" (VOA), an in-depth study of Pack Expo attendees, clearly showed that Pack Expo attendees value education at Pack Expo—when presented in the right way. VOA revealed a need for PMMI to rethink not just the topics but the actual location of the learning opportunities at the show.
"VOA made it clear that education is as important to attendees as exploring potential purchases, yet they see any time off the show floor as a drawback," says Pittas. "They learn from the experiences they have in the exhibit halls, such as watching technicians operate equipment or break it down. In fact, those two examples are among the top takeaways mentioned during interviews."
Accordingly, all of Pack Expo Las Vegas programming will move to the show floor, and all educational sessions will be included in the show registration fee. PMMI is also expanding the number of learning centers on the floor and is including industry leaders in the effort. "Bringing all of this knowledge to the show floor will add to the already dynamic Pack Expo Las Vegas," Pittas adds.
Learning "hot-spots" include:
• Innovation Stage—Nonstop action in 27 half-hour segments delivered by experts, including the Alliance for Innovation and Operational Excellence, and covering the topics and technologies today's industry needs.
• The Center for Trends & Technology—Improving Production through Innovation is the theme at CTT, which is sponsored by Rockwell Automation and its Partner Network. In addition to educational sessions from suppliers including Rockwell, Cisco, Microsoft, and Motorola, Pack Expo attendees will see technology on display and have the chance to learn how it works with other equipment. Trends on display in the CTT include netwok security, line integration, secure remote monitoring, cloud computing, and manufacturing convergence. Education sessions will call attention to these and their benefits, including shortening time to market, maximizing technology investments, building brand equity, and simplifying regulatory compliance.
• Food Safety Summit Resource Center—If you're facing the Food Safety Modernization Act (FSMA), plan to spend some time at this center of FSMA compliance expertise.
• Clemson University Packaging Emporium: Design for the Future—Sponsored by Esko, this interactive exhibit will feature Clemson's biometric technology and explore the impact of package design on consumer behavior. This is the third such exhibit Clemson students have brought to Pack Expo, and the second time Esko has sponsored the display. Larry Moore, Vice President N.A. Partner Programs at Esko, says his firm is sponsoring this exhibit as part of an ongoing commitment to support education in packaging and graphic communications.
"This is just one example of how Esko seeks out partnerships to foster education and find solutions that help improve quality and efficiency along the entire packaging supply chain," Moore says.
"The better we understand consumer decision-making and each component of a successful product, the better suppliers and their customers can work across the supply chain to create total systems solutions," says PMMI's Yuska. "Pack Expo has long been as much about continued education and research as it has been a showcase and marketplace featuring the latest packaging and processing technologies. We appreciate Esko's continued support of this education, Clemson's exhibit, and Pack Expo."
Located in booth C-151 Central Hall, Clemson's exhibit will use digital eye-tracking technology to track the elements driving attendees' "purchase decisions" in a retail environment. After the show, the students presenting the exhibit will create a comprehensive report on their findings.
• Reusables Learning Center—The Reusable Packaging Association will show the way to additional long-term, cost-saving benefits available through reusable packaging.
• In-Booth Education—Exhibitor expertise is front and center with educational sessions at their booths.
Another reason PMMI feels that its educational programming is so important is because their research shows that many companies use Pack Expo in their professional development efforts. For example, they may tie attendance to performance reviews, and they're also taking advantage of the show as a tool for improving cross-functional communication and collaboration.
"Many attendees serve as 'surrogates,' gathering information for coworkers who aren't able to attend," says PMMI's Pittas. "Whether it's in a meeting room or on the show floor, they know that Pack Expo will be an opportunity to learn about technologies they use every day, and technologies they'll want to use every day."
Familiar features, too
Pack Expo Las Vegas will also feature programs and activities that attendees have enjoyed in the past. For example, exhibitors offering sustainable solutions will be easily identified on the show floor and in the exhibitor listings by the Pack Expo Green logo. Industry-specific pavilions are back, too, where buyers can zero in on solutions targeted to particular needs, from branding to confectionery to pharmaceutical to processing. The Confectionery Pavilion is endorsed by the National Confectioners Association (NCA). The Pharmaceutical Pavilion is endorsed by the International Society of Pharmaceutical Engineering. And the Reusable Packaging Pavilion is endorsed by the Reusable Packaging Association.
The return of designated industry lounges on the show floor (for baking and snack, beverage, confectionery, and pharmaceutical) encourages networking, idea-sharing, and problem-solving among industry peers. The Baking-Snack Break lounge is endorsed by the Snack Food Association. The Candy Bar Lounge, sponsored by NCA, will offer networking opportunities and access to experts who can provide guidance on packaging- and processing-related challenges. And the Beverage Cooler lounge, where visitors can seek technical advice from the Ask-the-Expert desk, is endorsed by the International Society of Beverage Technologists.
Don't forget about The Brand Zone, a showcase of containers and materials, eye-catching designs, and innovative labeling applications that lend distinction to your product line to reinforce—or reinvent—your brand. You'll find The Brand Zone in the Lower South Hall.
And then there's The Processing Zone, where exhibit space is sold out. This packed pavilion, located in the South Hall, will house a wide range of processing technologies for manufacturers in the baking and snack, beverage, dairy, and confectionery industries as well as other vertical sectors.
"Since debuting at Pack Expo in 2010, the number of solutions providers exhibiting in The Processing Zone has increased by 42 percent," says Pittas. "This growth stems from the fact that food and beverage processors continue to take an integrated approach to packaging and processing and seek opportunities to be connected to solutions for entire manufacturing lines."
The Processing Zone represents only a small segment of exhibitors highlighting processing technologies at the show. Companies offering processing solutions will also be located throughout the exhibit halls, alongside packaging equipment and materials and container suppliers. That's what makes Pack Expo Las Vegas the most comprehensive resource for food and beverage processors in North America in 2013.
"With so many avenues to explore at Pack Expo Las Vegas, attendees can capitalize on all of the show's features and come away with new ways to set their businesses apart," says Yuska.
Cut loose with the music of Kenny Loggins
A special treat at Pack Expo Las Vegas 2013 is the PACK gives BACK™ opening reception, Monday, September 23, at 4 p.m. The event, open to Pack Expo industry professionals, will feature a performance from musician Kenny Loggins, and all money generated by ticket sales will support the K9s for Warriors charity.
"By donating proceeds to K9s for Warriors, this event will give us a chance to give back to the brave men and women who have made unimaginable sacrifices for all of us," says Chuck Yuska, President & CEO, PMMI.
K9s for Warriors is a charitable organization dedicated to providing service dogs to military troops and veterans suffering from posttraumatic stress as a result of conflicts and war following 9/11. The program includes three weeks' training and bonding for dogs and veterans at the K9s for Warriors facility in Ponte Vedra, Fla. Over 90% of the dogs are obtained through rescue groups.
"K9s for Warriors is a great organization and a great cause," Yuska adds. "PMMI has had the privilege to have worked with the group in the past. We witnessed their dedication to their mission and the good it has done for both the rescued animals and the soldiers and veterans they help."
Representatives of K9s for Warriors will be in attendance along with veterans who have graduated from the program.
"We are excited to have Kenny Loggins performing on site at Pack Expo Las Vegas 2013," said Jim Pittas, Vice President of Trade Shows, PMMI. "We know he'll put on a great show for exhibitors and their customers."
Packaging World has signed on as a sponsor of PACK gives BACK. "Packaging World is proud to be a sponsor of the PACK gives BACK Opening Reception featuring Kenny Loggins," says Joe Angel, President/Publisher of Packaging World. "We applaud PMMI for their effort to give back to true American heroes via this benefit concert."
Loggins is a celebrated singer and songwriter, best known for the hits that gained him fame as "King of the Movie Soundtrack" in the 1980s. Some of Loggins' best known works include "I'm Alright" from Caddyshack, "Danger Zone" from Top Gun and the title track from 1984's "Footloose," which spent 3 weeks at #1 on the Billboard Hot 100.
The PACK gives BACK™ opening reception will be held September 23, 4-7 p.m., in the North Hall of the Las Vegas Convention Center. Tickets will be available only to Pack Expo Las Vegas 2013 registrants, beginning May 1, 2013. Ticket price will be $25, and will include beer, wine and light hors d'oeuvres at the reception.
The power of 'small'
Small- and medium-sized businesses (SMBs) make up a significant portion of the global economy. According to the U.S. Census Bureau, 99.7% of employer firms, 46% of private-sector output, and 98% of firms exporting goods are all categorized as small businesses. In Europe, they constitute an even larger piece of the pie. As of 2010, more than 99 percent of all businesses in Europe were classified as SMBs and the European Community (EC) asserts that they are responsible for 70% of all jobs and EU GDP.
While the economic impact of small- and medium-sized companies is felt around the world, it's also worth remembering that these manufacturers are often leading the way when it comes to processing and packaging innovation. To help them continue to grow, Pack Expo Las Vegas 2013 has launched SMB FastTrack, a program that provides special planning tools and resources for qualifying attendees. In this Q&A, Chuck Yuska, president and CEO of PMMI, the Association for Packaging and Processing Technologies, shares his thoughts on the challenges and opportunities faced by today's smaller manufacturers.
Packaging World:
Small- and medium-sized companies may make up the majority of the global economy, but these manufacturers do face some hurdles. What is the outlook for SMBs in the manufacturing sector?
Yuska: The latest industrial outlook report from the Manufacturers Alliance for Productivity and Innovation (MAPI) revealed that manufacturing firms with fewer than 50 employees expect sales to increase just 0.5 percent over the next 12 months, compared to a 1.6 percent projected increase among larger manufacturers. Additionally, 57 percent of small manufacturers expressed a negative outlook, compared to 44 percent of medium-sized businesses and 47 percent of large businesses.
In other words, SMBs are seeing market conditions that will make growth difficult – especially as they respond to increased demand for greater sustainability measures and comply with new regulations emerging from the Food Safety Modernization Act (FSMA). SMBs must find solutions to enhance sustainability, ensure compliance, and minimize costs in the most efficient manner possible.
How do SMBs stay profitable and continue to lead their industries despite these challenges?
Yuska: SMBs have been at the forefront of innovation over the last century thanks to a relentless focus on streamlining operations, minimizing costs and delivering product profitably enough to grow and expand. With less red tape than larger manufacturing organizations, small- and medium-sized processors have the agility to make purchase decisions with less lead time, speeding the implementation of new technologies.
What might prompt a smaller manufacturer to invest in a new solution rather than going with the industry mainstream?
Yuska: That answer depends on the manufacturer. Though businesses are widely subject to similar market conditions and regulations, they all have unique hurdles to overcome.
For example, start-ups, which won't have years of sales data and projections to guide their equipment decisions, may choose technologies that are flexible enough to run at faster speeds or accommodate upgrades in the near future. Likewise, a manufacturer that continues to branch out into new product categories will face different challenges than one that stays focused on just one or two product categories. Both will seek out the most efficient solutions, but the manufacturer of multiple lines may place a higher value on faster turnovers and flexibility.
Let's talk about FSMA for a minute, as it's a critical issue for food and beverage manufacturers. How does it seem to be affecting SMBs?
Yuska: The U.S. Food & Drug Administration (FDA) recognizes the challenges faced by smaller businesses that have fewer resources to allocate to the installation of new compliance measures. For example, farms with "mixed-type" facilities as well as average annual sales below $25,000 will not be subject to the new regulations stemming from FSMA. Instead, these businesses will remain subject to applicable provisions of the Federal Food, Drug and Cosmetic Act. In other instances, the FDA will offer staggered compliance deadlines, providing three to four years to meet requirements depending on the size of the operation. While these provisions continue to be finalized, there's speculation that the FDA will defer to the Small Business Administration's parameters for determining which small farms will qualify for specific exemptions.
How will Pack Expo help SMBs source innovation?
Yuska: One of the biggest challenges specifiers, buyers or any other executive at an SMB faces is limited time. Often, they're wearing multiple hats, so taking three days and navigating 1,600 exhibitors can be a daunting proposition—from the time away from the office to the sheer volume of solutions providers.
So what we did was to create the SMB FastTrack program, which we're launching at Pack Expo Las Vegas 2013. While the parameters for qualifying SMBs may vary between regions and industries, we've opened up the program to manufacturers with annual revenues between $50 million and $500 million.
The SMB FastTrack program will help these individuals make the most of their time at the show by providing resources geared to the particular requirements of SMBs. These benefits will include SMB-oriented planning tools, networking and educational opportunities to gain industry insight, and for qualified SMB FastTrack participants, a special retreat from the busy exhibition halls where they can enjoy some refreshments or meet in privacy with suppliers.
What are the key benefits of the SMB FastTrack program?
Yuska: It's really about being able to connect with solutions providers more quickly and easily. Participants will receive special planning tools, insight into which exhibitors offer special financing, discounts or support for SMBs, and access to free on-floor education and an on-floor lounge to rest, recharge, or network with exhibitors and peers. C-level executives at SMBs will qualify for the SMB FastTrack Platinum program, which offers access to a Personal Equipment & Technology Sourcing Service prior to the show, unlimited use of a dedicated FastTrack Executive Lounge, and free advance show registration.
To qualify for the program, participants must register for Pack Expo Las Vegas before August 26, 2013, and work for a company with annual revenues between $50 million and $500 million. There is no cost to participate.
To learn more about the SMB FastTrack program, visit www.packexpo.com/fasttrack. Las Vegas 2013 has a lot to offer attendees from any size company. This new program is one more way we're expanding our customer-centric approach to make it easier for any segment of the Pack Expo population to find the solutions they need to take their businesses to the next level.
Companies in this article