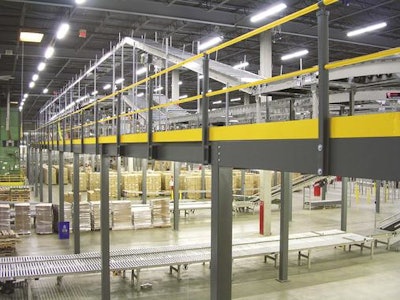 At PACK EXPO Las Vegas, Wildeck (wildeck.com) displayed its industrial mezzanine, an elevated platform situated within a building to provide storage, manufacturing or office space, or to function as an equipment access platform. Constructed with heavy-duty steel, the free-standing structure safely supports heavy loads, including industrial packaging equipment. With a mezzanine, materials can be safely and quickly moved through a facility with conveyors, lifts, chutes and a variety of other automation products.
Designed around a building's existing blueprint, the nut-and-bolt construction of a Wildeck mezzanine allows easy expansion and relocation (if needed). Plus, depending upon a facility's ceiling height, it can be single- or multi-tiered.
See the Wildeck industrial mezzanine in Booth 8420.
Companies in this article