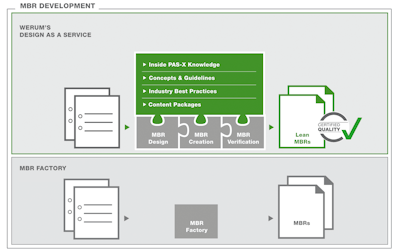 Werum IT Solutions now offers its customers "Design as a Service" for the cost-effective creation of lean, high-quality, and streamlined Master Batch Records (MBRs). The package comprises pre-configured PAS-X Content Packages with industry-specific content based on best practices, ready-to-use concepts, and guidelines for the efficient creation and optimization of MBRs and first-hand PAS-X knowledge. As the company that developed PAS-X, Werum is able to provide an end-to-end MES solution that meets all customer requirements in terms of software, delivery, and services.
Through "Design as a Service," Werum not only supports the cost-effective, high-quality creation of MBRs for new MES installations but also customers who already operate an MES and are focused on process harmonization, PAS-X upgrades, or the MBR creation for new products (ad-hoc service). As PAS-X is Werum's proprietary software product, Werum can also consider future PAS-X functions when creating MBRs. "Design as a Service" addresses all phases of MBR development, such as MBR specification, MBR creation, and MBR verification. The resulting MBRs are lean, efficient, and optimized to meet the customer requirements in regard to "Review by Exception."
"Design as a Service" offering provides pharmaceutical and biopharmaceutical customers with more than the mass conversion of paper-based recipes into digital copies, which is usually referred to as MBR factory. Werum's approach starts at an earlier stage, and the company reflects on the manufacturing processes together with the customer. During the MBR specification phase, Werum considers the entire spectrum of manufacturing procedures, system environment, and review processes. In combination with the process know-how of staff, the company ensures optimized high-quality MBRs from the beginning—an important prerequisite for the efficient operation of PAS-X MES.
Companies in this article