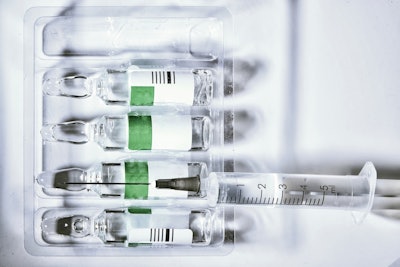 "Going beyond compliance to building a quality culture is the game changer," Martin VanTrieste, retired Chief Quality Officer from Amgen, told the PDA/FDA 2016 audience.
"While quality manufacturing is compliant, you can achieve compliance without quality, they are different things," VanTrieste stressed.
"Serving patients is a privilege," he said, "but with that comes the responsibility to offer quality products in a robust supply chain. Patients should never have to worry about where their next dose is coming from."
Recently retired, VanTrieste entertained the crowd, saying that during his 33 years (starting back in 1983 when there were only 600 drugs) smallpox has been eradicated, the generic drug industry started, the term "Aids" was used for the first time, we developed artificial heart transplants, the Orphan Drug Act was passed, and we now have biosynthetic insulin.
Now we have more than 1,600 drug approvals, cancer patients' survival rates are growing, we are now in reach of the first aids-free generation, and our infant mortality rate has been cut in half.
"Forget artificial hearts," he told the audience, "we are going to be growing hearts!"
Everything is changing, and the rate of change is increasing daily. But so far change has been incremental and evolutionary. Now we are poised for revolutionary change and how is the pharma industry going to respond?
Disruptive technologies are shifting the power base from the manufacturer to the patients—where it belongs, according to VanTrieste.
He showed a video of a new device, Scio, that not only tells you what's in your food with a quick scan, it can also tell you if your medicine is authentic.
VanTrieste boasted about Amgen's new bioprocessing facility in Singapore, "about the size of this conference room", he said, which was built with one-quarter of the capital, with one-half the construction time, with one-third of the operating expense, yet yields five times more production.
This disposable production facility adds flexibility to Amgen's manufacturing sites, increases speed to market, eliminates much testing and cleaning, improves product quality, all in an environmentally positive way—even with disposing of the single-use materials.
"Next will be a continuous manufacturing skid on the back of a truck," he envisioned. "Which you can drive into a village in Sub-Saharan Africa."
Robots are part of the future, too. "When I started, we were filling aseptic containers by hand—and not just for clinical trials, I mean for 100,000 count lots—all by hand."
VanTrieste mentioned talking with a colleague about how far RABs and isolators have come. Yes, he said, but why the glove ports? Well, because vials fall over, said his colleague.
How about designing and building a robotic filler where the vials won't tip over!
Quality systems must evolve
Yesterday was based on testing and inspecting, today we focus on compliance, tomorrow quality must go beyond compliance, echoing the FDA morning message.
How do we get there? A good first step is that the FDA wants industry there. And the agency is walking the walk setting up its own continuous process improvement systems internally.