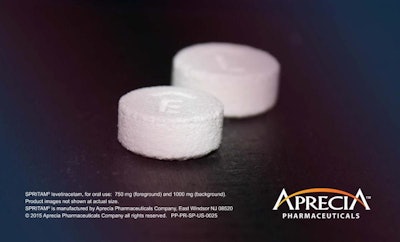 Aprecia Pharmaceuticals, a Langhorne, PA specialty pharmaceutical company, announced that its SPRITAM® (levetiracetam) tablets represent the first prescription drug product approved by the U.S. FDA manufactured using 3D printing technology.
The medication is now available as an adjunctive therapy in the treatment of partial onset seizures, myoclonic seizures and primary generalized tonic-clonic seizures. The product disintegrates in the mouth with a sip of liquid and offers a new option for patients, including those who may struggle to take their medicine.
"One of the considerations with a 3D-printed product is to protect its integrity within the packaging. Each unit dose is packaged in an individual blister with a foil seal. Patients will be instructed not to push the tablet through the foil, but to bend up and lift the peel tab around the blister seal."
"As we explored potential applications for our 3D printing technology in prescription drug products, it was important that we identified disease areas with a real need for patient-friendly forms of medication," says Don Wetherhold, Aprecia CEO. "SPRITAM is designed to transform what it is like to take epilepsy medication, and is the first in a line of products we are developing to provide patients and their caregivers with additional treatment options."
SPRITAM is formulated with Aprecia's proprietary ZipDose® Technology, which combines the precision of 3D printing and formulation science to produce rapidly disintegrating formulations of medications. Manufactured in a regulated commercial-scale facility, SPRITAM is available in four unit-dose strengths, including 250 mg, 500 mg, 750 mg and 1,000 mg.
The company says nearly three million people in the U.S. were living with active epilepsy in 2013, and about 150,000 new cases are being diagnosed every year in the U.S.
Aprecia is privately owned, with Prasco Laboratories and its parent company, Scion Companies, holding controlling interest.
Watch footage of the production process.