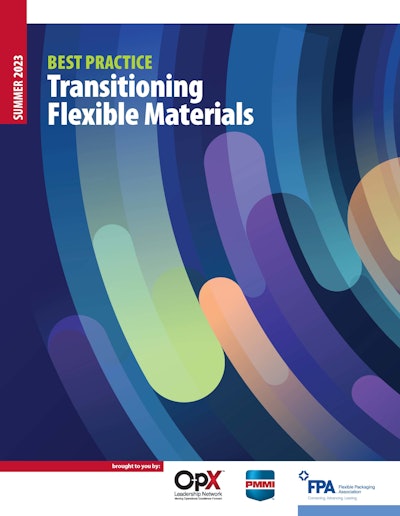 The OpX Leadership Network is pleased to introduce its latest work product, Best Practice Transitioning Flexible Materials. While this document is primarily focused on transitioning flexible materials, it offers broader insights into managing changes in capital equipment. Flexible materials serve as the framework for this document, but its principles can be applied to various projects involving alterations to capital assets, such as material changes, speed increases, size adjustments, product modifications, and more. In essence, it serves as a blueprint for effective project management execution of engineering change orders.
This flexible guide results from a collaborative effort that draws input from a diverse group of stakeholders. The expert solutions group is comprised of consumer packaged goods (CPG) companies, material suppliers/converters, and OEMs from the Flexible Packaging Association (FPA), PMMI, and the OpX Leadership Network.
Transitioning flexible materials within CPG operations encompasses various processes, including modifying packaging materials, design changes, and equipment adjustments. This document is designed to assist brand manufacturers in ensuring the smooth and successful transition of flexible materials in packaging operations by engaging relevant stakeholders at the right stages of the process.
Key highlights of the Best Practice include:
Information on CPG materials usage and frequency of change: Understanding the dynamics of material usage is crucial for effective transitions.
Flow chart detailing the order of tasks required for transitioning flexible films on packaging lines: A visual guide to streamline the transition process.
A RACI matrix depicting the level of responsibility for each group involved: Clarifying roles and responsibilities in the transition process.
Detailed information on each stage and task for transitioning flexible films in CPG operations: In-depth insights into every aspect of the transition.
Download the Best Practice Transitioning Flexible Materials work product and learn more about the OpX Leadership Network by visiting OpXLeadershipNetwork.org.