In the fast-paced world of sporting goods, Decathlon, headquartered in Villeneuve-d'Ascq, France, faced significant challenges in managing logistics, inventory, and tracking thousands of products across its extensive portfolio. Determined to overcome these hurdles, Decathlon embarked on a transformative journey.
The $11 billion global retailer with 1500 stores recognized the need to transform its operations from research and design to manufacturing, marketing, and retailing. The company sought to streamline complexities efficiently while maintaining a positive customer experience.
After extensive research, Decathlon decided to harness the power of technology-agnostic GS1 Standards and adopt Electronic Product Code (EPC®)-enabled Radio Frequency Identification (RFID) to identify every product in its global lineup uniquely. This ambitious decision would prove to be a game-changer for the company.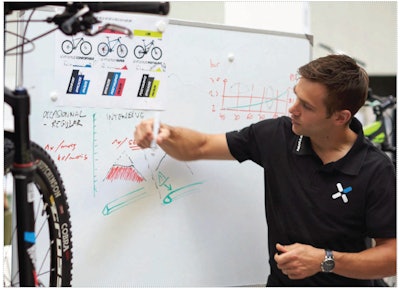 "When you want to buy a bike that might cost $2000, you want to make sure you can get the one that meets your needs," said Herve D'Halluin, leader of RFID & referent interactive sport products at Decathlon. "RFID helps satisfy customers by allowing them to see if the bike they want is available, including where it is available, in order to buy it.
RFID was rolled out in all Decathlon processes, including warehouse and retail store inventory, earning recognition as one of, if not the most extensive use of RFID technology in retail. Decathlon has tagged 100 percent of its products, either on the products themselves or their packaging, between its factories, warehouses and stores, uses over 50,000 RFID readers worldwide.
This implementation has resulted in increased revenue and customer satisfaction. With comprehensive product tracking and availability, Decathlon can sell its merchandise at the right price while ensuring on-shelf availability, thus avoiding overstocks that can harm profitability. By achieving end-to-end operational efficiencies, each item or package's unique EPC/RFID code enables highly accurate inventory management and improved replenishment processes across warehouses, distribution centers, and stores. Customers can easily find the products they need, enhancing their shopping experience.
"Today, RFID allows customers to spend less than a minute paying for merchandise," said D'Halluin.
Manufacturing processes have also been optimized, allowing for streamlined operations and cost savings. Automation has played a crucial role in enhancing everything from pinpointing product locations on shelves to seamless sales checkout and post-sales interactions with consumers. With the ability to locate products anywhere, Decathlon can readily meet regulatory requirements in different countries, fueling its global growth strategy.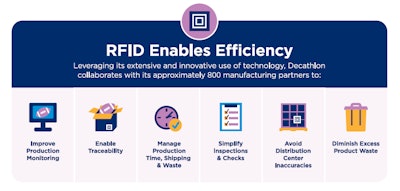 Last but not least, Decathlon's commitment to RFID technology has bolstered its brand "trustability." The transparency of Decathlon's processes ensures that counterfeit goods can be swiftly identified and addressed.
Despite confidence in its products, the company is cognizant of the risk of counterfeiting to its enviable reputation.
"We are not a luxury goods company, but we are facing more and more of these kinds of issues," said D'Halluin. "We evaluate which product could be subject to counterfeiting and put the right tag on the right products, depending on the risk."
Regulatory agencies can also be confident in the ethical sourcing practices of Decathlon's products, safeguarding consumer interests.
Embracing RFID technology revolutionized Decathlon. Through its commitment to innovation, the company has successfully navigated the challenges of managing a diverse product range while delivering exceptional customer experiences.
Companies in this article