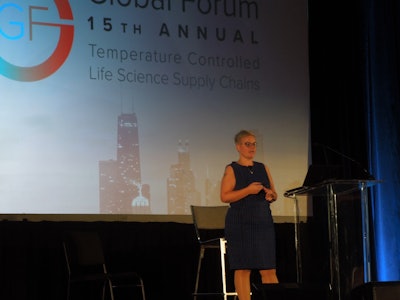 It's 2 a.m. and an asthma patient begins coughing. His e-inhaler signals him to use it. As he does, the wireless-enabled device transmits his medical data to the cloud where his condition is analyzed along with data from other asthma patients in his geographic area. Using a unique cognitive algorithm that also interprets local weather conditions, pollutants and allergens, it's determined that the patient is at high risk for a severe asthma attack. The inhaler signals the patient's smartphone to contact a physician. Using videochat, the doctor analyzes the data, prescribing a personalized dose of medicine directly to the patient's in-home 3D drug printer. The patient takes the printed pill, preventing the asthma attack.
The scenario can be seen in a "TEVA future of healthcare" YouTube video. In late 2016, Teva Pharmaceutical Industries Ltd. and IBM announced an expansion of their global e-Health alliance with the aim of discovering new treatment options and improving chronic disease management that involves the IBM Watson Health Cloud.
The asthma-related portion of the video was shown by Paul Zikopoulos, VP of Competitive & Big Data Analytics Teams & Future Trends Expert at IBM at the Global Forum 15th Annual Temperature Controlled Life Science Supply Chains event in late September.
In his presentation, "The Big Data Revolution—Examining the Profound Current & Future Effects of this New Technology Frontier & the Benefit to your Business," Zikopoulos provided a glimpse of the convergence of information technology and medical treatment advances that includes everything from Artificial Intelligence (AI) to quantum computing to blockchain to life science logistics, all to improve patient outcomes.
But just where will packaging fit into this future of healthcare, which was described by some speakers at the Chicago event as "disruptive" and "revolutionary." Exhilarating as these advances are, they seem to position packaging in a perpetual state of playing "catch up." But maybe not.
Standards and guidance
One way to prepare for potential healthcare packaging changes is to lean on existing and emerging industry standards and guidance from industry associations and organizations. An example of such a guidance came from a Sept. 28 breakfast briefing, "USP <1079> and the Evolution of Good Distribution Processes: Enhancing Quality Assured Processes to Maintain Product Quality and Supply Chain Integrity through Advanced Risk Mitigation Techniques." It was delivered by Chris J. Anderson, Director, Quality Systems, Cardinal Health, and USP Packaging and Distribution Expert Committee Member, USP <1079> Sub-Committee Co-Chair, U.S. Pharmacopeia.
Anderson noted that the U.S. Pharmacopeia guidance is evolving to make it more effective without overcomplicating or alarming supply chain logistics firms, 3PLs, etc.
"There needs to be better education on all these processes so we can better maintain the efficacy of temperature-sensitive medications, especially when we consider biologics and combination products," Anderson said. "We need to stop freezing vaccines and baking biologic products." He pointed to the following concerning examples:
• Influenza vaccines frozen during distribution, causing many to blame pharmacists even though they likely had no idea anything was wrong with the medications.
• Inadequate refrigeration equipment that provides no temperature readings—or perhaps inaccurate readings—much less an alarm to indicate that product temperatures are moving beyond their appropriate range.
• Recent hurricanes point to the need for pharmacies and medical facilities to have back-up generators, as well as fuel and coolant reserves to continue to function during power outages, flooding, or other natural disasters. Transport vehicles also require the same state of readiness.
Anderson said risk and mitigation strategies are imperative to manage product excursions throughout the supply chain.
Driven by Millennials
The health care supply chain and information technology convergence may first benefit medication adherence and "last-mile" logistics issues.
Technology-enabled healthcare is driven in large part by Millennials and Generation Xers who rely on electronic devices such as smartphones for everything from online banking to ordering UBER service to tracking and tracing the ingredients in their meal.
Zikopoulos pointed to several technologies that will have an impact on health care, including blockchain, big data, 4D printing, analytics/algorithms, AI, and the Internet of Things. Such technologies, he said, wield enormous power and potential to "save time, save money, and save lives."
He acknowledged, "We will be overwhelmed by data," noting that harnessing all the data and making computers more intelligent will be central to achieving health care advances. "We get an 'A+' for data collection, but only a 'C-' for our ability to make decisions on how to use that data. We're guilty of not knowing what we already know," he said, referring to the lack of understanding on how to interpret and make use of such data.
Focusing on temperature-sensitive supply chain issues, Zikopoulos suggested that data can be used to address the underlying issues behind the following statistics:
• "Fourteen billion dollars is spent on managing pharmaceutical products through the cold chain. The growth rate for cold chain shipments is two times that of products not requiring temperature-controlled shipments."
• "The cost of medical complications from non-compliant patients is $317 billion."
To address nonadherence in the U.K., he said patients are using their smartphones to visually demonstrate that they are taking medications. Patients can send e-mails, text messages, and voicemails to communicate adherence to medical professionals/facilities. To encourage adherence, one company offers patients points toward Cineplex movies.
Zikopoulos suggested that manufacturers could use advanced condition-based monitoring systems to assist with deliveries. This could include advanced weather alerts, vehicle tracking that can identify mechanical problems in advance, product temperature tracking to warn of potential excursions, etc.
Disrupting transportation
According to John Brownstein, Ph.D., Chief Innovation Officer & Professor at Boston Children's Hospital & Harvard University, "Six billion dollars is spent annually just on healthcare transportation—moving people to and from appointments. Many people are not getting to their appointments, or not getting their prescriptions filled because they have no way to get there. As a result, transportation becomes a barrier to care."
In his Sept. 28 keynote address at the Global Forum, "Bringing Healthcare to People & People to Healthcare—The Future of Clinical Trials & Vaccine Distribution," Brownstein said, "UBER is the world's largest healthcare transportation provider." These same services can transport caregivers with medications to patient residences.
Brownstein envisioned a future scenario in which self-driving/autonomous vehicles could be AI-equipped for last-mile applications. Think about a patient sitting in the vehicle that could take a patient's vitals and relay them in advance to a physician.
Brownstein suggested the convergence of technology and healthcare will create "on-demand" healthcare, in which patients, caregivers, products and logistics efforts are more closely interconnected. Looking forward, he asked the audience, "What if access to medication knowledge and healthcare was as easy as ordering a pizza?"
From Chicago to Iceland
Adding international flavor to the Chicago event was a presentation by Vallý Helgadóttir, Director of Customer Service for Distica, specialists in logistics, warehousing and distribution of pharmaceuticals, healthcare and medical products for the healthcare sector and laboratories in Iceland.
Distica works with the country's national post service to deliver temperature-sensitive medications via road transportation throughout the country. Helgadóttir says most routes begin from the country's capital city Reykjavik.
At the event, she provided the following three case studies, briefly identifying their challenges and remedies. (Helgadóttir expressed the opinion that "a final solution does not exist. We are always striving to do better.") In all three studies, she noted, the cold chain deviations were discovered by using Controlant's cloud-based monitoring, which enabled Distica to track shipments and temperature excursions in real time.
Case study 1: Repeated excursions on one common delivery route revealed consistent temperature excursions at both its starting and end points. After assessing the situation, Distica learned that the delivery service changed vehicles used to transport medications. These different vehicles had to be used, despite the fact that their refrigeration units were also different than that of the original vehicle. As a result, Distica changed to a PCM 20 insulated shipping container that resolved the excursion issues.
Case study 2: On deliveries along a common transportation route to pharmacies in Southwest Iceland, Distica learned that a distribution center location changed. Within this different facility, products were stored near heat-blowing fans and windows that were not shielded from the sun, causing temperature excursions. Moving the shipments within the DC, redirecting fans, and shielding windows alleviated this problem.
Case study 3: Helgadóttir pointed to a common misperception about Iceland's weather, noting the country's temperatures were milder than many believe. "Our winters are not as bad as Chicago's," she said. In what became a major issue, "temperatures of product rose to nearly 45°C in transit," she recalled. "Our contractor was concerned about outdoor temperatures, so it used oil heaters. The problem was that cases of product were placed near these heaters, so we had them turn off the heaters, and that fixed our issue in that case."
The Global Forum 15th Annual Temperature Controlled Life Science Supply Chains event was attended by approximately 700 people and included 75 vendor exhibits. Next year's 16th event is scheduled for Sept. 24-28 at the Philadelphia Convention Center.
Companies in this article