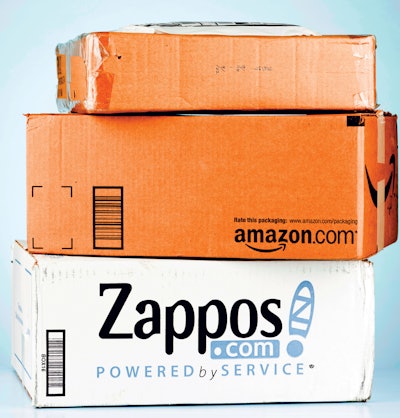 Since the advent of retail, brand owners have always faced challenges when it comes to selecting packaging that provides the best mix of functionality and aesthetics. Now, in the new era of e-commerce, they are being forced to rethink the way they package their products in order to provide sufficient product protection through an unpredictable postal system while at the same time delivering a positive brand experience. And it's a challenge that more and more retailers will be facing in the coming years.
According to the "US eCommerce Forecast: 2013 to 2018" from Forrester Research, Inc., in 2014, online retail sales in the U.S. are expected to reach $294 billion, or approximately 9% of all U.S. sales. The forecast further predicts a strong compound annual growth rate (CAGR) for U.S. e-commerce of 9.5% between 2013 and 2018, yielding approximately $414 billion in online sales by 2018, or 11% of total U.S. retail sales.
So how can you ensure that your e-commerce product will end up on the consumer's doorstep in good condition? And what can be learned from some of the strategies successful e-commerce companies are using to bring an "out-of-box" experience to their customers? Two new studies from StellaService—a company that collects, analyzes, and benchmarks data on Internet retailers' performance—help answer these questions.
Package fit
Headquartered in New York City, StellaService says it is "dedicated to creating a world with better customer service—helping businesses achieve it and consumers find it." In order to objectively gauge the services provided by online retailers, StellaService employs full-time mystery shoppers in the Midwest, the Northeast, the South, and the West Coast who order products from some of the country's largest online retailers and evaluate their services. "We measure two things: speed and quality," says StellaService Vice President of Research Kevon Hills. "How fast is the package getting there—which is super important for a lot of retailers and customers—and on the quality side, what does the package look like when it shows up on the doorstep."
The data from all of these orders are then compiled in the Stella Metrics platform, which is used to measure, benchmark, and improve the end-to-end service experience across dozens of operational metrics in key areas. "This shows retailers what it's like to be one of their customers, as well as a customer of their competition," says Hills.
In many cases, packaging—evaluated by StellaService in terms of fit and quality—is a make-or-break factor in customer satisfaction. In May 2014, the company released a study, "Checking All the Boxes," which outlines the results of a six-month study of 125 online retailers that measured the quality of the shipping and returns experience. In it, StellaService explains the importance of using packaging that is sized appropriately to fit the product: "Proper package fit leaves a better impression with shoppers, saves retailers money on shipping costs, and reduces the possibility of damaged products."
To rate retailers' proficiency at package fit, analysts scored each e-commerce order on a scale of 1 to 3, with 1 being "poor and extremely wasteful" and 3 being "excellent and highly efficient." Says Hills, "You would be surprised to learn how many packages we get where perhaps the order is a thumb drive, and it comes in box that could probably fit a microwave."
Of the 2,855 orders placed, StellaService reports that 90% arrived with adequate or excellent package fit. Looking at the types of packages used, 70% were corrugated boxes, 23% were polybags, and the balance comprised padded envelopes or custom packaging.
One example cited by StellaService of an e-retailer that places great importance on proper package fit is clothing retailer Brooks Brothers. Says Michael Moseman, Director of the Contact Center at Brooks Brothers, "When the customer gets their order, we want them to be pleased with the way it was packaged. We think that having one large box with one small item sloshing around detracts from that goal."
To ensure proper fit, Brooks Brothers uses 25 different box sizes, including one sized specifically to fit three dress shirts—a frequent order driven by an ongoing special.
"We're not as fiscally prudent by having those additional box types," Moseman adds, "but we feel that the trade-off is a much more impressive presentation for our customer."
Package quality
When it came to package quality, StellaService looked at both how the retailer took advantage of in-home marketing opportunities by delivering an experience that went above and beyond, and the package's ability to sufficiently protect the product.
In the area of branding, what StellaService found was that it is the luxury brands that are excelling in delivering what Hills calls "Christmas in a box." He says, "I can give you three retailers that we consider best in class: Ralph Lauren, Kate Spade, and Net-A-Porter. These guys want to make each purchase feel personalized. They understand that shoppers are spending their discretionary income with them, so they want to show them that they really appreciate their business by going above and beyond with an 'out-of-box' experience."
For example, Ralph Lauren delivers its orders in a sturdy, pizza box-style shipper printed in navy blue on the inside panel with the iconic company logo. Product is wrapped in brown tissue paper, with a thank-you card on top, attached with a Ralph Lauren-branded navy sticker. Kate Spade packages its orders in much the same way, using colorful tissue paper, a gold seal sticker, and a thank-you card. "It really brings out the brand's voice," says Hills.
For these retailers, while their branding is evident on the inside of the box, they refrain from putting their logo on the outside due to concerns about theft. For retailers shipping lower-value items, branding on the outside of the shipper extends their marketing throughout the supply chain. "For Amazon, it's the smile on the outside of the box; for Zappos, it's the shoe icon," says Hills. "As these packages move throughout the network, people are seeing the packages go by. It's great free marketing."
The other aspect of quality studied by StellaService was product protection. In many cases, there was a correlation to this metric and product fit: The more air inside the box, the more opportunity for the product to move around inside and become damaged. Adequate product protection was also the result of strong and sturdy packaging materials.
After StellaService compiled the scores for package quality and package fit for the 125 retailers it studied, it categorized them as meeting basic shipping or premier shipping criteria, or as having missed opportunities. In the process, it learned that "the majority of retailers are not taking advantage of the opportunity to leave a lasting impression on shoppers."
Reads the report, "Nearly a quarter of packages did not meet the criteria for basic shipping. Retailers fell short in package fit (10%) and damaged packages (10%), which were the main causes of missed opportunities."
A main takeaway of the study: "Impressive packaging can be the differentiator for retailers hoping to stand out from the pack and create loyal brand advocates. …Consider that going above and beyond [in terms of package fit, protection, and branding] can give a retailer an advantage over 80% of the market."
Package damage
In the ramp-up to the 2013 holiday season, StellaService took a look at e-commerce package damage in a second study that examined more than 3,200 packages to see which carriers have the highest percentages of damaged packages and how many products were damaged as a result.
At the conclusion of the study, of the more than 3,000 orders shipped, one in every 10 packages was damaged. Of those 313 damaged packages, 16 products were damaged, or 5%. By carrier, the results showed that UPS was responsible for 11% of the damaged packages, the U.S. Postal Service for 10%, and FedEx for 7%.
On a positive note, given that only 5% of the 300-plus damaged packages in the study resulted in damaged product, "that shows that retailers do a pretty good job of making sure that the contents inside their packaging are sufficiently protected," says Hill.
Unfortunately for e-commerce retailers, when it comes to package damage, it is the last mile of online orders that is notoriously difficult to control; nevertheless, it is still their responsibility. "The e-commerce retailer always takes the blame for a damaged package, at least from the customer's perspective," says Hill. "But once a package leaves their warehouse, it's out of their control. So they can do most things right, or even everything right, and then there might be a UPS or FedEx driver who drops the package by mistake and damages it, and when the package is finally delivered to the shopper at home, the experience they have is not with UPS—it's with the retailer. So it really has an impact on a brand's reputation."
Despite the fact that online retailers can't control what happens to their packaging after it leaves their facility, there are things they can do to reduce the risk of damaged packaging, says StellaService. Among them, the use of sturdy packaging materials, internal or third-party drop or vibration testing, and the use of Service-Level Agreements (SLAs).
Through SLA negotiation, the retailer can often work with the carrier to determine an acceptable level of damaged packaging. In this case, it is also important for the carrier to do their due diligence to evaluate the retailers' packaging to determine if they can deliver on that rate, Hill adds. "In the case of a company like Ralph Lauren, because they have sturdy boxes, they can probably ask for a lower damage percent rate in their SLA versus a company that uses thinner packaging material," says Hill. "It just goes back to the due diligence that has to be done on both sides to ensure that these agreements are fair so they can be achieved by both the carrier and the retailer."
Steps to reducing the risk of package damage:
1. Know your competition, including their approach to packaging.
2. Know your carriers and the terms of your contract. Retailers must guard their brand experience by making sure carriers are meeting Service-Level Agreements (SLAs) for damaged packages.
3. Consider negotiating a damaged package SLA with your carriers.
4. Thoroughly test your packaging to ensure that packages will arrive safely
and in good condition.
5. Reevaluate your packaging options at least twice a year.
6. Use a third-party watchdog for SLAs in vendor contracts.