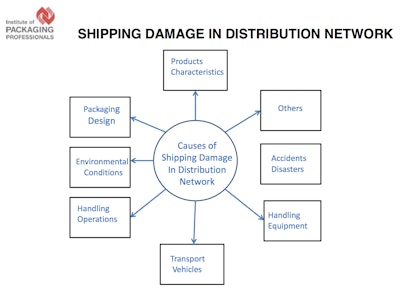 Keeping up with the latest testing standards in transportation and logistics can yield significant results for those willing to pay attention to the details. Brian Stepowany, packaging development manager for Bubble Bee Foods shared an analysis of testing methods with an audience at the 2012 Pack Expo in Chicago. Below is a much-condensed report many tests; due to the sheer number of tests and complexity of sources, readers are advised to contact the Institute of Packaging Professionals' (IoPP) Transport Packaging Technical Committee, of which Stepowany is a chair. (Contacts are provided at this link.)

There are many locations and causes of packaging damage during shipping. These include package design, environmental conditions, handling operations, transport vehicles, handling equipment and accidents. In response, packaging must provides protection from various types of damage:
--A relatively large number of shocks and a few severe shocks, from ay direction.
--Not only face, edge and corner impacts, but impacts from other packages and objects.
--Vibrations from the various modes of transport used, along any package direction, while under compressive load.
--Extremes of temperature, humidity, altitude and other conditions, alone or in combination with other hazards.

In general, Stepowany stressed the importance of company personnel to keep current on test standards.

Distribution simulations: Usually a pass/fail test is used, based on ISTA and ASTM standards, which offer a "very flexible selection of test criteria," said Stepowany, and measure the ability of a "packaging system" to protect its contents using three kinds of tests: drop testing (using TAPPI T-802 and ASTM D-5276); inclined impact testing (TAPPI T-801 and ASTM D-4003) and vibration testing, which entails running vibration "signatures" or PSD profiles appropriate to the transport modes used (via ASTM D-999 and ASTM D-4728).

Compression testing: Box compression tests measure the amity of a box top resist failure under applied loads, and is is among the most important performance criteria for current corrugated uses. Stepowany warns that it can't used to diagnose the cause of failure of an already-failed box. However, an edge crush test, which measures the ability of a combined board to sustain top-to-bottom loads, can be used for such diagnoses. Vertical strength tests include STFI for short-span compression; Ring crus tests (for liners and mediums) and CFC-O (concordia fluted crush tests performed on the mediums).

Laboratory vs. 'actual' testing
Stepowany noted that "atmospheric conditions can affect both product and packaging." He then provided several real-world examples of damage and testing applications, from the lab to actual shipments and test shipments. Such actual analyses are helpful because they expose (test) packages "to the actual distribution environment, However, it is only a small slice of the whole distribution reality because there can be a large variation in distribution stress from shipment to shipment."

One more caveat with real-world tests is that if data aren't recorded using instruments, it may be hard to know if the shipment experienced negligible, average or unusual distribution stress. Stepowany adds: "Even with multiple test shipments, the full extent of distribution stress many not be experienced by test packages," again, due to the large variation of stresses, shipment to shipment. Therefore, he advises professionals against relying solely on actual shipments and test shipments.

Laboratory simulations: Laboratory simulation of distribution stress can be conducted to assess the likely performance of the package in the distribution environment. These include development tests, in which packages and package designs are compared; and pass/fail performance tests. These include integrity test procedures (from ISTA); general stimulation tests derived from field data (SASTM D-4169) and focused-simulation tests, which are particular to a (your) company's actual field data.

There are many advantages to laboratory testing over 'actual' tests. In general, simulated distribution stress tests are best controlled in the laboratory, where inputs can be aired and proposed packages can be compared to existing packages. Laboratory testing can be completed much more quickly, as well--in hours rather than days. Furthermore, packages can be more easily modified in response to initial tests, then retested; tests can be adjusted based on preliminary results.

Achieving 'optimum packaging'
There are countless areas where lab testing can produce benefits to both packaging integrity and the bottom line--the key is to gather data to make balanced decisions. An optimum packaging solution can be modeled using tools such as the Innventia AB model to arrive at a solute that follows this rule of thumb:

"The environmental consequences of product losses cause by excessive packaging reduction are far greater than guaranteeing adequate protection thought an incremental excess of packaging."

Stepowany showed educational attendees many examples where tests can optimize the balance between business requirements and package integrity. Applications include optimizing pallet overhang, where tests showed a 35% difference in protection/results between 1/8 inch and 1 inch. Similar results were found in measuring box alignment, and the detrimental effects of poorly controlled stacking. Tests can also help companies optimize pallet-stacking patterns as well to reduce damage without affecting how much product can be shipped.

In another test by the Institute of Packaging Science in Appleton, WI, retained strength was 100% at 50% humidity, and only 7% at 99%--think of the implications of now this on hot, sticky summers!

In addition to his role as and packaging development manager at Bumble Bee Foods, Brian Stepowany, CPP, is a chair of the Institute of Packaging Professionals' (IoPP) Transport Packaging Technical Committee. Prior roles include various packaging roles at Kraft Foods, Bennett Packaging, Smurfit Stone, International Paper, James River Corp. and Marietta Corp.