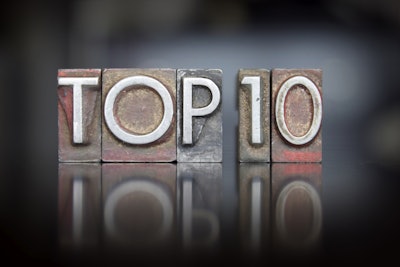 In 2018, Packaging World readers' interest was wide-ranging, demonstrating their appetite for those trends and technologies reshaping the packaging landscape. Enjoy this countdown of the Top 10 stories from this past year.
10. Digital print for packaging—a broad view
Corrugated is seeing lots of innovation in digital printing technology, but a look across all packaging material substrates reveals fresh new initiatives just about everywhere.
9. PACK EXPO Las Vegas 2017 Innovations Report
As in recent years, our talented and experienced PMMI Media Group Editors fanned out across the many booths at PACK EXPO Las Vegas to bring you this Innovations Report.
8. Active and intelligent packaging has arrived
Packaging professionals share their experiences with active and intelligent packaging for consumer engagement, food waste reduction, e-commerce, and more at the AIPIA World Congress.
Back in the news after a self-imposed hiatus is one of the more intriguing sustainable-packaging initiatives of the past decade.
6. Pantone unveils Color of the Year 2018
This year's chosen color communicates originality, ingenuity, and visionary thinking that points toward the future.
5. E-commerce and packaging, from all angles
Top-of-mind CPG concerns around e-commerce packaging are addressed, including package design, sustainability, specialized packaging equipment, and Amazon's packaging requirements.
4. Snapple switches to PET, but keeps the shape, cap, and 'pop'
A new PET bottle with metal closure—a U.S. first for beverages—replaces Snapple's glass package, keeping the satisfying snap of the cap when it opens as well as other iconic features.
3. Top 4 snack food industry consumer trends
According to new research by PMMI Business Intelligence, these are the most frequently mentioned consumer trends driving snack food SKU proliferation.
The Dow Chemical Company (Dow) announced the winners of the 2018 30th Awards for Packaging Innovation, which recognizes the packaging industry's top achievements in innovative packaging designs, materials, technologies, and processes.
1. Cannabis packaging—a snapshot
Whether you see it as a return to the Wild West or the opportunity of a lifetime, the cannabis industry has arrived. But be forewarned: its most distinguishing characteristic is rapid change.