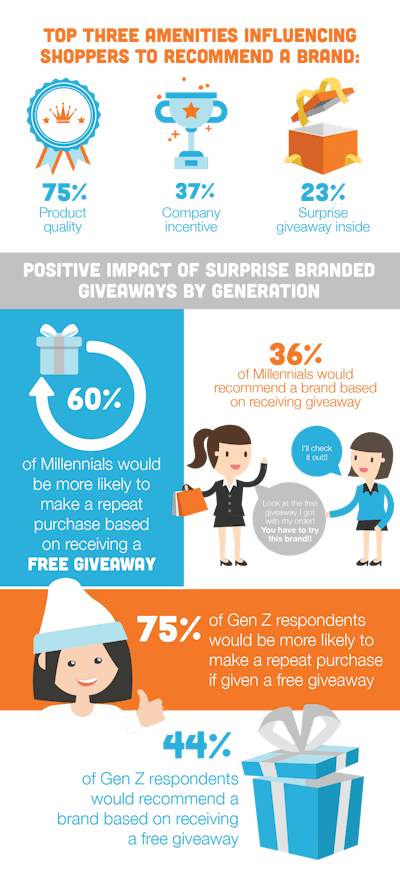 Those of us of a certain age may carry fond memories of the "toy surprise" in each box of Cracker Jack. We're not alone. That's confirmed in an annual e-commerce study conducted by third-party logistics (3PL) provider Dotcom Distribution.
The 2018 survey of more than 1,400 online shoppers indicates that today's consumers prioritize convenience, experience, and quality when making online purchases. That represents a shift in priorities from previous years, when consumers placed higher value on gift-like packaging and fast delivery. Other new findings indicate a change in how consumers view brick-and-mortar stores and that consumer age plays a significant role in expectations and desires.
The 2018 e-commerce survey points to significant changes in preferences as Millennial and Generation Z secure more buying power in online shopping. Sixty percent of Millennials and 75% of Gen Z would be more likely to make a repeat purchase based on receiving a surprise giveaway in their package. Last year, only 51% of all respondents said the same.
Additionally, 23.65% of Millennials and 23.33% of Gen Z said branded, gift-like packaging would make them more likely to purchase from a brand again, while only 14.2% of shoppers said this last year. Based on those results, the survey concluded that brands seeking to increase reach among shoppers between the ages of 18 and 37 should look to branded, gift-like packaging and surprise giveaways.
Visually appealing packaging can also leverage the unboxing trend, in which people share the process of opening a package on social media. The 2017 survey found that 36.8% of shoppers had watched an unboxing video before. This year, 58.4% of Millennials and 79.66% of Gen Z said the same. Similarly, only 28% of last year's respondents said they had shared a picture or video of a product on social media after opening it.
In 2018, this number increased to 43.33% for Gen Z and 38.56% for Millennials. With social media becoming a powerful, convenient outlet for researching products and brands before making a purchase, utilizing gift-like packaging to increase the likelihood of customers sharing positive insights about a brand can be a strong way to ensure that shoppers find mostly positive information.
"With e-commerce now such an integral part of everyday life, we set out to discover what factors impact where a customer decides to spend his or her money," says Maria Haggerty, Dotcom Distribution's CEO. "Two years ago, the answer was quality packaging and fast delivery. In 2018, while those factors are still valued, the opportunity for brands to reach, retain, and extend customers' lifetime value lies in giving them what they want, how and when they want it."
Other key survey findings include:
• Free outranks fast. More than 90% of respondents place a high value on free returns when making an online purchase; 91% view free shipping as a factor influencing future purchases. Consumers are also positively influenced to make future purchases if they receive giveaways.
• Shipping expectations rise, but not on the customers' dime. With 44% of respondents doing a majority of their online shopping on Amazon, the popularity of same-day shipping is not surprising. Respondents who tried same-day delivery rose 19% compared to 2017 (42% vs 23%), but data suggests consumers are more interested in free shipping and on-time delivery. Only 25% of 2018 survey respondents were willing to pay extra for faster shipping—in sharp contrast to two years ago, when the study found 47% would pay as much as $9 more for faster delivery.
• What's inside counts...if it's of value. In 2015 and 2016, unboxing was a key component of the e-commerce experience. The 2018 data indicates fancy ribbons and scented boxes now take a back seat to value-added items included unexpectedly, such as magnets, coupons, or stickers. In fact, giveaways were the third-most influential amenity respondents report would motivate them to recommend a brand to others. Nearly twice as many respondents would be more likely than not to make future purchases with a brand that included a free giveaway in their order. This was especially true among Millennials and Gen Z.
• Omnichannel is omnipresent. Consumers are buying more online now than ever, but a physical presence is still an important part of the overall retail business model, and shoppers are drawing a stronger connection between the two. The survey notes that 32% of respondents prefer to buy online versus in-store, yet 74% are more likely to make a purchase if they can return/exchange in-store.
• Age dictates expectations and preferences. Younger buyers prioritize convenience (flexibility of returning in-store; faster delivery). Older consumers are looking for value (low-cost or free shipping; free returns).
Here, 36% of Gen Z respondents say same-day delivery is a top influence in future purchase decisions—higher than any other generation; 87% are more likely to make online purchases if they can return in-store; 75% are more likely to purchase from a retailer again if online order came with a free giveaway.
As for Millennials, 76% would add items to online carts to qualify for free shipping; 36% prefer buying online—more than any other generation; 79% are less likely to buy again from an e-tailer if delivery is delayed; and 60% are more likely to purchase from an e-tailer again if the online order came with a free giveaway.
Among Baby Boomers, less than 1% expect one-day delivery—the lowest of any group; 95% of this age group's purchase decisions are "somewhat" or "greatly" influenced by shipping costs—more than any other group.
To learn more, download the full study here.