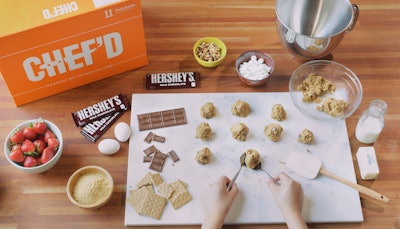 Online meal kit marketplace Chef'd has announced a partnership with The Hershey Company to add the confectionery leader's iconic desserts to its growing meal kit offerings. The partnership marks the launch of the desserts category for Chef'd as well as the first time branded desserts enter the online meal kit market, giving customers the ability to purchase desserts from HersheysKitchens.com and Scharffenberger.com.
With the home meal kit market growing approximately 300%1 annually and expected to grow to $36 billion over the next 10 years, Chef'd provides a new and innovative distribution channel for The Hershey Company's portfolio of brands that aligns with the shifting ways in which people shop and cook.
"We're pleased to partner with Chef'd to be the first to bring branded desserts to the meal kit market. Hershey is committed to offering our beloved brands every place where people shop," says Carrie Lathrop, Manager, E-Commerce and Emerging Channels, The Hershey Company. "The rise of the meal kit market is undeniable—boxes provide unprecedented convenience while maintaining the engaging experience of home baking."
Through the partnership, online shoppers can access all of the portioned ingredients needed to create their favorite desserts with just one click. The collection of desserts includes recipes from Hershey's Kitchens and Scharffen Berger Brand, providing consumers distinctly delicious experiences for all skill levels and taste preferences. Says Chef'd, perfect for everyday baking needs, the Hershey's Kitchens recipes are ideal for inspiring creative desserts to share with family and friends, while the Scharffen Berger recipes, featuring the artisan line of chocolates, are created to elevate the dessert experience.
"Hershey is taking a leadership position as the first confection brand to sell dessert kits on our site, and we are thrilled to be working with them to get the kits to consumers nationally," says Kyle Ransford, founder and CEO of Chef'd. "We think they are trendsetting, and others are going to follow."
Consumers will be able to order the Hershey's Kitchens and Scharffen Berger Brand dessert meal kits on HersheysKitchens.com, Scharffenberger.com, and Chefd.com, when they want, without a subscription or membership fees. The recipes from Hershey's Kitchens and Scharffen Berger can be ordered as standalone offerings or in conjunction with any Chef'd meal. Recipes include Hershey's Kitchens' S'mores Cookies, Hershey's Kitchens' Red Velvet Cream Cheese Squares, Scharffen Berger's Flourless Chocolate Raspberry Torte, and Scharffen Berger's Unbelieveable Fudgy Brownies, among others. The prices range from $2 to $4 per serving.
Companies in this article