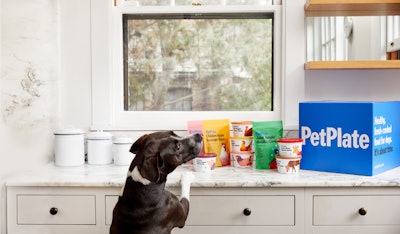 Direct-to-consumer pet food company PetPlate makes no bones about it: Its packaging is key to the overall PetPlate customer experience, its service, and the personalization it delivers. That's according to company COO Jason Sussman who shares that in early 2021, PetPlate took the brand's customization strategy and the consumer unboxing experience to new levels using personalized marketing technology from UnDigital.
Founded in 2016, PetPlate sells ready-to-eat meals and organic treats and supplements for dogs through an online subscription service and the independent pet retail channel. When a consumer purchases a meal plan via PetPlate's website, the plan is customized to support their pet's individual health needs, and the food is shipped directly to their door on a recurring basis.
---
---
PetPlate's packaging comprises resealable containers, pouches, insulation, and the outer shipper. And now, through the UnDigital platform, a customer's first order also includes a colorful, personalized insert welcoming their dog to "the PetPlate family" and providing customized feeding instructions for their pet, customer service contact information, and details on how they can receive a discount when they refer a friend.
Explains UnDigital, "With the information they collect on their customers and their customers' pets, PetPlate is able to personalize and customize each insert for every customer based on a variety of factors, including order number, pet's name, sex, age, weight, breed, and dietary needs, and more."
Adds Sussman, "This ensures that each and every pet receives the optimal nutrition so that they can live longer, happier, healthier lives."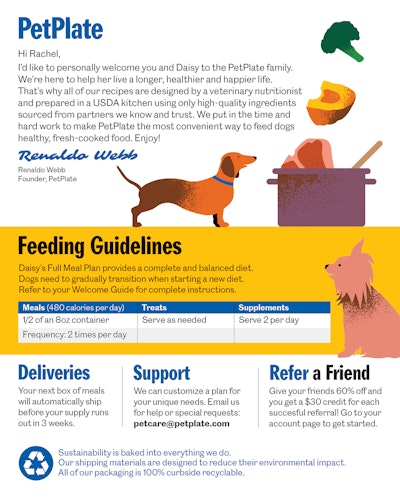 An example of an insert for a new customer whose dog is named Daisy includes a reference to "her" in the Feeding Guidelines, as well as instructions to feed her 1/2 of an 8-oz container of food two times per day, treats as needed, and two supplements per day. "These are all dynamic elements that populate for every customer based on their pet and their pet's needs," says UnDigital. "All sections of the insert contain these dynamic, personalized elements."
UnDigital's automated platform comprises software and Epson on-demand printers that allow brands to personalize the inserts and then measure the results, directly at the fulfillment center. Explains Sussman of the process at PetPlate, "Order data is transmitted from our e-commerce platform to UnDigital via their API [Application Programming Interface]. We have nine locations around the country. Each one has Epson printers supplied and configured by UnDigital."
Shares UnDigital, the software's dashboard provides real-time conversion information from campaigns. It adds, "Conversions are tracked back to the customer who received an insert, so there is no guessing or misattribution. Merchants can easily see which campaigns are driving more conversions and use that data to optimize performance."
---
---
According to Sussman, since PetPlate began using the UnDigital marketing solution, it has seen a 20% decrease in customer inquiries regarding feeding guidelines. There has also been an overall improvement in the customer experience and a clearer, easier transition in onboarding new customers.
While PetPlate started the marketing program with inserts in customers' first orders only, Sussman says the company's vision is to have an insert with helpful, useful, or fun information in every order, "regardless of whether it's the first or the hundredth."
Companies in this article