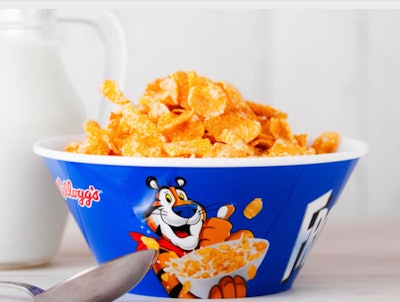 Digital Commerce 360
Author James Melton - to see original post click here.
Reprinted with permission from Digital Commerce 360 -
During the COVID-19 crisis, U.S. consumers eat at home a lot more and order more groceries online. That's been a boon to digital sales at Kellogg Co.
Online sales—which, for Kellogg consists mostly of online sales on other retailer websites, such as Amazon.com and Walmart.com—represent about 9% of its global revenue, almost twice the percentage of a year earlier, says Julie Bowerman, Kellogg's chief global digital consumer and customer experience officer. The rate of ecommerce sales growth for the consumer packaged goods (CPG) manufacturer is about two to three times what it was before the pandemic, she says, without providing exact figures.
Kellogg was ready for the crisis because of its strategic decision in 2018 to build its ecommerce capabilities, Bowerman says. Kellogg's ecommerce strategy consists of what it calls three pillars. In the U.S. the most important is online revenue that comes via big retailers that represent the bulk of its sales. Those retailers include Amazon.com Inc. (No. 1 in the 2020 Digital Commerce 360 Top 1000) and Walmart Inc. (No. 3).
Another pillar is digitizing its business-to-business operations, allowing retailers to order wholesale stock online. The pillar is limited, direct-to-consumer (DTC) sales, primarily in non-U.S. markets.
To bring its ecommerce strategy up to speed, Bowerman says, the nearly 115-year-old company hired outside talent to boost its expertise. Kellogg also invested in training for the company's leadership and sales organizations so they could "speak the ecommerce language," which includes understanding how e-retailers sell products online and fulfill orders, Bowerman says. Kellogg also boosted its expertise in search engine optimization and advertising on search engines, she says.
Kellogg's ecommerce technology investments
Beyond hiring and training, Kellogg invested in digital shelf technology, allowing retailers and brands to optimize online product content just as they would on physical shelves in stores. A good example, Bowerman says, is Kellogg's use of product information management (PIM), which helps the brand house product information and distribute digital content to retailers.
As an example of how Kellogg uses PIM, Bowerman cited a listing on Amazon.com for its 32-count variety pack of Pop-Tarts breakfast toaster pastries. The listing provides detailed nutritional information, alternative views of the product and a short video to help entice buyers, provided by Kellogg. Because Kellogg has these details digitized, it can then distribute this information to other retailers that sell its product, so all of the product details across merchants are accurate and consistent.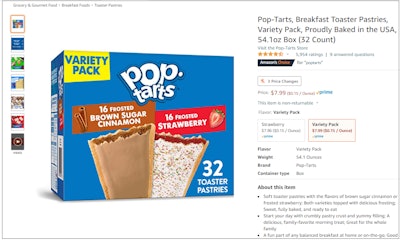 Digital tools like PIM are essential because large manufacturers like Kellogg approach selling online differently from retailers or digitally native vertical brands, which produce products and sell directly to consumers online. In the United States, Kellogg does not sell many products direct to consumers. So, just as it does in the offline world, Kellogg focuses on finding better ways to sell products via merchants.
In addition to technologies like PIM, Kellogg's work with e-retailers also involves rethinking its packaging for the ecommerce. Bowerman says. Using Pop-Tart pastries as an example once again, she says the 32-count pack appeals to online buyers by offering a larger-than-normal quantity—and a selection of flavors. Larger-size packages can, in some cases, allow e-retailers to sell at reduced prices and incur lower shipping costs on a per-item basis, Bowerman says. "However, this isn't just about economics. Ecom shoppers value variety and larger sizes, so it meets their shopping needs first and foremost," she says.
Kellogg, like other CPG brands, also pays for online placement. Brands like Kellogg often pay online merchants so appear the top of search results when shoppers enter relevant keywords. The practice is similar to the way brands like how brands dole out co-op marketing dollars to ensure their products are appropriately displayed and positioned in stores.
"There are trade agreements that allow for brands to sell on Amazon," Bowerman says. "It varies by retailer and manufacturer how those trade agreements are structured."
On the business-to-business side, allowing retailers to use digital ordering enables Kellogg sales teams to understand retailers better and deal with them more strategically, Bowerman said. Using data it collects, Kellogg learns more about each retailer—such as its ordering cadence and which products sell best in its stores—and than it otherwise would.
Kellogg sells a limited number of products directly to consumers, mostly outside the U.S., Bowerman says. In most cases, she says, Kellogg does DTC when it makes strategic sense, such as selling personalized products or using a subscription-based model, she says. For example, Kellogg sells its MWELL Microbiome Powder—a supplement intended to promote gut health—directly to consumers in the United Kingdom. Consumers can make one-time purchases of the product or sign up for a subscription in exchange for a 15% discount. In the U.S., Kellogg sells its RXbar nutrition bars in a similar manner, though it also sells the brand via retailers.
The COVID-19 impact on Kellogg's online sales
The online strategy started showing benefits by the end of 2019, Bowerman says, without revealing more. But when the pandemic hit, the new capabilities became a critical part of how Kellogg responded when online demand for basics like breakfast cereal, snacks, and other groceries reached all-time highs during early 2020. The technology helped Kellogg deal efficiently with retailers, she says. And the digital business-to-business capabilities allowed Kellogg to serve its business customers at times when COVID-based restrictions kept its salespeople from physically calling on retailers.
"The pandemic literally upended our plans, forcing us to go into crisis management mode, but it also created an opportunity to rise to the occasion and to take steps that will make us stronger in the future," Kellogg chairman and CEO Steven Cahillane said during the Barclays Global Consumer Staples Virtual Conference in early September.
The opportunity presented by COVID-19 turned out to be a good one—not just online but also for the business. As consumers stocked up on staple goods and started eating more meals at home, Kellogg exceeded its previous expectations. The company boosted its full-year financial outlook in both the second quarter ended June 27 and the third quarter ended Sept. 26.
At an Oct. 29 conference call to discuss third-party results, Kellogg announced it expects year-over-year net sales growth of roughly 6% for fiscal 2020, up from its previous guidance of around 5%. Kellogg also expects its operating profit (on a currency-neutral basis) to beat last year's by about 2%, compared with its expectation of a decline of about 1%. Kellogg attributes that to its ability to capitalize on consumer trends.
In the U.S., consumption changes include a rise in eating meals at home, especially breakfast. According to a survey conducted over the summer by consumer packaged goods (CPG) sales and marketing agency Acosta Inc., 55% of shoppers reported eating at home more often since the pandemic began. Also, 44% of shoppers reported eating breakfast at home every day, compared with 33% before the pandemic. In addition, 31% were eating lunch at home every day, compared with 18% pre-COVID-19 and 33% of shoppers are eating dinner at home every day, up from 21% pre-COVID-19, Acosta found.
Acosta's numbers came from its Custom Shoppers Community online survey of about 500 consumers, conducted July 8-15, 2020.
Kellogg's investments in ecommerce paid off well in 2020, says Brian Gioia, director of product strategy at Scrum50, an agency specializing in helping brands sell products online. "When you have a product catalog as extensive as Kellogg, it really is a major effort to get all of that right. They were clearly prepared so that when lockdowns went into effect, their product listings were solid," Gioia says. Kellogs excels at product assortment, he says.

It can be challenging for brands to create products they can profitably ship in two days and are "pantry friendly," meaning meaning consumers don't have order months-long supplies to qualify for free shipping, Gioia says. "I see several variety packs and three-packs offered by Kellogg that can reasonably fit into a family's cupboard and also hit the profitably sweet spot of $15 to $20," he says.

He also likes Kellogg's commitment to training, the quality of its online content and the way the manufacturer uses paid search marketing, including paid search on Amazon.com and Walmart.com.
"Search 'cereal' on Amazon or Walmart and the first row of products includes multiple sponsored listings from Kellogg," Gioia says. "This demonstrates an understanding of how to win on these platforms. Increasingly, the top search rows are reserved for sponsored listings, and it looks like Kellogg has a smart, aggressive strategy on these two platforms."
One weakness, Gioia says, is Kellogg's performance in organic (non-paid) search results. If consumers search "cereal" on the websites of large retailers, he says, the first organic search listings are almost always General Mills, likely reflecting sales numbers on each of the platforms. "The good news is that breakfast foods is a category with a lot of branded searches, and Kellogg has very strong brands," Gioia says.
In 2021, Kellogg's Bowerman says she believes the sales upward growth and adoption trends for online sales will continue—even if they don't match the surge seen early on in the pandemic. Her goals going forward include maintaining sales growth for its products that exceeds that of each product's category—while achieving profitability equal to or greater than sales in brick-and-mortar stores. Another focus will be maintaining "brand health" by monitoring and addressing ratings provided by customers in online reviews and other indicators of brand reputation.
W.K. Kellogg founded the company that would become Kellogg Co. in 1906, initially selling only toasted cornflakes. Still best known for its breakfast cereals, Kellogg grew into a multi-brand, multinational corporation that makes and sells products around the world. Its non-cereal brands include the MorningStar Farms and Gardenburger lines of plant-based protein products, Pringles potato chips, and the Carr's and Town House and Austin cracker brands.
Companies in this article