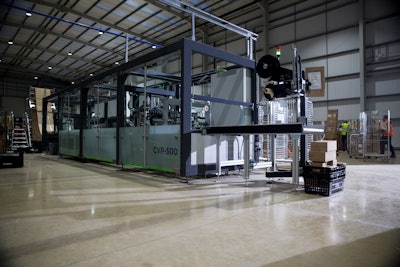 U.K. online retailer Internet Fusion Group (IFG) has a particular stake in keeping the environment clean and green—its portfolio of niche brands comprises gear and lifestyle products for surf, skate, ski, and equestrian sports, as well as premium street and outdoor fashion.
"Internet Fusion's customers want to experience natural areas free from plastic pollution and enjoy functional weather systems that are not disrupted by climate change, all while wearing the best gear for their adventures manufactured in a process that is not detrimental to the very environment they enjoy using it in," says IFG Operations and Projects Director Dudley Rogers. "The team at Internet Fusion wants to work for a company that they're proud of and therefore, sustainability, rightly so, is at the very core of the company."
In 2015, IFG brand Surfdome began the company's journey toward sustainable packaging by reducing its use of plastic packaging. By 2017, IFG's own-brand packaging was 91% plastic free. "And, we've continued reducing plastic ever since," says Adam Hall, IFG's Head of Sustainability. "We're also working with more than 750 brands that supply us in assisting them to remove all unnecessary packaging from their products."
Read these related stories on e-commerce from Packaging World magazine:
"Survey: E-commerce Packaging Materials, Pain Points, and Methods"
"Johnson & Johnson's Nimble Approach to E-Commerce"
"Food Industry and E-Commerce: 5 Year Outlook"
"Digital Print Drives E-Com Subscription Service"
To further help in its goal to fight plastic pollution and climate change, in 2018 IFG turned to automation in the form of a fit-to-size automatic box-making machine, the CVP Impack (previously the CVP-500) from Packaging by Quadient, formerly Neopost. Adds Hall, "We now have two in our operation, helping us further eliminate plastic packaging and reduce each parcel's carbon footprint."
An alternative to manual packing
At its 146,000-sq-ft distribution facility in Kettering, Northamptonshire, England, IFG packs and ships 1.7 million parcels of single or multi-item orders per year. Before automating its packing processes, the e-tailer had 24 pack stations from which thousands of orders were manually packed each day. Given the extremely wide variety of products being shipped—they range from items as large as saddles and surfboards to those as small as sunglasses and decals—operators needed to choose the appropriate package size from among 18 different case sizes and three bag sizes. Even with this range of package sizes however, oftentimes the match was far from perfect, and void fill was required to secure the products inside the packaging.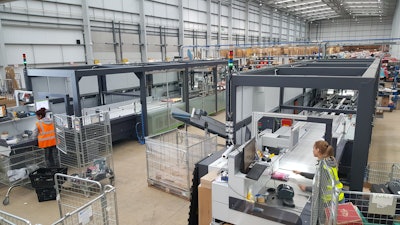 Two years ago, IFG began looking at options for an updated parcel packaging process that would accelerate throughput and lessen its environmental impact. Among IFG's requirements, the solution needed to be a simple plug-and-play system that could achieve increased, consistent productivity with less labor and fewer materials. It also needed to be easy to program and use—in fact, "the simpler the better," says Rogers. "In addition, because we don't have an on-site maintenance presence, the reliability and robustness of the solution was very important," he adds.
After looking at a number of alternatives, IFG chose the CVP Impack automatic box-making machine. "What stood out about the CVP was that it was a single, standalone, plug-and-play solution that we could seamlessly integrate into our operation. In addition, it was able to pack a high percentage of our products [more than 85%], due to its flexibility and capability," explains Rogers. "It also allowed us to successfully pack our orders without any use of void fill, again eliminating waste and achieving our sustainability goal."
The two systems were installed in August 2018, with Quadient providing technical and operational training, as well as good follow-up and an on-site presence by the maintenance and sales teams, says Rogers. "As the actual day-to-day operational use of the machine is simple, the training required by operators was concise and practical," he notes.
Totally in-line process
The CVP Impack is an in-line auto-boxer that measures an item, then constructs, tapes, weighs, and labels a custom-fit package every seven seconds using only one operator. During the packaging process, the operator takes the order , which may include one or more items and either hard or soft goods—places it on the infeed of the system, scans a barcode on the item or an invoice of the order, presses a button, and releases the item into the machine.
Once in the machine, a 3D item scanner measures the dimensions of the order to calculate the cutting pattern for the box. Cutting blades in the cut and crease unit then cut an optimally-sized box from a continuous sheet of corrugated, fed from a pallet holding 2,300 ft of fanfolded material.
In the next step, the order is carried from the end of the belt conveyor onto the center of the custom-cut box, fed from below on a roller conveyor. The order and box are then advanced as the corrugated is tightly folded around the order. At the next station, the box is sealed with paper or clear plastic tape, after which it is conveyed over an in-line scale and weighed for order verification.
The order is then conveyed to the print-and-apply labeler, where it receives a custom shipping label. At the end of the process, the order is transferred to shipping for destination sortation.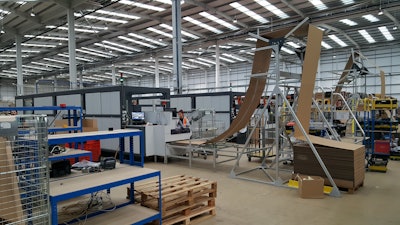 "The first rule of sustainability is to reduce, and when you reduce, you save money as well," says Hall. "The CVP weighs and scans every product for size. We are able to build a database of physical aspects of each product to use when approaching carriers or even when determining where products should be placed in the warehouse to gain efficiencies."
Currently IFG is using the two machines to pack 75% of its orders, while 25% are still manual. Of those, approximately 65% of the manually packed items are "uglies," or those boxes that are overweight, oversized, fragile, glass, etc. Through use of the CVP Impack machines, the company has been able to reduce the number of operators in the packing area by six and has realized a 15-fold increase in speed, resulting in 50,000 parcels/month.
As for sustainability wins, since adding the CVP Impack systems, IFG has saved more than 39,000 cu ft of corrugated per year and has reduced the number of truckloads of product by 92 per year, due to a decrease in dimensional shipping volume. Adds Hall, "We're saving 5,600 trees and, of course, we don't have to fill the empty spaces in our boxes with paper or bubble wrap.
"With the made-to-measure packaging, the CVP Impack may well give us the opportunity to remove the product's original packaging, recycle it, and provide our customers with an entirely plastic-free order." At present, 99.4% of all orders shipped by IFG are plastic free.
"We share our customers' values when it comes to looking after our favorite places, and it's our responsibility to tackle our environmental challenges head on," concludes Hall. "There really is no time to waste. That's why we're using automation in our fight against plastic pollution and climate change."

Companies in this article