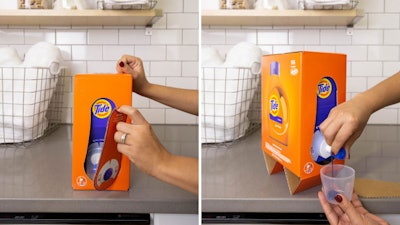 Procter & Gamble has been making bright, big packages for years that are designed to communicate to consumers from store shelves. But now P&G's package designers find themselves communicating with consumers on a whole different level—through e-commerce.
When P&G introduced its Tide Eco-Box late last year to address e-commerce concerns with its popular laundry detergent, it was the result of a whole new way of thinking for the CPG giant. The new package—a bag-in-box format containing a more concentrated liquid—was a change that required thinking beyond the way the company had always designed that Tide bottle. Not only was it not an option to have bottles arriving on doorsteps with detergent leaking from them, the brand needed to address a whole different way of communicating with those consumers.
"E-commerce is not a huge percentage of our business right now. So a lot of people were just saying, 'Make it work,'" said Joe Bohache, principal design manager for P&G. "But we're designing packages for people's doorsteps. And it does need to be different."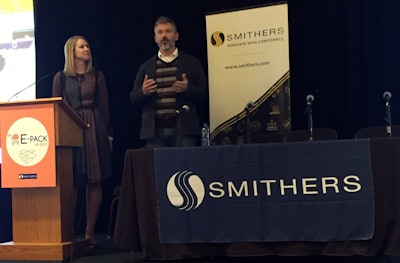 Bohache—along with Ashley Battle, corporate entrepreneur for P&G's North America Fabric Care business—spoke to attendees of the recent E-Pack Summit US in Seattle about the innovation process they went through to create a new package for the liquid detergent. The design group was trying to push past just delivering the same thing they do in the store, Bohache said, while keeping the consumer in the forefront.
"I want to be reassured," he said of customers receiving goods on their doorsteps. "I want to know that I'm getting exactly what I'm looking for. Is it secure? Is it leaking?"
That's a vital consideration, given that 20% of e-commerce returns are due to damaged products, according to Liz Walsh, director of insights to innovation for Georgia-Pacific, also speaking at the E-Pack Summit. "That's too high. We've got to make sure we do something to change this," she said, giving props to P&G for taking an active role with its Tide Eco-Box in making sure the product wasn't leaking when it arrived.
But it's more than just the integrity of the package that's important, Bohache explained. The box on your doorstep has to communicate something different than the box on the store shelf. "I've already paid for it. I don't have to wrestle with the purchasing decision," he said.
Instead, package designers must think about how users interact with this new digital platform and look for places to disrupt. "We need to think about what we have to do better or what we have to do differently to make this e-commerce package really successful," Bohache said.
The P&G team had some early failures. Simply reinforcing the bottle didn't work—it's not what users wanted. Designing for the omni-channel was not the answer either. They had to design from scratch specifically for e-commerce.
Though the package no longer had to attract the kind of attention it has to on store shelves, over-utilitarian didn't work either, Bohache said. There was not enough brand expression. But wasteful packages turned off customers as well. "One of the big tensions consumers had right now was the extraneous and wasteful packaging. We had to really back off of that," he said. "But safe delivery of the product is not enough. We need more. Fulfilling the brand promise is critical for this channel just like we couldn't lose for other channels."
Ultimately, P&G relied on four key packaging principles that it needed to disrupt or do better:
Unboxing. It's more than just unpacking. This was a hot topic during the E-Pack Summit, and Bohache emphasized its importance as well. "You'll see millions and millions of people who unbox things they're excited about," he said. "We had to make sure to take the opportunity to communicate our brand message, our promise. We didn't want it to just be a lot of glitz."
Preparation. It was essential that the dispenser nozzle of the Tide box be inside the footprint when it shipped, then let people take outside of the footprint to use it. It also had to be sure to fit into people's laundry room/laundry habits.
Use. Although they might seem intuitive, Bohache said, there were a couple small things that P&G did to improve use. "We integrated an internal ramp to help get the product out," he said. "This helped make sure people felt they were getting good value. If there's a bunch of detergent left in there, it's not the experience we want." They also made sure there was a place for the messy dose cup to sit when not in use.
Disposal. "From all my time at P&G [15 years], I've never had a design objective for disposal," Bohache commented. P&G balanced a reduction of extraneous packaging with an ease of disposal for the packaging that was there. "Consumers will link your brand with how you handle sustainability," he added. It had to be easy for consumers to separate the outer cardboard from the inner pouch, for example.
Sustainability's importance
Recyclability and sustainability overall were also important themes during E-Pack, and the fact that the Eco-Box design saves 60% in plastic was a big deal. "This could save 1,400 tons of plastic a year," Battle said.
The detergent formula being used in this package also uses 30 percent less water, Battle noted, making the package 4 lb lighter. The Eco-Box holds 105 oz vs. the 150 oz in a typical Tide bottle—but both wash 96 loads of laundry.
Not only the package's recyclability is important, but also how the package communicates that recyclability to customers.
Georgia-Pacific's Walsh pointed to the desire from consumers to have a better understanding of how to recycle the e-commerce boxes they get. "Consumers are not happy right now with how many boxes they receive. They're getting packages weekly, seeing them pile up, and they're not happy with it," she said. "They want you to tell them what to do with that package so it can be recycled."
Though the Tide Eco-Box instructs consumers on how to separate the cardboard and plastic for recycling, questions remain about how to best educate consumers on how to recycle the full package. "We've got to improve recyclability on all parts of the package," Bohache said. But that also involved better empowering users to recycle. "People have got to own this because they want to recycle. We need to empower people to do that. Recycling practices vary widely by region, so it's hard to write this stuff on a package."
"It's definitely something we're learning on," Battle said in response to a question from the audience. P&G is discussing a partnership with Teracycle, which can recycle the plastic pouch inside the box, she added. "The No. 1 thing I'm learning: If you're an e-commerce producer, you need to talk to consumers on that medium. Don't tell them to call with questions."
Though the Tide Eco-Box might be innovative enough to sell at a premium, P&G is making a point of selling it to consumers at the same prices as its retail product, Battle said. "We don't want to deter them from switching to Eco-Box," she said. "We want to make sure consumers can get it at the same price."
A question came up about whether P&G would consider putting the Tide Eco-Box on store shelves as well—given its improved carbon footprint. Though this is not in the works at this point, "we definitely continue to look at that," Battle said. "The 60 percent reduction in plastic definitely looks good even with the shorter last mile."
What advice does P&G have for companies that might not have the same kind of resources as the CPG giant? "Small companies, medium companies, big companies… They'd better get in front of this. They'd better think about how their brand translates online," Bohache insisted. Smaller brands need to push even harder, he added, because they have the opportunity to show up online next to the giants.
Throughout the presentation's Q&A session, just about every question (and there were several) began with a general gushing about how wonderful this product is, including from some people who had tried it at home themselves. The feedback from consumers has been positive as well.
"The consumer voice is huge—you can't argue with that," Battle added. "It's such a win from their perspective that it makes it easier to sell. You're not going to get a repurchase if you don't have something that is truly delighting the consumer."
There's a lot of excitement within P&G around the Eco-Box, and other areas of the company are asking how they can start thinking about e-commerce first as well, Bohache noted. "It's not the final answer; it's the first step. But we're getting the conversation going," he said. "There are going to be a lot more solutions in the future."
Companies in this article