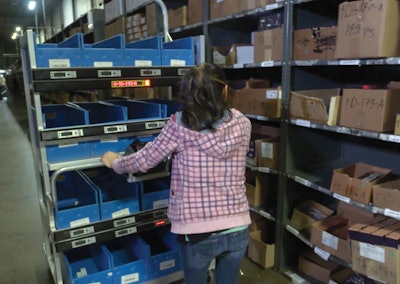 Capacity LLC is a leading supplier of e-commerce fulfillment solutions serving numerous and varied clients, many in the beauty industry. Its headquarters is in North Brunswick, NJ, and the firm has a total of five warehouses in the Garden State in addition to a fulfillment campus in California and facilities in the UK. In addition to its e-commerce business, Capacity also supplies brand owners with traditional B2B distribution services, i.e., delivery of product to brick-and-mortar stores. But a growing number of clients—Glossier and Ouidad, for example—are direct-to-consumer e-commerce only. These brands present a new opportunity for tech-forward 3PL firms and form a part of Capacity's business that is growing briskly.
Capacity passed the 10 million e-commerce orders mark in 2016. Just two years later, the company processed 20 million orders. With future growth expected and a need to better accommodate seasonal peaks in order volume, the firm's management team began evaluating order fulfillment solutions that would support dramatically increased throughput. Specifically, the company sought to implement a semi-automated system to improve picking speed and accuracy, as well as overall throughput rates.
One of the goals was to minimize touches, explains Capacity's Chief Strategy Officer Thom Campbell, who co-founded the company with partner Jeff Kaiden, Chief Executive Officer. "With our paper picking environment, we had six eyes on each order: a picker, a packer, and a quality control (QC) supervisor who confirmed that the right units were picked," Campbell explains. "However, my partner Jeff Kaiden and his father Allen Kaiden come out of a consulting background that includes designing warehouses and distribution centers. Jeff grew up looking at things like throughput analysis and time-and-motion studies. All of these things now shape how we do business. Based on our own data and process evaluation, we knew there was a faster and more accurate way to handle our clients' orders."
The solution: light-directed picking. A key provider was Lightning Pick, which engineered a two-part solution. First, mobile pick-to-light carts for batch picking of required stock keeping units (SKUs). Second, put-to-light put walls for sorting and organizing picks into discrete customer orders prior to pack out. The entire installation is both scalable and modular, enabling Capacity to easily add more pick carts or put walls as needed should their operational needs change.
"Because Capacity is fulfilling orders for multiple clients in a single facility, they needed a flexible way to pick different items stored in different areas of their warehouse at different times of the day. They also needed to get those picks to a single pack-out area for sorting into unique customer orders," explains Peter Gerbitz, System Sales Manager at Lightning Pick. "A conveyor installation would be too permanent; because they handle a lot of orders for multiple clients with three to five items per order, they needed a flexible way to pick from specific areas, then route those picks to a single location to fulfill those orders. In their situation, the mobile pick-to-light carts work very well because associates can take one into the warehouse and pick 16 batches at one time, then bring those batches to a sorting area equipped with put walls for the fast sorting required of a high-volume e-commerce fulfillment operation."
How it works
It all starts, of course, with consumers putting things into their on-line shopping carts. Ultimately, because Capacity is tightly integrated with its brand owner clients, those orders make their way into Capacity's Enterprise Resource Planning (ERP) system. "The ERP sits above all of our technologies, and it was built in-house," says Ed Shapiro, Director of Engineering at Capacity. "Other systems and software we go out and purchase, because many times it makes more sense. But the ERP is business-critical, and because it's our own we can change it as our business changes. It lets us be more dynamic.
"In the world of fulfillment," Shapiro continues, "the key is to do as much as possible with a single person in a single hour. So the best way to do that is to batch multiple individual orders into batches of orders. Thanks to what I'll refer to as our 'secret sauce,' we are able to do that batching as orders flow into our ERP."
"Batching orders is the process by which we gain significant economies of scale," says Campbell. "We use a pick cart that holds 16 bins. Each bin holds a batch of 16 customer orders. So when the pick cart reaches the put-to-light wall, 256 customer orders are ready to be packed out."
Obviously important are the pick carts themselves. Each one has a permanent bar code, and the first thing an operator does at the start of the batch-picking run is to use a hand-held scanner to scan that bar code. This is how the 256 customer orders in their 16 batches are loaded into the firmware of the system. In other words, now the cart "knows" precisely which SKUs and how many of each need to be picked for this run.
Another thing the operator does at the start of a batch-picking run is to scan the bar code on each of the 16 blue bins. This associates every bin recorded with a specific batch of customer orders.
Fundamental to the overall system is that each brand owner's product is kept in one location in the warehouse. Also fundamental is that the pick carts have lighting modules that display information pulled directly from Capacity's ERP system. With just a glance at one of these lighting modules located right at eye level (Photo A), the operator knows precisely what shelf position to go to for the SKU that is needed. This same lighting module also displays the number of SKUs that need to be picked from that shelf position (Photo B).
Upon arriving at the correct shelf position, the operator picks one of these SKUs and scans its bar code. This causes the lighting module to change from "Pick 8" to "Put 8." It also causes whichever blue bin that requires this SKU to light up with the number of SKUs the bin requires. For example, in Photo C, we see the operator being told to put a total of 22 of the carded SKUs she holds in her hands into the blue bins. More specifically, the lighting modules tell her to put 5 in the upper left bin, then 2, 4, 1, 2, and 2 in the others. If a blue bin does not require this particular SKU, it won't light up at all.
Once the operator puts the required number of SKUs into the appropriate blue bins that are calling for them, she presses that bin's blinking lighted button so that the system knows it's time to display on the eye-level lighting module the next shelf position the operator needs to go to. The other important thing that happens when the button is pushed is that Capacity's ERP system is notified that X number of that SKU have just been removed, thus providing real-time inventory accuracy.
When the operator has picked everything called for in these 16 batches, she wheels the pick cart to a bank of put-to-light walls (top photo page 45) and delivers one blue bin to each wall. An operator at each put-to-light wall now scans the bar code on the blue bin she has received to confirm that the correct batch is in the right place. Each put-to-light wall holds 16 compartments, and each compartment receives items for a unique customer order. The operator at the put-to-light wall then scans the bar code on an SKU in the blue bin and the lighting modules on the put-to-light wall tell her which compartments require that SKU and how many SKUs the compartment requires. The operator puts the required SKUs in the appropriate compartments and then presses the flashing lighting module to update the system that the compartment has received the correct items in the required quantity. Once a compartment has a complete order in it, a light on the other side of each open-ended put compartment starts to blink. This alerts the packer on that side of the put wall to pack out that order.
Packing out orders, of course, requires erected corrugated shippers. In the past, the shippers were erected by hand. But now, like so many key operations at Capacity, erecting shippers has been optimized. It's also been centralized in one location. The shippers are erected on an automated system supplied by Endflex Packaging Machinery. An operator then loads them into a customized rail-and-hanger system borrowed from the garment industry. Campbell explains.
"Garment warehouses in the old days moved garments around on hangers enclosed in vinyl bags suspended from a system of rails. We use a similar system of rails, but our vinyl bags are divided up into compartments, and each is occupied by an e-commerce-sized shipper. It's an efficient way of getting the shippers from the centralized spot where they're automatically erected to the various put walls located throughout the plant."
While still at the part of the plant where the corrugated shippers are erected, the shippers also have a bar code label applied by hand. Let's call this the license plate bar code, because like a license plate on a car, it's unique. So when an operator on the pack-out side of the put wall loads SKUs into a corrugated shipper that is destined to be delivered to Mr. or Mrs. Smith on 5 South Main St., she performs the following actions:
• scans the license plate bar code on the shipper
• removes the contents of one specific compartment on the put wall and puts them in the shipper
• presses the lighted button of that specific compartment
• folds the shipper flaps and tapes the shipper to close it up
What the operator accomplishes with these steps is that now that shipper, and the customer order inside, is associated with a unique license plate bar code. Now the operator places the shipper on a conveyor belt that takes the shipper beneath a Cognex vision system that scans the license plate bar code label on the shipper. This pulls from Capacity's ERP all the information needed about that unique customer order: product ID, number of SKUs that belong in the order, customer's mailing address, and which parcel delivery service—USPS, Fedex, UPS, DHL—the customer has chosen. All of this data is sent instantly to a Panther Industries thermal-transfer print-and-apply labeler mounted above the conveyor. It prints a shipping label and, using a tamp arm, applies that label to the shipper.
The Predator is Panther's fastest label application system. In this particular application, a print engine from Zebra is integrated into the machine, though other print engines can be used depending on client preference. The Predator is 100% servo driven, so no compressed air is needed for pneumatic actuation. "Adaptive Touch" technology provides a light touch during label application, and the applicator automatically adjusts to the height of the container being labeled.
With their shipping labels now applied, shippers are conveyed in the direction of large corrugated gaylords each designated as a UPS, a FedEx, a USPS, or a DHL receptacle. The conveyor carrying the shippers is equipped with automatic diverting mechanisms. An optical reader reads the shipping label on each case and enters that information into Capacity's system so that the correct diverting mechanism can be activated, thus depositing each shipper into the gaylord in which it belongs.
The results
Since the Lightning Pick picking cart and put wall technologies were integrated in October 2016, Capacity has made tremendous gains in both processing speed and accuracy, according to Kaiden and Campbell.
In the past, when picking from paper-based lists, Capacity's fulfillment associates could process around 2,500 orders in a normal workday. Now, with the new light-directed fulfillment systems in place, the teams can handle 12,000 or more orders in a normal shift—and even more during extended shifts. "We are just beginning to mine the data surrounding our productivity, but on a maximum throughput day when we are working shifts around the clock, we are getting as many as 1,000 e-commerce orders through the put wall in any given hour," says Campbell.
Also highly valuable, says Kaiden, is the real-time productivity data that's now available. And perhaps best of all, use of the system requires minimal training. "We don't want the folks who are putting up to 1,200 units per hour into the put wall to be thinking about anything other than what I like to call their 'video game,'" he notes. "Training a new person on the system is like training somebody to use a video game. Scan the unit. See the light. Press the button. Scan the unit. See the light. Press the button. It's really easy to get into a Zen-like flow with both the cart and the put wall."
Additionally, the new system eliminated the need for three separate Capacity team members to check each order, saving time while simultaneously increasing accuracy, says Campbell. "We can scan each unit twice and the software validates that the correct picks have been applied to each order—all but eliminating error rates," he says.
With the new solution installed, Capacity's leadership has seen that accommodating seasonal peaks in order volume is easier, as the system can be flexibly scaled up or down as needed. "We're better than ever at delivering the goods," says Kaiden.
Companies in this article