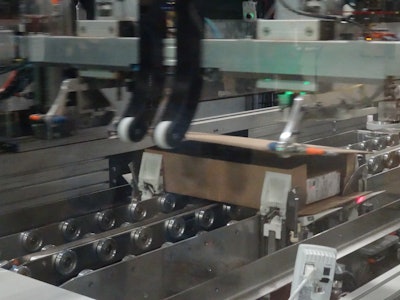 E-commerce is one of the fastest-growing industries in the world today. According to the U.S. Department of Commerce, the U.S. market for e-commerce reached $400 billion in sales in 2016 and is expected to grow to $684 billion by 2020. Currently representing just 8% of total retail sales in the U.S.—according to Census.gov and the Office of National Statistics—e-commerce presents an extraordinary growth opportunity for brand owners.
But this opportunity is riddled with challenges. Among them, meeting consumers' expectations for low shipping costs, speedy delivery, and packaging that both protects product while at the same time minimizes material. Meanwhile, the dimensional weight (DIM) pricing method used by UPS, FedEx, and USPS, which calculates costs based on package volume rather than weight, is having a significant impact on shipping costs.
For online retailer Mason Companies, Inc. based in Chippewa Falls, WI, DIM weight costs were of particular concern when shipping its general merchandise to customers across the country. Under DIM weight pricing, items in shipping cases with empty space were increasing Mason's costs.
The solution: a new box-making technology that creates cases to the exact size of the product being shipped. Installed at Mason in December 2016, the CVP-500 from ProShip, Inc., a Neopost company—described by ProShip as Fit-to-size Packing Automation—has not only addressed the online retailer's increased shipping costs, but it has also improved its warehouse efficiency as well as saved money on labor and packaging materials.
DIM weight increases costs
Mason Companies is a family-owned business that began more than 100 years ago as a manufacturer of logging boots for the local lumbering industry. Today the company is nearly unrecognizable from its shoemaking roots. In the early 2000s, Mason got out of the shoe manufacturing business, becoming a distribution company only. Footwear is now just one of its products; the company also offers apparel, general merchandise as varied as furniture, electronics, and health and beauty products, and specialty food items such as chocolates, fruits, meats, and cheeses.
Mason operates three distribution centers in Chippewa Falls—one shipping shoes, another for smaller general merchandise and apparel, and a third for large general merchandise—that together ship anywhere from 10,000 to 50,000 items per day. The small-goods facility encompasses 105,000 sq ft of space and handles items from its Stoneberry general merchandise catalog and its K. Jordan women's apparel catalog. It is here that Mason installed the CVP-500.
According to Mason Distribution Center Manager Pat Sullivan, each facility works a bit differently as to how it packs product for shipping. At the small-goods facility, Mason purchases 15 box sizes from International Paper for its range of products, which until recently were all manually packed, with air pillows filling out the empty space.
But the introduction of DIM weight calculation in 2014 caused Mason to consider alternatives to manual packing only to reduce their shipping costs. Under the DIM weight pricing method, the length, width, and height of a box are multiplied together and divided by a dimensional factor (139 is standard) to determine the DIM weight. This figure is then compared with the actual weight of the package, and the higher of the two is used to determine the base rate of the shipment. Therefore, the best way to minimize costs under this method is to pack the maximum weight into the minimum volume. According to ProShip, the CVP-500 can reduce DIM weight shipping costs by 32%.
"When we brought the CVP-500 in, we cherry-picked items to go through the system to maximize our dimensional savings from our carriers," Sullivan explains. "For other items where we are not going to see a savings by packing them in a smaller box, we manually pack them and add air pillows."
Among the items being packed on the CVP-500 are products like handbags, appliances, and electronics, and larger items such as coats and blankets. Mason also runs orders with multiple items through the system. "We try to move the largest items through the CVP, because we want to reduce the DIM weight as much as possible," says Sullivan.
Optimal size; optimal shipping rates
Mason's relationship with ProShip goes back to 2011, when it implemented the ProShip® Product Suite, an enterprise-wide, multi-carrier shipping software, across all its distribution centers. The software provides automated rate shopping, tracking of shipments, and labeling for all products within Mason's facilities (see video of Mason's use of the software).
Mason first heard about the CVP-500 via its ProShip rep, who gave them a video and flyer on the machine. Mason then saw the equipment in operation in Europe (Mason is only the second company in the U.S. to install the machine). Says Sullivan, "We were extremely impressed with its capabilities and its ability to improve our warehouse efficiency and customer service."
Now, combining the ProShip Product Suite with the CVP-500, Mason has a fully integrated, cost-saving solution for order fulfillment that increases packing and shipping efficiencies for those products where it makes sense.
When Packaging World visited the Chippewa Falls small-goods distribution center, Mason was packing single-item orders on the CVP-500. The process began when the operator took a product from a pallet and scanned its barcode. A Zebra ZT420 thermal transfer printer then printed a packing slip for the order, which the operator placed underneath the item, along with a catalog. The order was then put on the infeed conveyor of the CVP-500.
Once in the machine, a 3D item scanner measured the dimensions of the order—a process taking just one second—to calculate the cutting pattern for the box. Cutting blades, controlled by a MOVIAXIS® multi-axis servo inverter from SEW Eurodrive, then cut an optimally-sized case blank from a continuous sheet of corrugated, fed from a pallet holding 2,300 ft of fanfolded material.
In the next step, the order was carried from the end of the belt conveyor onto the center of the custom-cut flat blank, fed from below on a roller conveyor. The order and case blank were then transferred to a gantry robot, where the corrugated was folded around the order. At the next station, the case was taped closed, after which it was conveyed over an in-line scale and weighed.

The ProShip Product Suite software then pulled up the customer order and calculated the optimal shipping method by rate, taking into account the DIM weight, the location to which the order was being shipped, and the customer's delivery expectations. In the last stage of the process, a shipping label was printed and then applied to the box using a Hermes+ applicator from cab Produkttechnik GmbH & Co. KG.

Benefits above and beyond
Since beginning operation of the CVP-500, Mason has seen a number of benefits in addition to reduced shipping costs resulting in what Sullivan estimates is a $1 to $2 savings per package.
Speed of throughput has been greatly increased in the small-goods facility. With the CVP-500, Mason is packing 300 parcels/hr. While the top-rated speed of the machine is 400/hr, Sullivan explains that because Mason adds a catalog to each order, it slows down the process. ProShip does offer pick-and-place robots that can add packing slips and inserts, but currently the system is unable to handle catalogs. "Down the road, we'd like to somehow have that happen though," says Sullivan.
Labor savings has been another big win for Mason. With the CVP-500, only one operator is required to handle the same number of orders as four operators packing items manually. This allows Mason to repurpose employees for more important tasks. Mason estimates the machine is currently doing the work of four to five packing stations.
Mason has also seen a reduction in material, more so in dunnage than in corrugated. ProShip supplies the fanfolded corrugated to Mason in an 800-mm width, allowing the company to produce box sizes up to 24 x 24 x 16 in. Factoring in the competitive pricing Mason receives from its pre-made corrugated box suppliers and the fact that there is trim left over from the custom-cut boxes, Sullivan says Mason has not saved that much in corrugated costs. However, it has saved money from the elimination of air pillows and from being able to fit more orders per truck.
At the time of PW's visit, Mason had been operating the CVP-500 for less than two months. But even in that short time, Sullivan noted that the system was fulfilling its original purpose of reducing DIM weight costs. "We haven't fully vetted it out yet," he said at the time, "but the reason we put the machine in was for DIM pricing, and that has happened."
E-commerce stats to consider
Fifty-three percent of global Internet users, or approximately 1 billion people, made an online purchase in 2016. (Source: U.S. Government)
In 2016, the total CPG revenue from e-commerce was $10.4 billion, up from $7.6 billion in 2015. (Source: 1010data)
CPG sales have grown twice as fast as total e-commerce sales, which had a 16% year-over-year growth rate in 2016. (Source: 1010data)
With $2.6 billion in sales, health supplements represented 25% of total key CPG category sales in 2016, exceeding the size of the next-biggest category by $1 billion. (Source: 1010data)
In 2016, Mondelez's net revenues in e-commerce grew more than 35%. In September 2015, the company announced its goal was to increase its e-commerce sales tenfold to $1 billion by 2020. (Source: Mondelez Intl.)
Forty percent of shoppers say they would be somewhat more likely or more likely to purchase from a retailer again if they ordered a package online and it came in gift-like or premium packaging. (Source: Dotcom Distribution)
While half of Americans (51%) feel extra packaging is worth it if it provides adequate protection, just under half (47%) also feel that it is wasteful, and one in five (21%) believe they paid too much for their order. (Source: Sealed Air)
Sixty-eight percent of Americans say they are more conscious of packaging materials and design today than they were five years ago. More than three quarters of Americans (77%) feel that the packaging a company uses for online shipments should reflect their environmental values. (Source: Sealed Air)
Since 2009, Amazon customers have submitted 33 million packaging-related comments, ratings, and photographs to the company. (Source: The New York Times)
Go to related article, "Optimizing e-commerce packaging for sustainability."
Companies in this article