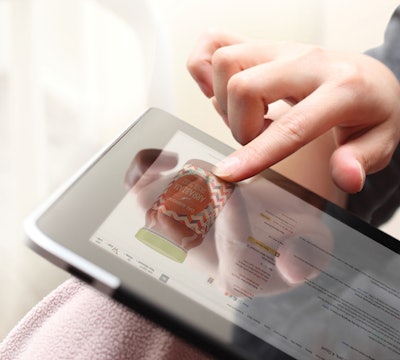 For brand owners in the grocery space, packaging is the most important tool for differentiating their product at retail and grabbing the consumer's attention at point-of-purchase. It is within those first three to seven seconds when the consumer first encounters the product—the First Moment of Truth (FMOT)—that the package needs to wow the shopper by appealing to their senses, values, and emotions.
Now there is a new acronym for brand owners to bear in mind: ZMOT, or the Zero Moment of Truth. Coined by Google in 2011, ZMOT refers to the research conducted by a consumer online about a product or service before taking any action, e.g., searching for mobile reviews before making a purchase. For those brand owners engaged in e-commerce, ZMOT is becoming as crucial as FMOT when considering package design.
But what role will package design play on the digital shelf? With the brand no longer having to stand out in a sea of competitive packages, will design be as significant online? And, once the consumer has purchased the product via e-commerce, will the physical package that arrives at their doorstep still require the same attention to aesthetic detail?
In Part I of Packaging World's Special Report on E-Commerce in the May 2016 issue, we examined how the growth of e-commerce in the grocery sector is affecting the packaging supply chain for brand owners. In Part II, in June 2016, we looked at some of the new packaging equipment and materials being developed to help brand owners address issues of sustainability, product protection, and cost. In this third and final installment, PW examines how the design of primary packaging may be changing to capture the attention of omni-channel consumers.
Identical or different designs?
Ron Sasine, Principal of consulting firm Hudson Windsor and former Senior Director of Private Brands Packaging at Walmart, vehemently dismisses one of the predictions being batted around about the future of packaging for e-commerce—that design will disappear in the digital world.
"I'm not convinced by the all-too-common argument that packaging design in the e-commerce future will reflect some sort of non-artistic, ultra-sparse aesthetic with nothing but blank surfaces and minimal markings," Sasine says. "The idea that all of the artistic and graphic history of humanity—which has exploded in the Internet age—will somehow not be a factor in the future of packaging is nothing short of preposterous. To the contrary, I'm positive that well-executed graphics will be critical to help reinforce consumption decisions made not in a retail setting but in a home, a car, a school, or another remote location."
Does this mean different package graphics should be used for products sold online versus those sold at retail? In a recent study from PMMI – the Association for Packaging and Processing Technologies titled, "2015 E-Commerce Market Assessment," the association asked that question of 55 key decision makers from end-user manufacturers, retailers, and the logistics industry as well as subject matter experts on packaging.
Among those who believed online and retail package design should be identical moving forward, one reason they noted was the fact that using different primary packaging would mean increasing the number of SKUs and ultimately costs. Respondents also said it is more important to have up-to-date pictures on the website than different packaging, since that is what helps drive the purchase. And finally, they noted, using the same packaging leads to brand consistency and operational efficiency.
Those who believe primary packaging will be different for online and retail sales in the future said that "if a company moves from B2B to B2C, that might motivate a shift in strategy, given the different type of recipient." They also speculated that a shift in e-commerce volume might also cause a company to reconsider its practice of identical packaging.
Another reason for using different packaging: "The packaging does not need to be as elaborate as in a retail environment. Once it is shipped, the sale has already been accomplished, it is not necessary to further attract the buyer."
Reinforcing the brand message through packaging
Madeline Haydon, founder and CEO of nutpods, strongly disagrees that package design is irrelevant once it reaches the consumer's doorstep. "Packaging will remain important because when the consumer unwraps that box and takes the product out, you have to reinforce what your brand stands for.
"You will never be able to get away from the graphics, because that's still what people are going to recognize. You want the product to look nice in their refrigerator or on the shelf, so that they remember and have an affinity for your brand."
In 2015, Haydon launched a line of dairy-free creamers made from almonds and coconuts—a healthy alternative to dairy creamer that is non-GMO verified, certified gluten-free, and vegan. From the beginning, her sales strategy was to sell nutpods both in stores and online, so she designed the packaging accordingly.
Haydon relates that she chose the Tetra Prisma aseptic carton from Tetra Pak to package nutpods because of the format's shelf stability, which allows consumers to stock the product in their pantry or cabinet, or take it with them camping or to the office, for example. For e-commerce, the package has a compact shape for shipping, will not break, can handle fluctuating temperatures, and does not need cold packs or insulation. She also chose the format due to the food safety achieved through aseptic processing, she adds.
Package graphics for retail and online sales are identical and were designed, Haydon says, to grab consumers' attention in either venue, with clean green-and-white colors and an illustration of a cup of coffee with creamer that immediately communicates product use. While the package may not pop on the digital shelf in the same way it does in the brick-and-mortar environment, Haydon adds that nutpods has the advantage online of being presented along with consumer reviews and more product information.
Nutpods is sold through Amazon Exclusives, an Amazon site that sells products that cannot be purchased through any other e-commerce site, with the exception of the brand owner's, as well as on www.nutpods.com. For cost efficiency, the product is sold only in three- or four-packs online; at retail it is available as a single unit. While the product currently has limited retail distribution, e-commerce has allowed Haydon to sell both nationally, and now globally, with the first shipment of nutpods sent to Amazon UK in May 2016.
"E-commerce is a great way for us to reach our audience," says Haydon. "If you wait and build your business only on brick-and-mortar stores, it takes a very long time to create a distribution footprint. With Amazon, you can have instantaneous nationwide distribution. That was why it was critical for us to be shelf-stable."
Standout design for digital
Sweetie Pie Organics, a maker of organic snacks for moms and babies located in Raleigh, NC, also appreciates the nationwide access to consumers that e-commence affords. The company's line of lactation smoothies and toddler snacks are sold via Amazon and on www.sweetiepieorganics.com as well as in brick-and-mortar stores such as Whole Foods and in smaller, regional chains.
Company founder and CEO Lilliana Cantrell says e-commerce is a perfect fit for its products, which are geared toward young parents. "Industry data suggests that 84 percent of moms go online when looking for product or brand recommendations," she says. "Millennials are willing to pay a premium for products they associate with and value the convenience offered by online shopping."
When Sweetie Pie Organics designed its packaging, its appearance online was a major consideration. "Online presentation requires a different approach than physical product presentation," says Cantrell. "In the physical store, sales depend on the product's location, choices are limited to the selection in the store, and shoppers can touch or even taste the product.
"Online, the product has only a couple of seconds to be noticed, and the next product is only one very easy click away, not to mention there are many more choices available. Therefore for us it was critical that a mom would notice our product design and understand the product benefits in seconds."
For its lactation smoothies, Sweetie Pie Organics also uses an aseptic carton—the Tetra Pak Prisma Aseptic. According to Cantrell, benefits of the carton include its convenience for on-the-go nursing moms, its recyclability (as the company's consumers value sustainability), and its light weight and resistance to breakage for shipping. "And, it is a good fit for our brand image—elegant, appealing, and standout," she adds.
The graphic design of the carton is very bright and clean, appealing to young women. Sweetie Pie Organics also chose to limit the front-panel text to the product name and its ingredients.
While Sweetie Pie Organics also uses the same packaging for both online and retail sales, Cantrell agrees that the digital shelf offers more opportunities to provide details on the product as well as additional pictures and price incentives. "And when our product gets an endorsement from an opinion leader, or when a satisfied customer recommends it to friends," she says, "it is much easier for other consumers to find the product and read more about it."
Distilling the brand essence for consistency across channels
According to Peter Borowski, Head of Global Design for SC Johnson & Sons, digital technology is enabling packaging to become "more relevant, meaningful, and impactful both online and offline." At The Packaging Conference in February 2016, Borowski led a panel discussion, "Packaging Challenges in the Omni-Channel Market," with Michael Shannon, Executive Vice President Global Business Development, and Darko Martinovic, Vice President Design Operations, both of graphic services business SGS Intl.
In it, he said, "The use of smartphones for shopping is increasingly common and influential. Consumers want to see the brand promise in every aspect of their shopping journey—in-store, online, or with customer service—and packaging is the marketing tool with the greatest leverage. It has the highest reach, and it's highly strategic and low-cost. It's the brand in your hand.
"Packaging is going to have to work online and offline. There's this seamless connectivity, so what you are seeing is that brands have to have consistent messaging online and offline, and packaging is playing a bigger role in that communication."
According to Shannon and Martinovic, from what they are seeing from their customers, which include the likes of Kraft, Pepsi, P&G, SC Johnson, and Unilever, e-commerce has arrived. "Most of our clients are already developing an e-commerce strategy," said Shannon.
The challenge is to adapt traditional package design to the smallest mobile device, as mobile shopping surpasses shopping via computer. To do this, brand owners must drill down to the brand essence and communicate that consistently through all channels.
"You will see packaging that is literally going to be taken apart graphically and put back together to adapt to mobile," said Martinovic. "The brand is going to be most important, and you're going to see bigger copy on flavor, variant, and size. It's going to be clean and simple."
"In the CPG world, it's companies like P&G and Unilever that are thinking about this and taking the package and unwrapping it and dissecting it to figure out the essence of the brand," said Shannon. "They are taking a step back and doing a lot of research around what makes consumers buy their product."
During the panel presentation, the speakers also discussed how online technology can be leveraged to enhance the consumer's experience with the package, including 3D photography, where the consumer can spin and rotate the package for more of a virtual experience. For packages having extensive type in a small point size, such as some over-the-counter medications, allowing consumers to zoom in to the label is a huge advantage.
"When you are online, you really have the ability to connect with the consumer in a different way, to originate other forms of content to tell the brand story," said Martinovic. "That social aspect of branding is a much more powerful thing, because you can link consumers to movies and videos and surveys and coupons and all these different things that you can't do in the store."
In terms of product packaging, e-commerce also allows for personalization. In 2011, Heinz in the U.K. ran a promotion for its Facebook followers that allowed them to order a can of soup for a friend with a personalized label reading, "Get Well Soon," and the friend's name. "That created a media frenzy," says Martinovic. "It was not just about the packaging that came with the soup. It also sent a message, connecting emotion. That's what we're talking about: connecting emotion."
As all the panelists agreed, the physical brick-and-mortar store is not going away. Digital just offers another way for consumers to shop. The challenge for brands will be to provide a consistent brand story across all touchpoints, while using the unique advantages of each channel to engage with consumers.
See sidebar: "7 Questions to gain control of your brands on the digital shelf"
Companies in this article