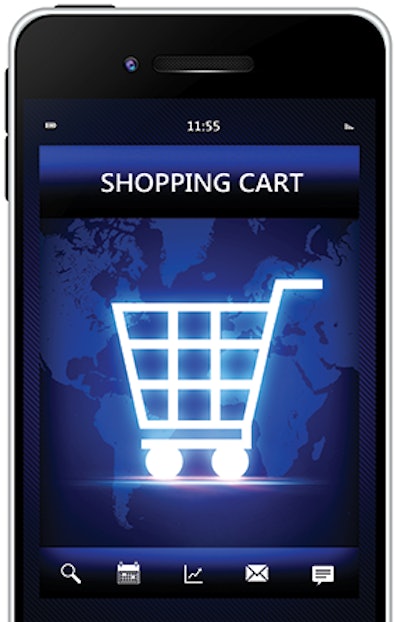 By July 1, 2016, InternetLiveStats.com estimates that 46% of the world's population will be connected to the Internet via computer or mobile device—a tenfold increase since 1999. In this rapidly expanding digital world, we have entered the age of Willy Wonka's Veruca Salt, demanding "I want it NOW!"
To accommodate the clamor from consumers for products purchased digitally and delivered quickly, conveniently, and efficiently, conventional retail channels have evolved over the past two decades from brick-and-mortar only to include online sales. According to digital market tracker eMarketer, Inc., e-commerce currently accounts for $1.3 trillion of the $22 trillion global retail market.
While traditionally confined to the sale of non-consumable items, online sales of grocery products have exploded over the past several years. Statistics vary widely on the trajectory of this market, but many analysts predict that between 2013 and 2018, online grocery sales will grow at a CAGR of 21.1%, reaching nearly $18 billion by the end of the forecast period. In comparison, offline grocery sales are expected to rise by just 3.1% annually during the same period.
Moving forward, CPGs need to understand and embrace this new channel to remain competitive. In Part I of a three-part special report, we will examine how e-commerce is affecting the traditional supply chain, resulting in challenges in packaging equipment design and secondary and tertiary package structure.
Putting the power in CPG's hands
In a March 2016 article in Business Solutions, Justin Stone, Head of Sales and Business Development for supply chain-centric software provider Deposco, noted that in today's omni-channel environment, control is shifting away from the retailer to the manufacturer and distributor, which "releases them from being dictated to by the retailers' demands." Author Matt Pilar quotes Stone as saying, "In this model, the power lies with those who have the inventory."
This model, however, also requires that manufacturers considering selling direct-to-consumer (DTC) will need to develop a supply chain specifically for this channel. For now, the question of whether CPGs will engage directly in e-commerce is unclear. According to a recent study from PMMI – the Association for Packaging and Processing Technologies titled, "2015 E-Commerce Market Assessment," among the 55 key decision makers surveyed, only 29% believe that CPGs will become directly involved, 24% say they will not, and 47% are undecided.
"The idea of CPGs becoming directly involved in e-commerce evokes a wide cross-section of opinions among e-commerce decision makers," says the report. "The perspective is overall undecided as to the feasibility of the idea, listing clear benefits and drawbacks that would await any CPG company that considered wanting to be directly involved in e-commerce. The overall consensus is that the tide of consumer demand is pushing in the direction of direct involvement. Nevertheless, that fact is weighed with the already established and proven relationships many CPG companies have with mass retailers and the substantial financial and operational barriers to conquer before being able to do so effectively."
One advantage cited by respondents for DTC e-commerce is that it allows for better brand control in digital channels. Among the disadvantages are the expense required to develop an entirely new supply chain to support e-commerce, the inability for the CPG to conduct e-commerce as efficiently as a mass retailer, given the size and scale, and the cost to ship heavier grocery items, among others.
One major retailer that has made public its commitment to growing its DTC sales is Mondelēz. In December 2015, Chief Growth Officer Mark Clouse announced that by 2020, the company hopes to hit the $1 billion mark in direct e-commerce sales—a tenfold increase in its current annual sales of $100 million.
If Mondelēz reaches its goal, the $1 billion will still only account for 3% of its sales. Its strategy moreover is about increasing online engagement with the brand and gathering data on the buying behaviors of its consumers. To encourage sales, Mondelēz is adding "buy now" buttons to its owned, earned, and paid media platforms, including brand product pages, social media, video advertising, and customer relationship management campaigns.
The company, however, recognizes the challenges to selling its products online, as many of them—such as Oreos, Trident, and Cadbury—are often impulse buys. To address this, the company is developing online-only products and offers. In fall 2015, the company launched its limited edition Oreo Colorfilled packs, decorated with exclusive holiday artwork that consumers could color in digitally or at home. The packs cost $10 apiece with a $5 shipping fee.
Changing equipment needs
Specialized product and packaging campaigns aside, the real impact of e-commerce on packaging will be in the area of secondary and tertiary packaging. Among the top considerations and concerns for packagers around secondary/tertiary e-commerce packaging are the speed and flexibility of packaging equipment, and the durability, size, sustainability, and presentation of the shipping case.
When it comes to packaging equipment, interviewees in the PMMI study provided a number of suggestions for machinery suppliers, based on their specific organization's requirements. Some of these included:
• Automatic taping machines that affix more or wider tape onto boxes for shipping
• Inexpensive, reusable components that are easy to load and reload
• A robot to place products in corrugated boxes that is balanced by human quality control
• Higher graphics printing
• Flexibility to divert products into different numbers of case-packing machines
• More opportunities to customize the size of boxes to minimize shipping costs
The overall message, however, was that suppliers need to "function in a partnership capacity…to more accurately hear their concerns and make sure the equipment provided is meeting the manufacturing needs."
Said one packaging engineer from a CPG company, "These machinery providers should provide better services from the standpoint of being a partner. I want them to sell me machinery but also their recommendation in terms of what suppliers for boxes and other materials we have—what works best with their machines. Right now they do not do a good job of this."
Product protection is primary
One of the primary jobs of any package is to protect the product, and this is especially important for e-commerce shipping cases. These packages must be designed to be durable enough to withstand the often complex automated and manual supply chains involved in delivering the product to the consumer's doorstep. Notes the PMMI report, the consequences of damaged product can be measured in both dollars and in brand reputation: "The cost of replacing a destroyed item can be up to 17 times the cost of shipping, and negative website reviews resulting from the destruction of an item can take months to counterbalance with positive ones."
In a presentation at The Packaging Conference 2016 in February, Ryan Germann, Ecommerce Segment Manager for Pregis Protective Packaging, shared results of a study from Package Insight on the effects of damaged product on consumer preferences. According to the study, 82.76% of those surveyed had received a package containing a damaged item in the past. When asked how this influenced the likelihood of them purchasing from that supplier again, 58.04% reported that they would be "Somewhat unlikely" to purchase from that retailer again, and 15.18% said they would be "Extremely unlikely."
Meanwhile, with a roughly 40% year-over-year annual package volume growth, according to the Logistics Management 2014 Roundtable, the increase in e-commerce sales is placing a tremendous strain on the logistics and parcel marketplace, Germann shared. He added that parcel shipments of individual products are creating new challenges for packaging, as products are more prone to shock due to rougher handling, and there is a higher likelihood of parcel movement during transit.
As a result, a study by The Freedonia Group, "Protective Packaging," predicts that demand for protective packaging in the U.S. will grow 4.9% per year to $6.8 billion by 2019. According to the study, flexible packaging products, including protective mailers, bubble packaging, air pillows, paper fill products, and dunnage bags, will continue to dominate due to their cost efficiency and their ability to package a wide variety of goods. Foam protective packaging—including insulated shipping containers, molded foams, foam-in-place polyurethane, rolled foam, and loose fill—will comprise the second largest share of total demand, with established applications in manufacturing markets providing growth opportunities despite competition from rigid and flexible materials with more favorable environmental profiles.
The smallest portion of total demand, the study says, is rigid protective packaging. "However, these products are expected to post healthy gains as molded pulp and paperboard protectors both benefit from a less variable pricing structure and trends toward sustainability."
Ultimately for e-commerce retailers, when it comes to product damage, it is the last mile of the supply chain that is notoriously difficult to control; nevertheless, it is still their responsibility. Solutions suggested by the PMMI report include close collaboration between the online retailer and the logistics provider to analyze the packaging needs for durability; upfront engineering to expose shipping contingencies; and placement of a Service Level Agreement (SLA) with the logistics provider for the CPG's specific needs. For more steps to reducing to reducing the risk of package damage, see "E-commerce packaging pitfalls & opportunities."
In Part II of this special report, learn how shipping costs and consumer preferences for sustainability are driving innovations in new packaging materials and equipment that creates custom-size cases on-demand.
Three models for e-commerce grocery sales
Online ordering and at-home delivery of groceries is not a new concept. One of the earliest online grocery delivery services, Peapod, LLC, was founded in 1989. But the growth of e-grocery was slow: In 2012, it accounted for less than 1% of grocery sales, reports Kantar Retail. By 2014, however, that number grew to 4%, or $24 billion. Grocery retail consultancy Brick Meets Click predicts that by 2023, online grocery spending will reach as high as 17%.
Hands down, consumer convenience is the biggest factor driving this growth. Other factors include the influence of Millennials, who have grown up shopping online and are now buying for their own households, the ease of shopping across multiple devices, same-day delivery, and greater pick-up and delivery options.
Currently there are three e-grocery models: at-home delivery, click and collect, and personal shoppers. With at-home delivery, online-only companies such as Peapod, FreshDirect, Netgrocer.com, Schwan's, and others deliver a full range of groceries to the consumer's door. For unattended deliveries—where the consumer is not at home at the time of delivery—products are often packed in insulated plastic totes, and frozen goods are packed with dry ice. The totes are then picked up on the next delivery, or consumers can schedule a pick up time.
One of the fastest-growing online grocery delivery companies is Amazon, which offers several services, including AmazonFresh next-day delivery; Amazon Subscribe and Save, in which Amazon subscribers save money with recurring monthly deliveries; and the Amazon Dash Button, a physical, WiFi-enabled button that correlates with a consumer product, such as dishwasher detergent, for example, that consumers can push to automatically reorder the product when it begins to run out. (See sidebar that follows.)
In the click-and-collect model, consumers can order groceries online from brick-and-mortar stores, then collect their purchases at a retail or other specified locations. As Chet Rutledge, Director/Packaging, Private Brands, Walmart, shared in a recent Packaging World article, "Walmart's view on e-commerce," Walmart is currently exploring several click-and-collect scenarios. In one, consumers can pick up their groceries from the store; in another, consumers can indicate their preferred pick-up time, go to the store at that time, and pull into an assigned queue, and Walmart will deliver their purchases directly to their car.
Reported The Wall Street Journal in November 2015, Walmart is also now testing lockers located in six 7-Eleven stores in Toronto to deliver goods to consumers. Once consumers have ordered their products online, they can access the locker by scanning a barcode sent over e-mail to their smartphones. (7-Eleven originally piloted this service in 2011 in the U.S. with Amazon.com and now provides lockers for FedEx and UPS as well.)
This last method was inspired by services offered in the U.K. There, refrigerated lockers can be found in airports and at train stations, from which consumers returning from a trip or from work can collect their groceries on their way home.
Another brick-and-mortar store investing heavily in click and collect is Kroger, which began testing its ClickList service in mid-2015 in four of its Greater Cincinnati stores. Eventually the retailer plans to offer the service at up to 1,200 of its locations, or more than 40% of its stores in 32 states.
The last model, the personal shopper, is represented by Instacart. Instacart is an online grocery service where consumers can order products online and have personal shoppers select their items from stores such as Whole Foods, Costco, and Kroger. The items are then delivered directly to the consumer.
CPGs utilize Amazon Dash
The Amazon Dash Button, an automated replenishment system for popular household goods like laundry pods, paper towels, coffee, and trash bags, was launched in May 2015 and comprises a physical button with the logo of a brand printed on its face and a sticky back and a hook so it can be placed anywhere. The button allows consumers to reorder products automatically with a push of the button.
In March 2016, 1010data's Ecom Insights Panel reported that since the button was introduced, P&G has taken the lion's share of the sales, with 31%, followed by Kimberly Clark at 14%, and Clorox at 11.7%. Making up the balance are PepsiCo, SC Johnson, Kraft Heinz, Reckitt Benckiser, Amazon, Coca Cola, wellness products, and "other."
Cleaning supplies—including Tide Pods and powder, Bounty, Finish dishwasher detergent, and Clorox disinfecting wipes—dominated the best-selling individual buttons list, but food products made up nearly one-third of the top-10 spots. These included Gatorade, Kraft Mac & Cheese, and Smartwater.
The next phase, signaling Amazon's "dash" to participate in the Internet of Things, is for the buttons to be integrated into items such as a Whirlpool washing machine or a Brother printer, so that the systems can auto-sense when a consumable is about to run out and order it automatically.