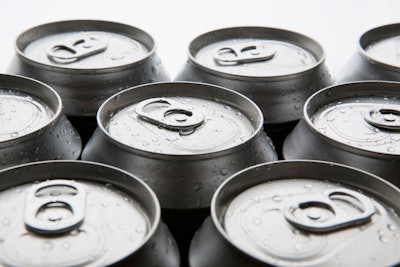 Another pandemic-related supply chain issue to hit the shelves is a national can shortage that is affecting both the food and beverage industries.
Beverages
According to a recent article on CNN Business, an aluminum can shortage is causing some beer and soda brands to be out of stock or to have to cut back on their product offerings.
Molson Coors is one of those companies, and spokesperson Adam Collins told CNN Business, "Everyone who makes anything that goes into a 12-ounce can is being challenged to some respect." The company has shifted production away from some of its smaller brands, to ensure can supplies for the biggest brands. Karl Strauss has made similar moves by temporarily cutting specialty releases and seasonal beers. Coca-Cola and Pepsi have also cut back on product offerings to fulfill demand for more popular beverage products.
---
See: Coke Plans to Dump More "Zombie" Brands
---
The shift from supplying keg beer that was sold in bars and restaurants prior to March lockdowns, to consumer-direct in cans and bottles during the pandemic, has put a strain on inventory, as has the increasing consumer demand for canned beverages such as seltzers (think White Claw) and wine, particularly the 12 oz. slim can. In the craft brew market, 32 oz. crowler cans are in short supply, with companies such as American Canning being sold out until August, according to Brewbound.
The National Beer Wholesalers Association, a trade association for U.S. beer distributors, said that 60% of beer sold in 2019 was in cans, so demand was already high prior to the shifts caused by the pandemic. Ball Corporation, the largest can manufacturer in the U.S., is taking steps to meet demand by utilizing its global manufacturing network and increasing production at its 16 U.S. plants while waiting for two more plants to open later in 2021. American Canning is working with a can manufacturer in Guadalajara to supply customers close to its Texas location, noting that shipping costs can become prohibitive for customers in northern states.
The CNN Business article said that turnaround for shrink-sleeve cans has grown from four to five days to the same number of weeks, and printed cans have doubled in price, according to Chad Heath, VP of Sales and Marketing for Karl Strauss Brewing.
Food
Another reaction to the pandemic is the bulk purchasing of non-perishable, canned food products. This combined with raw material shortages of steel and tin from China is delaying fulfillment of canned items for months, according to a recent Marketplace article.
Back in May the picture was optimistic, with a New York Times article discussing the surge in demand met by busy manufacturers and a plentiful supply of raw materials. But now, according to Marketplace, manufacturers and distributors are running into supply issues. James Kwon, CEO of Technology and Logistics at ePallet, is quoted as saying "Especially in ready-to-eat meals, like chili, soups and prepared meats, the cans are in short supply."
A recent poll of Packaging World CPG readers reveals that while packaging materials such as cans are increasingly being affected by COVID-related supply chain issues, this may tend to indicate longer lead times rather than true shortages.
---
See: Packagers Stay the COVID-19 Course
---