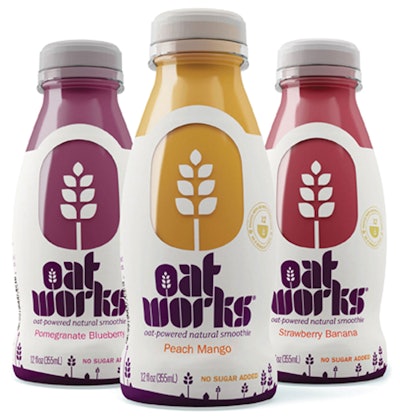 To get the line launched, the company turned to contract bottler Aseptic Solutions, Corona, CA.
"Oatworks addresses the need from busy consumers to enjoy a convenient, nutrient-rich breakfast on the go," says David Peters, CEO of Wellness Works, touting his "delicious and genuinely healthy "snackfast" as a perfect way to extend the appeal of oatmeal beyond breakfast throughout the day."
Aseptic Solutions fills the PET bottles, which weigh 19 g empty and take a 38-mm injection-molded PP closure. A full-body shrink sleeve label features the brand's signature "oat landscape" within a purple and off-white color scheme that pays homage to the inspiration behind Oatworks. The "O" also serves as a peek to what's inside, revealing the natural color and smoothness of each flavor. The emphasis on "what you see is what you get" reinforces the brand's natural appeal.
Oatworks products are high in beta glucan, a naturally occurring soluble fiber that is considered to be the healthiest part of the oat, and which is responsible for many of oatmeal's key health benefits. One single bottle of Oatworks contains as much soluble fiber as two bowls of oatmeal, as well as the benefits of fruit. The 12-oz bottles retail for $3.79 and have been available at select retail outlets since June. [CP]
Companies in this article