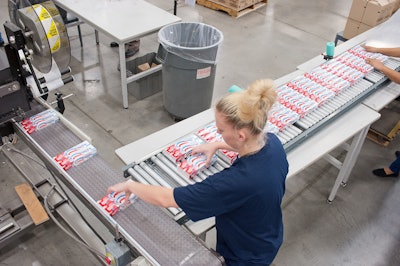 Pittsburgh-based GENCO, one of North America's largest third-party logistics (3PL) firms, today announced that it has formalized its existing contract packaging capabilities into a new business unit. Dave Mabon is president of the new unit following his service in prior roles with the company including chief operating officer.
The decision to create a formal co-packing business entity represents a new level in the company's commitment to large scale, integrated services with an eye toward cost reduction and data visibility.
"This business unit was formed as we commit to evolving the contract packaging value stream to the next level, much as we've accomplished with reverse logistics value stream," Mabon says.
Doing so entails expanding co-pack activities across more locations in a way consistent the corporate mandate to provide "product lifecycle logistics solutions," that integrate all functions—postponement, liquidation, recycling, damage research and what GENCO calls "high velocity direct-to-consumer fulfillment"—into a more seamless value chain.
"Customers are asking us to help them optimize the value chain," Mabon says, noting the need to unbundle packaging, logistics, procurement, fulfillment and other costs in order to identify ongoing cost reduction and savings opportunities, "and to accomplish that, you need to have actionable data provided by greater visibility on the IT side." Toward that end, the company has more than 200 IT professionals focused on customized supply chain solutions.
"Having the right systems in place, and having them integrated to track all those separate functional silos leads to much smarter, faster decision-making," Mabon adds, noting that the strategy has to date delivered annual savings into the millions for some customers.
The new contract packaging business unit's services include:
Last mile execution, including meeting needs in areas including club store packaging, shrink-wrapping, pallet displays, clamshells, blister packs, cartoning, pre- and post-holiday projects, and specialty products.
Best-in-class visibility to ensure that all marketing, manufacturing, and supply chain goals are aligned.
Extensive, continual cost analysis to removes unnecessary costs, from designing new packaging alternatives and identifying less expensive materials to leveraging foreign trade zones to control import costs.
GENCO's contract packaging-related revenues are currently in the area of $100 million a year based on the output of roughly 50 automated lines at less than 20% the company's about-130 locations. The unit, like GENCO as a whole, will continue to serve Tier 1 companies in sectors such as consumer goods, technology and healthcare.
GENCO has revenues of roughly $1.6 billion. From its about-37 million sq. ft. of warehouse space—in addition to co-packing—the company provides inbound logistics; warehousing & distribution; fulfillment; transportation management; systems integration; returns processing & disposition; test, repair, refurbishment; product liquidation and recycling.
The company has released a short video highlighting co-pack capabilities, and showing lines in operation, packaging well-known brands.