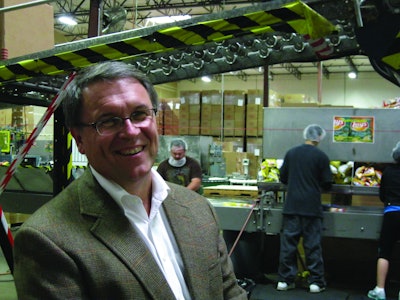 DePaul Industries, Portland, OR, is a contract packaging and staffing provider for mid- to large-size consumer goods companies, with an emphasis on food and other soft goods. The company handles primary and secondary packaging as well as logistics and staffing services. In June 2012, the company was named PepsiCo's top contract packager in North and South America for its Frito-Lay division.
Dave Shaffer, president and CEO, has been with DePaul Industries since early 2000. He recently spoke with Mary Ann Falkman, Contributing Editor, to discuss his intrinsic philosophy of growing a vibrant business while also providing training and employment for people with developmental disabilities.
On moving to the West Coast and starting a contract packaging business:
I'm a CPA, with experience at a large multi-national finance company in the Midwest. But I like growing companies. It's that entrepreneurial spirit that drove me, first to Moonstruck Chocolate Co. [in Chicago], then to DePaul Industries. The company had been doing assembly work and temporary staffing, but then a large customer moved away from Portland, taking their business with them. I studied the options. Food packaging is a big business in the Pacific Northwest. Contract packaging was our solution.
Running an entrepreneurial business is what I was meant to do. I like to change something. I like making things better.
On hiring persons with disabilities:
It is our company's mission to employ persons with disabilities. But first, it has to make good business sense. With the right processes in place and solid upfront training, we can compete in the marketplace. We may be less profitable but that does not prevent us from being competitive. We want steady customers, not just one-off jobs. We are flexible in meeting customer demands. We have less turnover in employment and don't have to rely upon temporary workers to meet seasonal or unexpected demands. Our experience has shown that these employees turn out to be very good workers.
On why he accepts employee attrition:
Many of our employees get better jobs elsewhere. Last year, 320 of our staff went to work for one or another of our customers. We are not pushing them to do so. But that's our model. We expect this and accept this.
On what keeps him awake at night:
I'm not sure it keeps me up all night, but what certainly keeps me on my toes is staying current with the ever-changing marketplace and the demands of our customers. The employment picture for others is much worse than ours. We have to continue to grow our model and make a dent in the market—it's the only way to stay competitive in such a fast-changing business.
On what he would do if he were the Ruler of All Contract Packaging:
I would convince other contract packaging businesses to realize they can be competitive, even be more of a driver of market growth, by following our employment model.
On what he's learned from his experiences:
First, I had to learn patience—and that's not easy! From my upbringing in a modest Midwest household and from my religious faith, I had always believed in the value in every person. That belief is the core of what DePaul Industries does. But it can be easy to slide down a slippery slope and forget those values. I wanted to create opportunities for these people with disabilities. When I was still struggling with the concept, my wife reminded me: "Lead with your heart, and your head will follow."
This is the best of all worlds: A social mission and a successful business coming together.