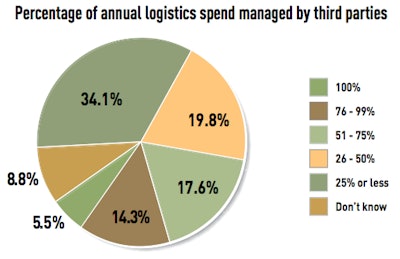 Why outsource your supply chain functions to a third-party logistic provider (3PL) rather than handle them yourself? A new research report, "Top Business Drivers for Integrated Logistics Outsourcing," goes far to address the reasons.
The report, from Lakeland, FL.-based
Saddle Creek Logistics Services
, presents the business drivers behind outsourcing. According to survey respondents, they include controlling costs, accommodating business fluctuations, managing compliance issues and returning focus to core competencies.
Respondents included manufacturers, distributors, retailers and multi-channel merchants with influence over warehousing, contract manufacturing and packaging, fulfillment, transportation, freight forwarding, and other logistics functions. The report indicates that 3PLs are being asked to play a broader role than in years past. Some research highlights:
73.6% of respondents outsource to providers who offer two or more logistics services.
52.3% rate the importance of integrated logistics functions as 4 or 5 on a scale of 1-5.
Primary logistics services such as transportation (36.3%) and warehousing (33%) are seen as being the most critical to obtain from a single provider. Packaging, product customization and order fulfillment are among the the factors that follow in importance.
Top business needs driving integrated 3PL outsourcing include controlling costs and reducing capital expenditures (53.8%); accommodating business fluctuations (19.8%); focusing on core competency (18.7%) and streamlining operations (17.6%).
"While companies are clearly finding value in using a single provider for multiple logistics services, the survey results suggest an opportunity for even deeper integration beyond traditional services like warehousing and transportation," according to Rob Pericht, senior vice president of operations at Saddle Creek Logistics Services. Expanding the 3PL's role to include services such as packaging, product customization, or order fulfillment can help companies to increase their speed to market, accommodate business fluctuations and control costs."
In
related news
, the company changed its name from Saddle Creek Corp., to Saddle Creek Logistics Services, effective May 30, 2012.
Read and/or download the complete report
here
.
Companies in this article