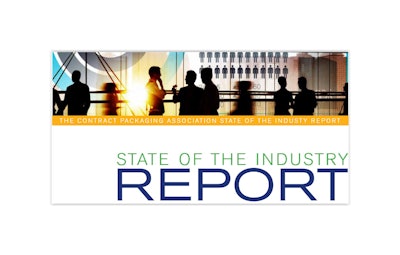 The Contract Packaging Association (CPA) has released its State of the Industry Report, a comprehensive benchmark study that provides valuable insights for anyone involved in the industry. The report combines 100-question interviews with more than 120 CEOs and senior industry executives with primary and secondary research, making it a valuable planning tool for anyone connected to the industry.
In a webinar scheduled for April 5 from 11 a.m. to 12 p.m. CST, Carl Melville, COO of The Melville Group, the company responsible for conducting the survey, will discuss business trends driving innovation—including sustainability and the impact of globalization—along with an industry snapshot and key metrics. The webinar is free for both CPA members and non-members; register through the CPA website.
According to the report, the contract manufacturing and contract packaging industry serving the U.S. food and CPG sector is currently worth $25.67 billion and is projected to continue growing at two to four times the pace of the sector it serves. The trends driving and supporting this growth are rated by industry leaders for their impact, including:
The Amazon Effect/The Walmart Effect
Private Equity Investment
Grocery cconsolidation/food company consolidation
Offshore and Mexico-based competition and more
"One example of change is the rise of private equity," says Ron Puvak, CPA Managing Director. "Investment levels and investor size are both increasing, with large PE firms such as Goldman Sachs now investing in our rapidly evolving industry."
Unlike third-party statistical research summaries, the report goes beyond the numbers, combining executive insights with qualitative and quantitative primary and secondary research.
Says Tim Koers, CPA President, "Our industry continues growing at double-digit rates and has become a critical part of food and CPG supply chains. This report dives into why, then explores the trends, drivers, and headwinds shaping its future."
Topics in this 130-page report include:
Defining the food/CPG industry by scope and revenue
Industry CAGR 2015–2020 packaging/manufacturing
The rise of private equity
Industry consolidation trends
The labor market and widening talent GAP
Demographics on size, company age, locations, revenue
Enterprise technology implementations and penetration rates
Industry marketing and business development trends
Sustainability trends…and much more
"This is a rare, front-seat view for anyone investing in, selling to, or depending upon this industry," says Vicky Smitley, Immediate Past CPA President. "This report contains valuable information we will use in our business in 2018 and beyond."
The Contract Packaging Association State of the Industry Report is available for $1,995. For details, to order, or to download a table of contents, please visit the official report site.