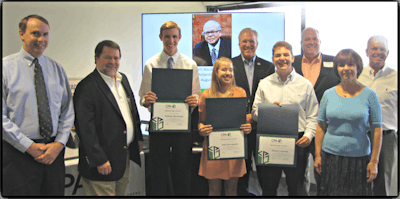 Inaugural CPA scholarship recipients announced
Four future college graduates with a direct connection to men and women working at a Contract Packaging Association member company were invited to CPA headquarters in Oakbrook Terrace, IL, on August 9 for a luncheon with their parents and CPA board members, where they each received the inaugural Tom Bacon Memorial Scholarship in the amount of $1,175.
Recipients included Michael Aykroid, a freshman at Arizona State University studying business and German; Kelsey Bekermeier, a junior majoring in journalism and minoring in business at the University of Missouri; Nicholas Herrmann, a freshman at the University of Kentucky studying business and marketing; and Julia Kurolapnik, a freshman at the University of Minnesota majoring in business and finance. All awardees accepted the scholarship and began or continued their studies at their respective universities in fall 2017.
The scholarship, which was created to support packaging education and to raise awareness of the packaging field as a career choice, pays tribute to CPA founding father Thomas Bacon. The CPA Board of Directors worked directly with the Bacon family to create the scholarship in honor of this industry icon. The fund amount was first increased during the annual CPA meeting in February 2017, when attendees donated to raise its value to $3,200. The Bacon family generously raised the value yet again in May 2017, bringing the final award amount to $4,700—guaranteeing at least $1,000 per recipient.
The unique aspect of this scholarship is that it is only offered to family members of employees working at CPA member companies. Bekermeier is a family member of an employee at CPA member company Pacmoore Products, while Aykroid, Herrmann, and Kurolapnik are family members of employees at CPA member company Hearthside Foods Solutions.
According to Hearthside Food Solutions Vice President of Sales and former CPA President Vicky Smitley, it was important—and easy—to spread the word internally to employees about this member benefit. "I simply forwarded the e-mail announcement about the scholarship to the Human Resources Manager, who then distributed the information to other employees within the company. That quick and easy act of sharing is helping three students and their families save money while they pursue an education," she says.
Candidates for the Tom Bacon Memorial Scholarship must:
Be a family member of an employee at a member company that is in good standing with CPA
Be enrolled at an accredited two- or four-year college, university, or vocational/technical school in a course of study relevant to a business or business-related field with preference given to packaging curriculum
Have GPA of 3.0 or higher
Be a U.S. citizen
Winner(s) of the Institute of Packaging Professionals scholarship are not eligible. For more information on how to apply for the scholarship in 2019, contact Member Services Coordinator Jill Gabbert.
Casting the Vegas spotlight on CPA Sourcing Center
CPA hosted its popular Sourcing Center in the PACK EXPO Las Vegas Association Partner Pavilion, Sept. 25-27, 2017. The three-day event featured over 2,000 exhibitors and more than 30,000 attendees, spanning 900,000 net square feet of opportunity to exchange ideas with leading packaging and processing suppliers.
"The Association Partner Pavilions at PACK EXPO Las Vegas, and co-located Healthcare Packaging EXPO, bring together leading industry associations with decision makers from the world's top CPG companies, retailers, and pharmaceutical, medical device, and nutraceutical manufacturers," says Charles D. Yuska, President & CEO, PMMI, The Association for Packaging and Processing Technologies. "The on-site expertise and industry knowledge provided by partner associations offered an invaluable resource to attendees."
As always, the Sourcing Center was the place to be for brand owners interested in contract packaging and manufacturing services to learn about CPA members and how to source these service providers. Visitors had the opportunity to view real examples of contract packaged and manufactured goods from CPA members featured in the Showcase Tower and had the opportunity to ask questions and interact with industry experts.
One of this year's highlights was the popular Meet and Greet reception on Sept. 26, which gave attendees an opportunity to mingle with CPA members, prospective members, and other packaging industry VIPs. According to CPA President Tim Koers, "As expected, we had a great turnout at our Meet and Greet and generated nearly 300 leads during our time at PACK EXPO Las Vegas, which we will now get to provide to our member sponsors as an awesome benefit. Our partnership with PMMI gives us a great opportunity to serve our members in the best possible ways."
CPA is already looking forward to the next opportunity to showcase member benefits at the 2018 PACK EXPO East show, April 16-18, in Philadelphia.
CPA partners with Frain Integration, Sonoco & Nulogy for 2nd annual Pack Summit
Frain Integration, Sonoco, and Nulogy—in partnership with the CPA—hosted the 2nd annual Pack Summit. This year's theme was "Unlocking Speed to Market: Growth Challenges in a Divergent Economy." The event kicked off on Oct. 24, 2017, with an evening executive networking session at Medinah Country Club in Illinois, then carried over to a full day of informative sessions on Oct. 25 at the Frain Conference Center.
The event was a look into the health of the packaging industry and featured a series of keynote speakers, case studies, and panel sessions presented by foremost industry experts and thought leaders. Attendees learned how the right strategy can overcome disruptive trends and how to launch new products up to 75% faster by utilizing shared assets and a rapid deployment supply chain approach.
Speakers for the Summit included co-founder and Principal of PTIS and AMERIPEN Senior Director Brian Wagner; Holland & Hart's Food & Beverage Practice Coordinator, Catherine Walsh; Senior Brand Manager from Reynolds Consumer Products, Ben Ellis; owner/CEO of MaGi Foods, Roger Davidson; Frain Integration President David Eggleston; co-founder/President of OnPoint2020, Matt Dingee; Nulogy's Vice President of Customer Success, Tom Perrone; Aptar Group's Business Development Manager, Dave Johnson; and Sonoco Director of Insights Alicia Rudick. The event was moderated by Flexible Technologies Executive Vice President/General Manager—and current CPA board member—Nikki Johnson.
Frain Integration, Sonoco, Nulogy, and CPA plan to continue this forum in 2018. Details to come within the next few months.
Save the Date: CPA Annual Meeting
Don't miss the CPA 2018 Annual Meeting, taking place February 20-24 at the Hyatt Centric French Quarter in New Orleans. Register online.
Become a CPA Member
CPA has proudly served as the national, not-for-profit trade organization for the contract packaging industry since 1992. Our membership includes both primary and secondary contract packagers and the suppliers that serve them. Our members support an incredibly diverse array of consumer goods companies, including automotive parts, electronics, candy, food and beverage, and health and beauty aids businesses.
The mission of CPA is to "serve the growth of member companies by assisting in the establishment of productive links between buyers and member companies and by providing educational opportunities for member companies' executives to improve the efficiency and productivity of their operations."
Joining CPA allows us to put our mission of growing and uniting the industry into action. We pride ourselves on providing our members with up-to-date information about events and news related to their businesses, continuing education, networking opportunities, informational resources, and promotional support.
A CPA membership is for companies that perform all packaging functions, from manual and semi-automatic to full-speed, high-performance packaging lines. Other member services include design, warehousing, and distribution, among others. An Associate Membership is for those companies that provide machinery, containers, components, materials, or other services to the contract packager.
Join us today and experience the impact CPA will make on your business. For more information, contact Managing Director Ron Puvak.