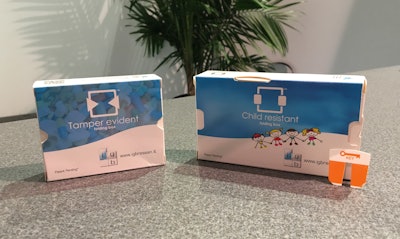 Italy's IGBressan debuted three innovative boxes today focused on improving safety, lowering the impact on the pharmaceutical industry, and adding value to products.
When the Tamper Evident box is opened, a small red tab appears letting the consumer know the box has been tampered with or opened. The red tab can also be altered to be rough to the touch for blind consumers. One of the goals of this product is to reduce "employee pilferage," an issue that constitutes the largest single percentage of pharmacy thefts nationwide. The boxes are created without glue or labels, making them efficient and compliant in the US and Australia.
The Child Resistant box comes with an actual key that is stored in the side of the box. Simply remove the key, insert it into the tab, and the box is magically unlocked. Between 2004 and 2013, 640,000 children aged 5 and younger were treated in the emergency room for ingesting drugs in the U.S. alone. This product provides a solution to that issue without disrupting the production flow. The boxes are designed to be mass-packaged on standard packaging lines without machinery investments or special components like shells or trays.
The Recreational Marijuana box is designed to be both tamper evident and child resistant because many states require both. It combines both unique design features of the aforementioned boxes. Follow the visual cue to slide a credit card into the side of the box to release an internal box. Once removed, the internal box contains a secondary security measure with the tamper evident tab.