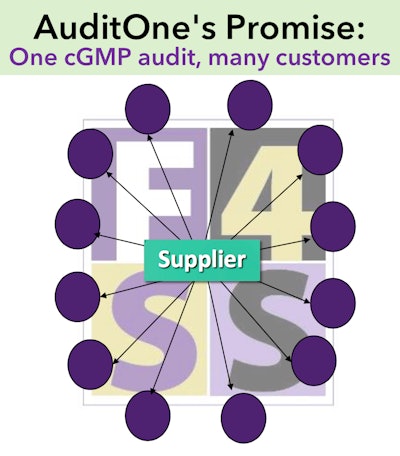 The Foundation for Strategic Sourcing (F4SS) announced an initiative named AuditOne with the lofty goal of creating a single standard for quality audits among Consumer Packaged Goods and Fast Moving Consumer Goods (CPG/FMCG) manufacturers. It may well succeed, if the supply chain clout of its first five participants is any indication: Procter & Gamble, Johnson & Johnson, Unilever, L'Oreal and Estee Lauder. F4SS and the four hope to simplify, standardize, and streamline the process by which the companies conduct quality audits with suppliers — then, if successful, open AuditOne industry-wide.
The need is real. Today consumer products companies develop and manage their own individual, but similar, quality audit programs to ensure suppliers are meeting quality and regulatory compliance. This requires industry suppliers such as logistics providers and contract manufacturers and packers to manage and comply with the myriad standards, audits, and reporting procedures established by their customers. To the extent that AuditOne succeeds in developing a single set of quality standards and audit processes, global supply chains could see significant improvements--and savings.
"Agreeing on industry-wide standards is no small feat," said Franziskus Kath, Vice President of Source Quality at Johnson & Johnson Consumer. He said the company sees the initiative as "an opportunity to create new supply chain value, spur innovation, and ultimately create superior options for consumers."
P&G's Gale Beckett, Vice President of Quality Assurance, said AuditOne "will help enable our supply chain to more efficiently deliver the high quality standards we demand for our consumer-preferred products around the world."
L'Oreal Americas' Mark Genco, Quality Vice President, said the initiative "will provide an efficient and collaborative way to assure the quality of raw materials and components necessary for us to continue to give our consumers the positive product experience they deserve."
One annual supplier audit, many brands
Beyond the pilot, F4SS foresees a future for streamlined quality auditing wherein a single annual audit for a supplier will meet the requirements of multiple customers. In addition to reduced compliance costs, F4SS believes that suppliers worldwide will benefit from having clear, better-defined quality standards that are globally recognized by the FMCG/CPG industry.

Bill Smith, the President of KIK Custom Products, a major supplier to consumer products companies, said that consistent and meaningful quality standards "will drive improved operational efficiencies," while continuing to ensure the highest quality product to consumers. "We are on the brink of a new and exciting time related to industry collaboration that will only serve to improve the overall quality, cost, and shelf availability of excellent products."

Implementation has begun
AuditOne implementation will begin with upstream component and material suppliers, with later phases to cover all aspects of the supply chain and delivery systems.
F4SS said it has posted approved standards for material suppliers, and a list of independent audit firms, at its website, www.f4ss.org. The organization will manage a secure platform for the sharing of audit results between suppliers and their customers.
"This is one of the most significant opportunities in the industry today, one that we have been working on for many years. FMCG/CPG non-foods providers have largely been on their own when it comes to quality audit specifications," said Lisa Shambro, founder and executive director of the Foundation for Strategic Sourcing.
F4SS is a logical host for the initiative. It is a non-profit membership organization composed of FMCG/CPG companies and supplier networks of contract manufacturers and related companies.
F4SS' original announcement can be found here.
Companies in this article