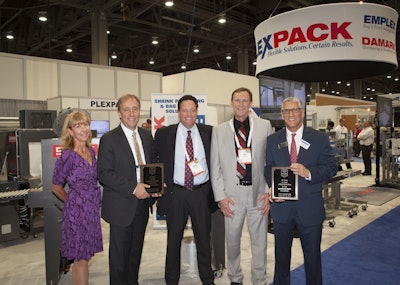 When Easter Seals Nevada Vice President of Development Dan Stock needed help tracking down a piece of wrapping machinery for the local Easter Seals co-op, he figured Packaging World Publisher Joe Angel was as good a place to start as any.
By sheer luck, he happened to catch the often on-the-road Angel after hours.
"It was fortunate that I was even in the office to pick up the call from Dan," says Angel. "He told me that the Easter Seals was trying to obtain a used or donated wrapper for its' facility."
Angel immediately thought of Plexpack Corp. CEO Paul Irvine.
Whether by fate or merely good fortune, he didn't realize that calling Irvine was the ideal solution.
Irvine and the shareholders of Plexpack have personal experience with those who are specially challenged and have supported the work of co-ops like Easter Seals in the past.
Without hesitation Irvine explained that they would bring the machine to PACK EXPO Las Vegas and gladly leave it behind for the Easter Seals Nevada to use.
"We were happy to help out because we know firsthand the service these facilities provide," Irvine says.
The Easter Seals Nevada creates solutions that help more than 8,000 people with disabilities become self-sufficient through education, community partnerships and direct services. The co-op facility allows 140 challenged adults the opportunity to work on numerous contracted projects.
"Getting this [wrapper] means we can procure better contracts and make better packages for our customers," says Easter Seals Nevada President and CEO Brian Patchett.
The serial number on the machine is Seamus, in honor of Irvine's specially challenged cousin Sean.