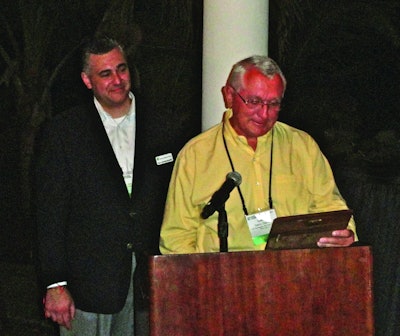 Amid the meetings and presentations at at the 2012 CPA Annual Meeting, attendees took time-out on February 24 to induct Gerry Donley into the Contract Packaging Hall of Fame.
As founder and president of Toll Packaging Services, Donley "set the gold standard for running and growing a contract packaging business," said longtime associate Vicky Smitley, vice president of sales at Gibson City, IL-based
Ryt-Way Industries
. She cited Donley's personal attention to each employee as well as his unwavering focus on the customer.
Donley's expansions, for instance, included the opening of a co-packing facility near a customer site in the Raleigh, NC, area, "saving hundreds of thousands of dollars in transportation," Smitley said. Likewise, his location of co-packing operations inside a customer's Dayton, OH, distribution center was "something the industry talks about today -- and some are doing it," Smitley noted, "but Gerry made it happen 15 years ago."
Companies in this article